*eARC kindly provided by Flux via NetGalley*
I thought this would be just a cheesy, contemporary YA about summer, secrets, and family drama. What I didn't expect was the sheer complexity of what was going on and how it affected everyone. And I definitely didn't think I'd like it as much as I did.
Rating: 3 Stars!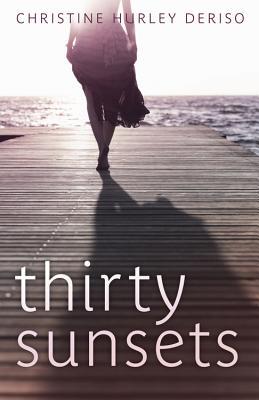 Yes, I enjoyed this novel a lot! I read this around 1 a.m., so much of it could have been because everything's funnier in the early morning hours. But whatever the case, I laughed out loud many times and found humor in situations that were intense and probably shouldn't have been funny.
Thirty Sunsets
was a quick, enjoyable read that I finished in less than three hours (a record, I tell ya).
And most of those laughs came from Forrest's POV. This girl is snarky, witty, and her rambling monologues just made me laugh even harder. It just felt so natural, like this is who she is if she were a real person. Her voice was easy to read, and I found myself pulled along in the story as she tried to navigate a summer filled with twists and turns. She had her ups and downs; her moments where I rolled my eyes in annoyance. But her development was great. She was a girl who had so many preconceived notions about her brother's girlfriend, life, and boys that she has a lot to learn in this book. She stumbles throughout the story, gets tossed around, loses pieces of herself, and still manages to come out fighting strong.
This book was all about strong relationships, whether they were between a parent and their child or two girls who never thought they'd even like each other. The relationship Forrest has with her parents is awesome! Even though they fight, tease, and push each other, she is still able to go to them with her problems and communicate honestly. I liked the sibling blond between her and Brian, although I wish they'd made up sooner. I liked how Olivia and Forrest became friends after they dropped the past and tried to move on. They develop a sisterly bond that gives Forrest another friend.
The strong relationships were a major plus for me.
But oh my gosh, this book was kind of crazy! Secret after secret after secret drops out of the sky and leaves everyone reeling from the aftershocks. I thought this would be a summery contemporary romance. And boy, was I so wrong! This story-line had a lot going on, but it honestly never felt like too much. It just felt like a real story about family, hardships, secrets, and how life can take a disastrous turn. I love how Forrest handled everything, and I love how her family communicated and spoke honestly about it all. This book handled everything very maturely and with great care.
Thirty Sunsets was more than just a summer contemporary. It was about what secrets can do if left to uncovered for a long time. It was about a family who was only trying to protect each other. And it was about a girl who realized that life and the people in it aren't perfect, and that only she had the power to change it.