*eARC kindly provided by Harlequin Teen via NetGalley*
I love ghost stories. I love reading about people falling in love with ghosts. I don't even know why, but the paranormal subject has always fascinated me. And so when I heard about Ghost House, I had to have it. I hadn't heard many great things about the book, but I wanted to read it anyway. And I really enjoyed it!
Rating: 3 Stars!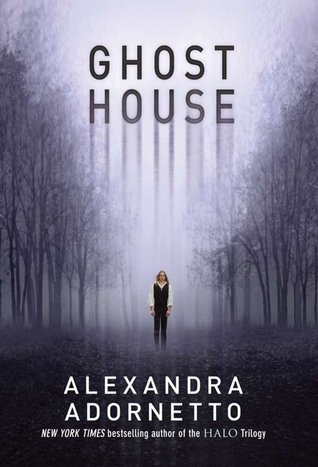 I liked the main character, Chloe, to a degree. It's hard when a character has just gone through a tragedy in the beginning of the book. Because you know that grief changes people, many times into someone they're not. I know the Chloe of now, not the one who still had her mother. The grief turned her into someone who just didn't care about life, who was content to sit around and do nothing all day. She was a little bit superficial, incredibly oblivious, and walked around in a daze for most of the book. But, I could handle that, because she was grieving. And when you're grieving, nothing makes sense anymore. Though, I wish Chloe had opened her eyes sooner. I wish she'd started living again, or at least tried to. I wish she'd figured out sooner that things were horribly wrong. I honestly didn't feel like she had much growth as a character. It didn't seem like she'd changed at all. But I did like her. It was easy for me to get lost in the way she told the story.
The secondary characters were all superficial, in their personalities and in their relationships with Chloe. There wasn't much depth to any of them, even Alexander. Because of Chloe's daze, she ignored everyone and everything about what was happening around her. Even when she was with Alexander, their relationship never really progressed enough for me to swoon over the romance. It didn't have depth. It wasn't believable to me that they fell in love so quickly, because they didn't talk that much. It just went from zero to love in no time at all. And you have to understand how much I adore stories about characters falling in love with ghosts and that it pains me to say that I was disappointed with this romance.
The plot was kind of erratic and filled with random interactions with the other characters until Chloe finally found out what happened in Grange Hall's past. She ignored everything until Isobel made her snap out of her daze. LIKE CHLOE, WHY AREN'T YOU ASKING QUESTIONS? You're actually talking to a ghost, and you don't even want to know about his life? You don't even want to know how he died? You don't even want to know what happened at Grange Hall and why Isobel is hell bent on destroying you? Why aren't you trying to find out more about your gift? Maybe it's just me, but I'd be insanely curious about the house's past and who Alexander was and how he died. That probably would have been one of the first questions I'd asked him. It would have saved the characters time and drama if Chloe had done even the slightest sleuthing. And
I'm still unsure about the full extent of Chloe's gift; perhaps we will find out in the sequel.
This book was a disappointment, but I still liked the story. And I'm intrigued about the sequel after that cliffhanger ending. I just hope the second book is better and feels needed to resolve the story that started in
Ghost House
.