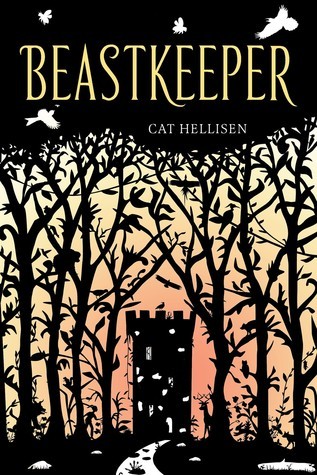 Title:
Beastkeeper
Author: Cat Hellisen
Publisher:
Henry Holt and Co.
Release Date: February 3rd, 2015
*eARC kindly provided by
Macmillan Children's Publishing Group via NetGalley*
From

Goodreads

...
Sarah has always been on the move. Her mother hates the cold, so every few months her parents pack their bags and drag her off after the sun. She's grown up lonely and longing for magic. She doesn't know that it's magic her parents are running from.
When Sarah's mother walks out on their family, all the strange old magic they have tried to hide from comes rising into their mundane world. Her father begins to change into something wild and beastly, but before his transformation is complete, he takes Sarah to her grandparents—people she has never met, didn't even know were still alive.
Deep in the forest, in a crumbling ruin of a castle, Sarah begins to untangle the layers of curses affecting her family bloodlines, until she discovers that the curse has carried over to her, too. The day she falls in love for the first time, Sarah will transform into a beast . . . unless she can figure out a way to break the curse forever.
My Review!
Middle grade is just not my genre. Because as much as I was entertained by this book, I couldn't help feeling underwhelmed. Beastkeeper was certainly interesting, but I was disconnected from the characters and the story-line. This is one of those books that, while likable, won't make me think too hard later on.

I'm actually glad this book was told in third person POV, even if it didn't help make me feel connected to the characters. It's all basically seen through the eyes of the main character, Sarah, anyway. Not that she isn't a bad character; she's just... naive and young and innocent to the world. But she has a lot of growth throughout the story that made her feel more mature by the end.

The relationships were all very...underwhelming. They weren't developed, the secondary characters really didn't have much personality. Even Alan, the forest boy who says vague sentences and treats Sarah like a child. She is one, but why would that stop her from trying to find a way to break the curses and save her family? And something happened in this story that should have made me feel more, but it didn't. It was kind of swept over, as if it didn't matter. It left the story with no emotional impact.

I appreciate the fantastical elements a lot. This book didn't shy away from the gruesome and horror, even if it felt watered down because of the age level of the middle grade genre. It went in a direction that was completely surprising and intriguing. It felt very fairytale-esque and I loved the intertwining of curses even if they were most confusing. It was hard to wrap my mind around how all of them work and play off of each other. But it was also fun and a different story-line than what I've read in a long time. And, I think, having it in the middle grade drama just ups the stakes and makes it more challenging and frightening. Because Sarah is this cute little 12 year old who is only trying to understand why her mother left but who instead gets swept up in this fantastical story that turns out to be truth and not fable.

Beastkeeper had such lovely writing and description. It was a little slow-paced, but it was such a quick read. And it had a highly uniquely interesting story-line that made the main character grow up faster than she needed to and opened her eyes to the darker side of life and magic that she hadn't believed in.
RATING: