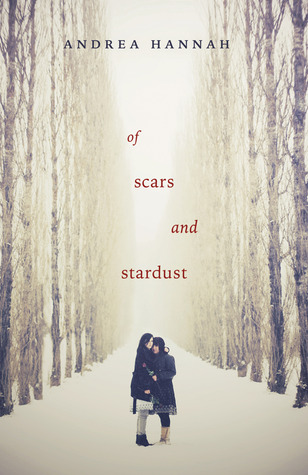 Title:
Of Scars and Stardust
Author: Andrea Hannah
Publisher: Flux
Release Date: October 8th, 2014!
eARC kindly provided by Flux via NetGalley*
From

Goodreads

...
After her little sister mysteriously vanishes, seventeen-year-old Claire Graham has a choice to make: stay snug in her little corner of Manhattan with her dropout boyfriend, or go back to Ohio to face the hometown tragedy she's been dying to leave behind.
But the memories of that night still haunt her in the city, and as hard as she tries to forget what her psychiatrist calls her "delusions," Claire can't seem to escape the wolf's eyes or the blood-speckled snow. Delusion or reality, Claire knows she has to hold true to the most important promise she's ever made: to keep Ella safe. She must return to her sleepy hometown in order to find Ella and keep her hallucinations at bay before they strike again. But time is quickly running out, and as Ella's trail grows fainter, the wolves are becoming startlingly real.
Now Claire must deal with her attraction to Grant, the soft-spoken boy from her past that may hold the secret to solving her sister's disappearance, while following the clues that Ella left for only her to find. Through a series of cryptic diary entries, Claire must unlock the keys to Ella's past—and her own—in order to stop another tragedy in the making, while realizing that not all things that are lost are meant to be found.
My Review!
Before the start of this, I was hoping beyond all hope that I'd love this because the author is a Michigan native (which I think is so cool). And I'm so happy to say that I did love this! While I wasn't sure of my feelings in the beginning, that quickly changed once the pace picked up and all of the mysteries are unraveled.

I really liked the main character's voice, Claire Graham. At first, I wasn't really connecting with her. She felt very distant and her character was kind of guarded. There were moments I wasn't happy with her choices and didn't sympathize with her as much. But I think she had great growth as a character. And I also think she was supposed to be a kind of unreliable narrator, especially once the story starts to unravel and Claire becomes caught up in her sister's disappearance and her quest for the truth.

And she pulls Grant into that quest with her. There is something about Claire that annoyed me a little bit, when it came to how she responded to the other characters in the story. It was just sort of an apathetic, and she always seemed disconnected from everyone and everything. It made me wish that the secondary characters had been a deeper part of the story, even though this was a mystery and was mostly about her sister's disappearance. Speaking of sister, I was hoping for a bit more with Ella but I understand why she wasn't a huge part of this. And though I wish that Claire's and Grant's relationship had given me more feels, I think it was really sweet and not too much or not too little. I love how Grant stayed by her side through everything, even when truths come to light and they're both no longer sure what is actually going on.

The plot was so twisty and mysterious and just freaking awesome. The way the author wove all of the elements together, and the way she played up the suspense kept me intrigued the whole way through. I was constantly guessing what was going to happen and being mostly wrong. And, without giving anything away, I just have to say that I loved how she wrote a certain element of the story. In way too many books I've read, it's never been written that well, which is why I so appreciated how she handled it all.

Although I was a little disappointed with the ending, I thought it was kind of perfect for the story, if that makes sense. I think I know why she chose to end it like that, but there are still so many parts of this story that I'm confused about. I buddy read this with my friend, Veronika, and we both realized that there were quite a few elements of the story that were left way too open for the both of us. We're a little confused. But, even with the confusion, I still loved this. It's been a long time since I've read a book that has surprised me as much as this one had.

Of Scars and Stardust had a slow beginning, but once the story picked up, it became a need for me to find out what was happening and what was real. And I'm still unsure about how much of this was real, but like I said, I don't even care about that. This was a very good, well-written mystery that kept me guessing the whole time.
RATING:
4 Paw Prints!
Edit: I recently discovered this article and realized that I had been right on my suspicions regarding Claire and that ending and why it was left so open. Everything makes sense now. So much sense. And it doesn't make me love the book any less than I do now. But do NOT read this article if you haven't read the book! Here are all of the answers you will want to know after you've finished: http://www.andreahannah.com/2014/11/so-lets-talk-about-that-ending-major.html