*I received copies of both of these novels from NetGalley and the author in exchange for honest reviews. NERC #s 15 & 16.
I wasn't sure what to expect going into Torn from You, but reading the novella before the start of this one gave me some idea. I wasn't even sure the novella was needed, but now I can see why it was and why it worked. I've read a few dark books, and this one was fairly tame compared to those. But still good!
Rating: 3.5 Enjoyable Stars!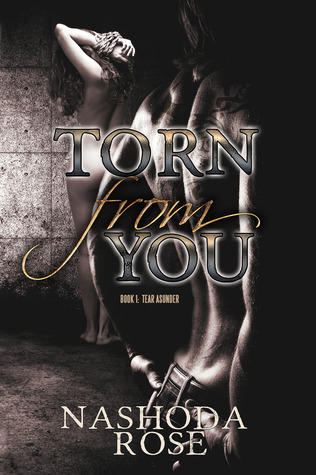 And this was dark, indeed. A little terrifying. A little heartbreaking. At the start of this novel, the main character, Emily, has been kidnapped. And she's brought into the dangerous and horrifying world of sex slavery. And when she hears Sculpt's voice, she thinks she's saved. Or, so she thought...
I was always unsure whether I could trust Sculpt or not, especially since he's the one who brought her into all of this. But he's also more than he seems, and all he wants to do is protect Emily. Shield her from the terrifying truth laid out before her. Comfort her when it becomes too much to bear. He gets her out of it, but the emotional and mental repercussions of those weeks in that Mexican compound will haunt her for the rest of her life.
I thought Emily was a very strong character--one who survives a truly terrifying ordeal. She's very insecure because of her mother, and she's only ever known love by the kind she has with her real family, Kat and Matt. She's sweet and innocent, but also resilient and determined. This book follows her journey of survival and healing, and also her uncertainty when it comes to her feelings for Sculpt.
I. Do. Not. Like. Sculpt. And it's not even because of the whole sex slavery issue. That, I could deal with, especially knowing how the two characters feel toward each other. But I don't like Sculpt! He's too controlling, too possessive for my tastes. Hell, Emily likes it. And that's totally okay; she can have Sculpt all to herself. But I do not like guys who straddle the line between possessiveness and protectiveness. And it pissed me off to no end when Sculpt kept Emily in the dark about everything. She survived that compound and you think she can't handle a little terrible news? Bullshit. I understand he wanted to protect her, but he should never have hidden the truth. It kind of made him treat her like a child who is being completely unreasonable and who shouldn't make decisions for herself.
With You, the novella before this one, showcases the relationship between Emily and Sculpt, how it developed and how strong their feelings for one another are. It's needed to understand where the both of them are coming from after all that's happened. Because Emily loved him, it was easier for her to forgive, but it was also harder for her to come to terms with it all. All Sculpt wanted was to protect her, and he won't give up on their love. They got through it together.
Guys, I loved the secondary characters! Kite (love that nickname), Crisis (so funny), and even Ream (though he's a d-bag). Can't forget about bluntly honest Georgie and hilarious Kat. And protective Matt. Oh hey, Emily, you can have Sculpt. I want Deck! He's a man of few words, but boy, he sure made an impression on me. I can't wait to see him unravel a little bit. Also, I'm intrigued by this Kai dude and Raven. We'll see what happens with them in the author's Unyielding series.
The plot is very underwhelming and simple, but that's okay. I didn't mind it so much. It wasn't as dark as I thought it'd be, and the fact that Sculpt and Emily love each other made it easier to handle what happens at the compound. I've read dark books before, and I honestly didn't think this one was that bad. It was more on the tame side, but still terrifying. I liked the 2 year separation; the timeframe never seemed off or randomly thrown in there. I think it was needed to get the characters to where they needed to go. Although, I expected a lot more development with Sculpt.
The writing was simple, but there were a lot of mistakes. I see why the author needed to throw in Logan's POV at some points, but I didn't like how it was in 3rd person and not 1st like Emily's. There were also disagreements of tenses and narratives throughout.
Torn from You
was a great start to this series! I liked the plot, and I liked pretty much all of the secondary characters (I want more of all of them!). I didn't care for Sculpt, and I wanted a bit more character development. But aside from that, and the mistakes, I really enjoyed this book!
I really enjoyed the first book in this series, so I was excited for Overwhelmed by You. Kat's and Ream's bit of relationship shown in Torn from You was tumultuous and fiery. And I knew they'd be explosive together. I just hoped they wouldn't burn each other too much and that they wouldn't bring down others with them.
Rating: 4 Overwhelming Stars!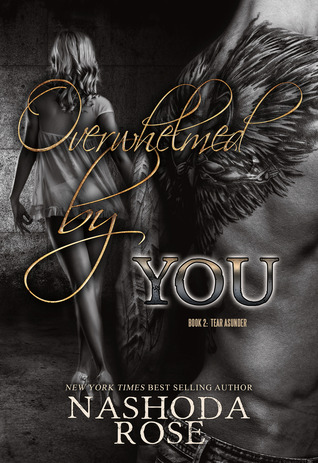 I've always liked Kat; she's blunt and direct, doesn't take shit, and always stays strong even in the face of defeat. But she's got secrets, one that I especially didn't see coming. Which made her all the more likable to me because of how she deals with it. But Ream was right; Kat's spent so much time burying her emotions and hiding her pain that she's not letting anyone in. And that's not living. She had to learn that letting people in was not weak, that sharing the truth was not a burden. She had to understand that her relationships with the people she cares the most about were not going to change, that they wouldn't see her as anything more than Kat; the flirty, social, and fun girl who likes to live life a little dangerously.
And it takes Ream, the guy she says she can't stand to be around, to open her up and make her confront her feelings. Now, on Sculpt, possessiveness was a MAJOR turnoff. But with Ream? That's just who he is. His personality made so much sense, especially when looking back on his reactions to some of the situations. Ream is a mysterious guy, which makes him all the more appealing. I've wanted to understand what makes him tick and what his past was like since the first book. Don't get me wrong, he's a dick. He doesn't make any apologies for how he chooses to deal with shit, and he treats women like objects. Until Kat. It took falling in love with the right girl to make Ream open up his heart. It was hard, hearing his past. It made me a little sick to my stomach. But it just made me love his character all the more, because his development was beautiful to watch unfold. It was brutal. God, was it brutal. But it was beautiful.
I've known since the first book that the two of them had great chemistry, and I couldn't wait to watch it unfold because I knew they'd be explosive together. It was more than just sex; it was more than just hurt and the pride. They're both stubborn, like to be in control, and are brutally honest. They were pretty much perfect for each other.
Man, I love ALL of these secondary characters! But shit, I was missing Deck. Can I just have him all to myself? Anyway, I love it when all of them are together, and I love their interactions with one another. It's great to read about such strong friendships. And I love how they didn't get overshadowed by Ream's and Kat's relationship and the mystery behind his past.
Throughout the novel, Kat and Ream have to deal with the normal ups and downs of being in a relationship, all the while trying to overcome trust issues and trying to let each other into their hearts. It's hard to let go and give someone complete control over your heart. It was tumultuous and difficult, passionate and overwhelming. And I liked how the author didn't overplay the drama.
Overwhelmed by You was a damn good second book, which can be read as a standalone (but I highly recommend reading this series in order). A little bit dark, a lot broken, these characters had to put aside their differences and face a truth neither of them had wanted--when in love, you have to give yourself to someone completely. This author was not afraid to delve deep into the heart of the matter and was not afraid to push her two MCs to the limits. It made for a fantastic romance; a little bit dirty and a whole lot steamy. :)