*I received a copy of this from NetGalley in exchange for an honest review.
I was really excited for this one, because I LOVED Wanted! It'd been awhile since I read it, though, so it took me a little time to catch up all things in the knights' world. And I did enjoy this book a lot, but I preferred the first one over this. And I preferred Evan Black over Tyler Sharp. But that's personal preference and doesn't reflect on the book any. ;)
Rating: 4 Stars!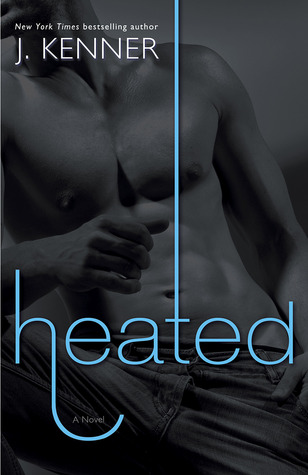 I love J Kenner's writing style; it's kind of addicting. I told myself I wasn't going to read that much and ended up going further than I thought. And even though this is only in one POV, I still felt like I knew Tyler enough through dialogue and the MC's thoughts.
I really loved Sloane's voice. She's a cop who's on-leave after being shot. But then she gets thrown into a mystery, and because she's been itching to do work, she jumps in to to help a friend. But what she finds is so much more than duty. In Chicago, she finds Tyler Sharp. Intentionally, actually, and is planning on using seduction to uncover his secrets and find Amy, the girl who's missing. And instead, Sloane is forced to to decide if losing the only man who gets her is worth the picture-perfect black and white rules of her job. Sloane's character development was great. She was confident, sassy, and determined. She was vulnerable to love and to Tyler. Because, before him, she'd never been pushed to open up and let someone in. And no one had ever looked past her mask to see who she really was as a person.
Tyler just got her.
And she got Tyler Sharp, the most mysterious man in Chicago. I didn't know what to expect from him, although I was intrigued about his story after he was in Evan's book. He's basically a stranger to everyone, because he doesn't give anything of his life away. But one woman opens him up to love and passion and heat. Tyler is dangerously sexy, loves control in the bedroom, and is also sweet and caring. He's like the perfect blend of good guy and bad boy, though he straddles the line often. In many of his ventures, he uses his money to help women with their futures. But he's also got some illegal activity on the side, something that Evan wanted out of in Wanted. And it's a constant struggle for Sloane to ignore the bad and focus on his good heart.
Tyler pushed her to new heights and made sure to catch her when she fell.
Their relationship was STEAMY. Sensual. Passionate. A little on the BDSM side, and even a little sweet. Tyler was all about that control and dominance, and oh boy, was this a hot read! But it was more than sex, more than the uncontrollable heat between them. It was about opening up and letting someone in. It was about love and the power it has to overcome the obstacles.
The plot was about 75% romance and 25% mystery, which is why this is getting 4 stars from me. I wish there had been more emphasis on the mystery. I actually liked that Tyler found out that Sloane was a cop early; anywhere else in the story-line, and it would have created unnecessary drama. BUT. I wanted more of the suspense. It was like one chapter, and then bam! the case is solved. And
I was glad to see Evan and Angelina again, as well as Cole and Kat (I'm really excited for their story, assuming it's the two of them).
Heated was a very hot and sensual read with two characters who weren't looking for love and who were bombarded with all the feelings that came with it. I love these knights, and I love their ladies. Another great book in this series! :)