*I received a copy of this from NetGalley in exchange for an honest review.
I've only read two New Adult mystery books, and I MUST change that!! I thought Rules of Survival was a fun and entertaining book with enough suspense and heart-stopping action to keep me reading until the end.
Rating: 4 Stars!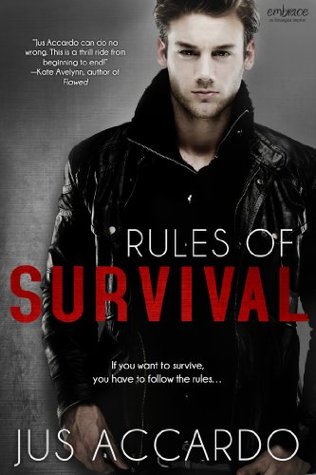 This story is told in the POV of the main character, Mikayla Morgan. After her mother was murdered and she became the lead suspect, she went on the run. But she needs to return to the scene of the crime to clear her name. Problem is, she makes a mistake. And because of that, she ends up handcuffed to an arrogant and sexy guy while dodging bullets and other bounty hunters who will do anything for the pretty price on her head. But Kayla is strong, determined, and feisty. She does whatever it takes to stay one step ahead of them, but secrets and an unwelcome attraction to Shaun will threaten to shake her tough exterior and leave her scrambling to survive.
Throughout it all, she has Shaun to rely on, though it takes her a long time to trust him. They had fantastic chemistry! Their dialogue was witty and fresh, comical at times in-between the very tense (sexual and survival) moments. Each of them has been through a lot in their lives, and they're only doing what they know. It leads to some epic clashes. But through it all, they develop a bond. They share secrets and swap stories, brave the dangers and help each other survive. Shaun was an awesome guy, one who straddles the line between good and bad. He was just in it for the money at first, but then he got to know Kayla and couldn't stand to see her get hurt. But he had to convince her, first, that his intentions were good. And that he wanted a chance to be normal with her.
The romance was underplayed and sweet. It didn't overshadow the mysterious story-line, and for that, I was grateful. There were quiet, romantic moments in-between the suspense and desperate undertones. The plot was very fast-paced, and I was pulled along in the mystery of it all with Kayla. It was hard to guess what was happening, and I was always trying to figure it out. A few secrets were easy to guess, but others? Not so much. It made for an intense and interesting story-line. There were secondary characters, but they weren't all nice. I liked Patrick, and I knew he was a good guy. :) I thought the ending fit nicely, all loose ends were tied up and it left the reader with a warm feeling.
All in all, this was a great read! It was fun, the dialogue fresh and entertaining, the chemistry between the two main leads steamy and filled with tension. Rules of Survival was the perfect blend of romance, mystery, and suspense. :)