*I received an eARC of this from NetGalley in exchange for an honest review. Thank you, Harlequin Teen!
I love fairytale retellings! I've been reading so many more of them, like Cinder, Splintered, and Of Beast and Beauty. Authors who retell fairytales don't have an easy road. They have to be able to tell the story in such a way that makes it fresh and original, while staying true to those beloved tales. And I thought The Stepsister's Tale was a wonderful book, more contemporary than fantastical, and with relatable characters and strong elements of the original Cinderella story.
Rating: 3.5 Stars!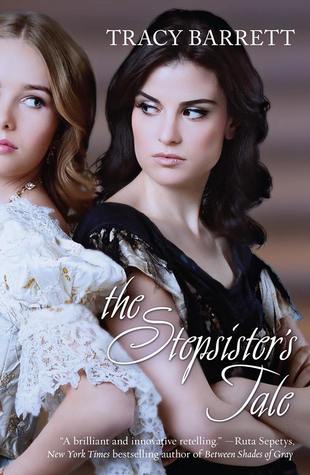 First all of, I love how that cover is quite fitting for the story!
Second of all, I think of this book more in terms of contemporary than fantasy. It's very much about three girls who grew up in different ways and who have to learn how to work together to survive. The two sisters, Jane and Maude, have been working hard just to survive with no money in their rundown home with a mother who doesn't do anything about their desperate state. And then comes a stepdaughter and stepfather they don't want. It turns into a story that is more rags than riches, about hard work, sticking together as a family, and that what's on the inside counts more than the outside.
The Characters:
Jane is strong-willed, a hard worker who just wants to be a normal sixteen year old girl with no more worries than what she's going to wear to balls. She's very much the mother of the house, taking care of her little sister, Maude and feeding, cooking, and taking care of the livestock. Throughout the book, Jane steps into the role of caretaker but with little support. She's just a teenager who is trying to find her way in this world and who wishes she didn't have so many responsibilities. Her character development felt real and genuine. She stumbled along the way, made a few mistakes, and ultimately, tried to be the best person she could be in unfortunate circumstances.
Maude; her sister, and Isabella; her stepsister, were a little flat as characters. They were both more like children than pre-teens who misjudged and treated each other unfairly. But they are only figures in the house rather than actual individuals in the story. So was their mother, but I don't care about her at all. She's a terrible mom.
I loved the Forresters! Though, I wish they'd been in the story a bit more, especially Will.
And that brings me to the sweet romance between Will and Jane. It was very underwhelming and subtly romantic, but I just wish there had been
more
development of it.
The Plot:
The plot was kind of simple, but it fit the story. I wish there had been less filler scenes when it came to the girls always working, wondering about food, and trying to find comfort in a cold house. Their survival depended on it, but I didn't think it needed to be emphasized so much. Ultimately, I liked where this story headed, how the original Cinderella elements were combined with a more modern flair and with some twists to the characters and who they were. The pacing was pretty fast, and I never really got bored. I just wanted more character development and more of the relationships.
The Writing:
I really liked Tracey Barrett's writing style and how she used 3rd person narrative to tell the story. It fit so much better than had it been in 1st. Jane is really the main character, as this is about her journey of self-discovery. I loved her voice and introspection. It fit her character well, especially when she had those moments of struggling with her identity and her responsibilities. It made her feel more real as a character.
Overall, I really enjoyed this wonderful retelling of Cinderella. And I loved how the author weaved together this tale of self-discovery, hardship, community, and love while still staying true to the original fairytale.