Hello everyone! I'm so excited to be participating in the Keepin' It Real Event hosted by Kaitlin from

Reading is My Treasure

and Eli from

Reality Lapse

! What is this, you ask? It's an event celebrating contemporary YA fiction with
interviews, top ten lists, guest posts, giveaways, ect.
There are tons of bloggers participating, and they are each featuring a different author, so be sure to stop by their posts!
And for my stop, I got to interview the lovely Jennifer Mathieu! She's the author of The Truth About Alice. If you haven't read it yet, I suggest you all go do that right now! It's a powerfully written story about the consequences of bullying, a scary honest portrayal of high school, and the struggles teens go through on a daily basis. Like seriously, go read it.
You still unsure about it? Well, I had the chance to pick Jennifer's brain about her book, writing process, and what the YA genre means to her. So, without further ado, please welcome Jennifer Mathieu to Part of that World! :)
Hi, Jennifer! Thank you so much for stopping by Part of that World
so I can ask you some questions about your book and your writing process.
J

Happy to be here!
Where did the idea for this story come from and why did you decide to tell it in five different POVs?
Well, when I was in high school, I read Edgar Lee Masters's Spoon River Anthology, which is a collection of short pieces all told by people who live in the small town of Spoon River. Only by reading all of the pieces does the reader understand everything that happened in the town and how all the voices intersect and connect. There are many, many voices in Spoon River and initially I dreamt of doing a similar thing with The Truth About Alice – like twenty or thirty short vignettes. But my agent suggested picking a few characters and having them rotate through the narration. I love the idea that only the reader sees all and knows all. The POVs I picked are all examples of classic high school archetypes – the nerd, the mean girl, the wannabe, the jock. But I tried very hard to create characters that were not stereotypes. I wanted them to have depth and layers, and I hope I succeeded.
How did you keep all of their stories and what they revealed straight?
Initially I just wrote and wrote to my little heart's desire. In the revision process I did have to get more clinical. I actually made a chart with the character's voices in order, and I had to create a corresponding calendar of what was happening when, so I could make references to the passing of time as I told the story. But it did get complicated because there are numerous flashbacks and the story jumps around from 11
th
grade to stories from the previous summer and even the summer before that. It wasn't easy, but there was something delicious about creating this world and having all the pieces weave in and out.
I've heard so many people say (myself included) that your book was very powerful. I think a lot of teens should read it; it's such an honest portrayal of high school, identity struggles, and bullying. Did you ever think your book would have so much impact on people?
Oh, wow, what a kind question. Thank you. Of course, every writer dreams their work will have an impact on people, but to tell you truth, when I was first writing this book, I was writing it for me. One of my favorite writers is S.E. Hinton who wrote the young adult classic The Outsiders. She once said she wrote The Outsiders because she wanted to read it. Now I would never dare to put myself in the same category as Hinton, but when I started writing The Truth About Alice I'd had two manuscripts come very close to selling but they never did. I was retreating into my writing cave to lick my wounds and just write the book of my heart for me. I didn't think about it selling because part of me assumed it never would, just like the first two books! Of course now that it's out in the world and people are contacting me to let me know how much they enjoyed it and how much it meant to them, it's sort of mind-blowing. I am truly honored and touched and thrilled that people like it!
Out of the characters, who were you the most like in high school?
I would say I was a mixture of Kurt and Kelsie. I was like Kurt in that I was very academic and I loved learning. But unlike Kurt, I cared very much about what people thought of me. I wanted very much to be an insider, so in that sense I was a lot like Kelsie. I even made shoe box dioramas like Kelsie does in the book. I would like to think I didn't do as many nasty, vicious things as Kelsie does in the story, but I know I was as lost and insecure as she was. I didn't know how to talk to boys and I had a lot of anxiety over that. It was an awful time for me. A lot of readers have spoken about how much they hate Kelsie, and yes, she does do things that inspire so much anger. But I still have a soft spot for her because I think I relate to her in some ways.
My heart hurt for Alice and all she was going through in the book. Was it hard for you to write and were there any scenes that really impacted you?
My heart hurt for Alice, too, but I had the knowledge that the book would have a hopeful ending, so that kept me going. I always knew the book would end with Alice and Kurt as friends, sitting outside on a summer night holding hands. I knew Alice was going to come through the other side. One scene that was quite difficult to write and that I had to rework several times was when Alice confronts Kelsie in the bathroom. I was so heartbroken for both girls. There was this part of me that wanted them to make up and be friends again right there in the bathroom, but I knew it wasn't realistic. They had this shared history and it was all lost to the rumors and social drama of high school.
What are you currently working on?
I'm finishing up my second book with Roaring Brook Press/Macmillan. It's due to come out in Spring of 2015. It's called DEVOTED and it's about a 17-year-old girl named Rachel Walker. She's part of a very conservative, isolated religious community that has sort of turned its back on the outside world. She can't cut her hair or wear pants, she's never been to school, and she can't get on the Internet without someone watching her while she does. There's a series of events that triggers Rachel to start exploring the outside world where she discovers independence, friendship and possibly romance. But then she has to make some hard choices about how she wants to live her life – with her family or on the outside? I actually have had the opportunity to interview some young women who grew up like Rachel, and writing this book has been so fascinating and interesting for me. I just saw a draft of the cover the other day, and I loved it!
What does YA mean to you?
As a writer, YA means being part of a wonderful community of fellow YA writers and getting so much support from them. It also means having some of the most passionate, enthusiastic readers ever! I believe YA is telling stories about what it means to be young, and I believe YA is about having readers from every age and walk of life.
Thanks again for letting me interview you for my blog!
J
Thanks for having me! I loved your questions!
J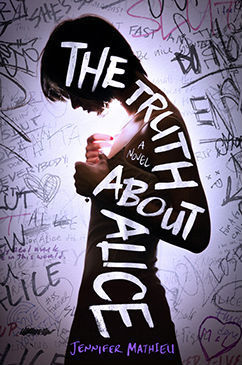 Everyone has a lot to say about Alice Franklin, and it's stopped mattering whether it's true. The rumors started at a party when Alice supposedly had sex with two guys in one night. When school starts everyone almost forgets about Alice until one of those guys, super-popular Brandon, dies in a car wreck that was allegedly all Alice's fault. Now the only friend she has is a boy who may be the only other person who knows the truth, but is too afraid to admit it. Told from the perspectives of popular girl Elaine, football star Josh, former outcast Kelsie, and shy genius Kurt, we see how everyone has a motive to bring – and keep – Alice down.
My questions for you:
Have you read this book yet? What did you think of it?
Are you a fan of contemporary fiction? YA, NA, Adult?
What did you think of the interview?