There is just something about a light, summery contemporary that warms my heart and gives me all the feelings. Since You've Been Gone would have been the ideal beach read (if I actually read books at the beach, that is), but alas, I read it in my bedroom with the curtains closed. Even so, it was sweet and fun; a perfect summer read!
Rating: 5 Stars!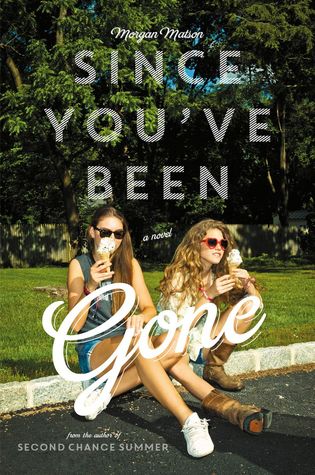 After hearing wonderful things about this book, I knew I had to have it. I love that cover, and I love the concept! I actually want to do this whole Sloane-inspired list. Okay, maybe not all of them, because hello skinny dipping! But I'm seriously thinking about trying to cross off as many items as I can. Anyone want to join me in completing a Since You've Been Gone bucket list? :P
Not only did I love the concept, but I loved the characters! Emily is such a relatable character to me. I'm a lot like her, and I used to have a best friend like Sloane. In quite a few ways, Emily is me back in high school. Shy, socially awkward, doesn't know how to talk to guys. She has a crazy and wild best friend who does numerous things to get her out of her shell. But when Sloane just disappears, Emily is left muddling through the summer without her safety net. However, she uses that time to look back on her friendship with Sloane. I can understand Emily's slight resentment well. I know what it's like to have a pushy best friend who puts you in a corner even while making you feel special. Not that Sloane is a bad person. In fact, she's a terrific friend! But Emily is realizing a strength she didn't think she had, and she won't let herself be pressured into anything anymore. And she also learns a lot about herself as a person. I loved her journey! She steps out of her comfort zone, makes new friends, stumbles along the way, and falls in love with Frank Porter.
YOU GUYS. I love Frank Porter so much! I love his passion and charisma. I love his abs and running playlists (though Emily's is much cooler. Country music, y'all). I love his calm and cool, his wit and kindness. I love how he waits for her to close the door before driving away. I love how he goes on a road trip with her even when she ignores him for days. I love that he always tries to do the right thing, and I love that he saves whales. Frank is like the perfect nerdy, fun, and all-around good guy. The student body president who drives a truck. The runner who takes care of the people he loves. Oh, and did I mention I love him? If it wasn't clear already, I do. So much.
"Do you not like the Beatles? Do you also not like sunshine and laughter and puppies?"
And I love sassy Frank Porter. <3
The secondary characters were just as lovable! Collins, with his humor, sass, and downright adorableness. I love his confidence. Dawn, with her awkwardness, sweetness, and fun personality. I also adored Beckett, the fearless ninja who just wants to see his big sister more often than he does. I liked Emily's parents, even if I wish they'd paid more attention to her this summer. And of course, I loved Sloane. The crazy, wild girl who breezed into town just as quickly as she left it and who gave Emily a list of items to complete. It gave her the best summer she'd ever had.
I absolutely adored this concept! Like I said, I seriously want to do this Sloane-inspired list. And I loved the progress of Emily's summer and how she went about completing it. The plot was full of fun and craziness, flashbacks and fresh dialogue. It followed Emily's journey of trying to get her friend back, of her small triumphs and hurtful losses, of her courage in stepping out of her comfort zone and her stumbles when the line between right and wrong got blurred. But I was hoping for just a little bit more resolution when it came to hers and Sloane's friendship. The flashbacks and Emily's miserableness without her best friend provide so much depth to their relationship, which is awesome. They did have such an easy friendship, though I wish they'd talked more about some of the big stuff.
I would love a story about Sloane, because I want to know more about that crazy girl! Morgan Matson, pretty please make something happen? I loved her writing style and how she drew me into the story so that I felt like I was having the summer of my life right alongside Emily. Since You've Been Gone was a wonderful book about friendship, courage, and so full of heart and warmth. It was the perfect summer read!