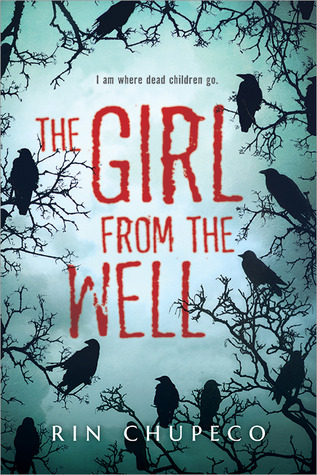 The Girl from The Well
Author: Rin Chupeco
Sourcebooks Fire
August 5, 2014
The Ring

meets

The Exorcist

in this haunting and lyrical reimagining of the Japanese fable.
Okiku has wandered the world for hundreds of years, setting free the spirits of murdered children. Wherever there's a monster hurting a child, her spirit is there to deliver punishment. Such is her existence, until the day she discovers a troubled American teenager named Tark and the dangerous demon that writhes beneath his skin, trapped by a series of intricate tattoos. Tark needs to be freed, but there is one problem—if the demon dies, so does its host.
With the vigilante spirit Okiku as his guide, Tark is drawn deep into a dark world of sinister doll rituals and Shinto exorcisms that will take him far from American suburbia to the remote valleys and shrines of Japan. Can Okiku protect him from the demon within or will her presence bring more harm? The answer lies in the depths of a long-forgotten well
My Review!
I don't read many horror books, and the ones I do hardly ever scare me. But that might just be because I've been venturing into the young adult sub-genre of horror books. In my experience, they're typically light on the scares and terror. However, I thought The Girl from the Well was delightfully creepy in the sense that it disgusted me a time or two and made me gasp with what was happening.
Rating: 3.5 Stars!
"I am where dead children go."
That sentence, right there. Creepy, right? I'm glad that creep factor didn't truly go away throughout the novel. It wasn't scary, per se, but definitely shiver inducing. Especially because of the main character, and her so-called job.
The way this was written fit the story-line well, though it was very risky and I feel like a lot of people will have problems with it. It slips in and out of 1st and 3rd person perspectives.
It was a little hard to get into and it was confusing at times. I had to reread several paragraphs to make sure I was understanding what was going on and who it was happening to. It was basically all over the place.
It fit the main character and her erratic thoughts, but that mentality made it hard to connect with her. She's basically the person off-stage whispering lines to the actors.
She's not really in the story. What I mean by that is she is essentially the narrator, an observer, the person who does the voice-over in movies. She played an important role in all that was going on, but it wasn't happening to her. Everything was told through her eyes, but the story wasn't about her. I found that to be a little disappointing, especially when the ending hit.
The story is really about two characters: the strange tattooed boy and his cousin. What starts out as a basic story about a surly teenager moving to a new town after a bad past becomes a quest to unravel what happened to him when he was little. A quest that brings about the discovery of the ghost girl who murders people and journeys to a land with a heritage that has been lost in modern times. Throughout it, the boy Tark, sees the world with new eyes and finds out what his tattoos really mean. A discovery that could very well kill him. I thought he was an interesting character. I liked his sarcasm and attitude. He's very bitter about the world, which is realistic for what's happened to him. But I didn't find his cousin, Callie, all that relevant. I didn't totally care for her, especially when she repeatedly made stupid decisions.
The characters didn't have much depth, but I liked how everything connected and how the story was told. Through the eyes of Okiku, I watched a story unfold that creeped me out at several moments and one that intrigued me with the Japanese elements (but since I'm not familiar with the culture, I don't know how accurate anything was). Plus, the creepiness of what Okiku does! And the horror of what happens to the children she "rescues." Child abuse is such a tough subject, and I felt truly revolted at times. I just, wish the ending had been different. Okiku was my favorite character, the ghost girl who murders child killers and who has been through her own tragic past. Since I cared more for her (even with the hard connection and the almost emotionless voice) than the others, I wanted it to be a little happier for her.
The Girl from the Well was an intriguing and sometimes creepy horror story that blended past and present, life and death, and told the story of one girl's quest to understand a world that she's not a part of anymore.
"[A] Stephen King–like horror story…A chilling, bloody ghost story that resonates." –Kirkus Reviews
"Chupeco makes a powerful debut with this unsettling ghost story…told in a marvelously disjointed fashion from Okiku's numbers-obsessed point of view, this story unfolds with creepy imagery and an intimate appreciation for Japanese horror, myth, and legend." –Publishers Weekly, STARRED
"The Girl from the Well is part The Ring, part The Grudge and part The Exorcist…A fantastically creepy story sure to keep readers up at night… Okiku is one of the most interesting YA characters to date." RT Book Reviews, 4 ½ STARS-TOP PICK!
"A dark novel that will appeal to horror fans, lovers of Elizabeth Scott's 'Living Dead Girl.'" –School Library Journal
Despite uncanny resemblances to Japanese revenants, Rin Chupeco has always maintained her sense of humor. Raised in Manila, Philippines, she keeps four pets: a dog, two birds, and a husband. She's been a technical writer and travel blogger, but now makes things up for a living. The Girl from the Well is her debut novel. Connect with Rin at
www.rinchupeco.com
.
***GIVEAWAY!!!***
Thanks to the author and Sourcebooks Fire, I have a physical copy to give away to one of you lucky ducks! Unfortunately, this is US/Canada only. Be sure to read the entries CAREFULLY, because if you cheat on any entry, all of yours will be deleted. Must be 15 years or older to enter! Winner has 48 hours to respond!