*eARC kindly provided by Disney-Hyperion via NetGalley*
When I heard that it was a retelling of Snow White, I knew I had to have it. I love anything to do with the fairytales, so when I was approved for this, I was ecstatic! I couldn't wait to dive in. And t
his book was just so much fun!
Rating: 4 Stars!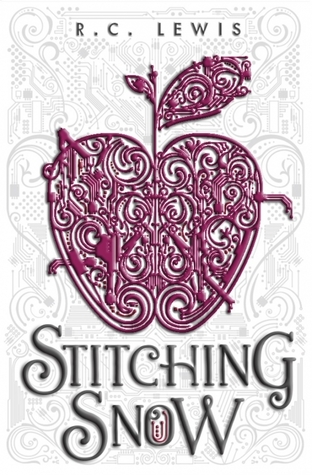 I don't read many sci-fi books, but like I said above, this was a fairytale retelling, so I had to read it. Even though there were so many technical and mechanical terms being thrown around (which I have no clue if they were real or not), it didn't take away any enjoyment in the story. I didn't understand half of them, but I could get the gist of what was going on.
Essie is basically Ms. Fix-it on planet Thandan. She's made things easier for the people who work in the mines, but she's still not one of them. She fights them in her spare time to make money, but they don't like putting up with her. If not for her friend and the guy who took her in, she would not have made it this long. But Essie is a fighter! She's strong, resilient, and works hard. She's a little bit naive, though that's understandable given how she grew up, and she also could be reckless. But her character was so awesomely developed. I loved her strength, her resilience, and how she didn't wait around for a guy to save her.
She's made a life for herself on Thandan, and she's got secrets. She's got a past that she wants to escape.
Essie doesn't have time for romance, and she certainly doesn't have time for a nosy "treasure hunter" who makes promises of a better future.
Oh, Dane. What can I say about this handsome, sweet, and protective guy? He was the perfect match for Essie--headstrong, stubborn, and determined. He was so wonderfully developed as a character. There were moments I wasn't sure I could trust him; there were moments that he truly shocked me. But his background and his reasoning made me understand why he did what he did. And Essie understood it, too. He was sometimes protective to the point of overbearing, but all he wanted was for Essie to be safe.
I loved their romance. Loved. It was a relationship built on a foundation of mistrust, but it developed into a wonderfully sweet and slow-burning romance that was very deep and swoon-worthy. I loved their awesome banter and chemistry. And I adored that ending.
The secondary characters were all fleshed out well; some were there for help, others were there to hinder the MC from what she needed to do. And oftentimes, you didn't know one from the other. I adored the drones! (I didn't even get the whole number thing until a reviewer on Goodreads pointed it out--they're the seven
"
dwarves" from the original tale). They each had their own personalities, and there were so many comical moments involving them that gave the story a lightness to counteract the danger.
The plot was predictable, but I didn't mind that at all! It was very straightfoward, with a few twists thrown in that you might not see coming. It was a very fast-paced novel, and the science fiction aspects, the planets and their universe, were well developed. The plot didn't stay in one place and took our characters everywhere. It was filled with details and suspense and kickass characters who didn't hesitate to do what needed to be done.
I loved the writing and how Essie's voice drew me into the story from the beginning. There was a momentum that never slowed down, even when the plot did. I loved the subtle comparisons to Snow White, and I enjoyed the sci-fi aspects of the story. Stitching Snow was a wonderful standalone, though I wouldn't mind if the author wanted to expand on this story-line. :)