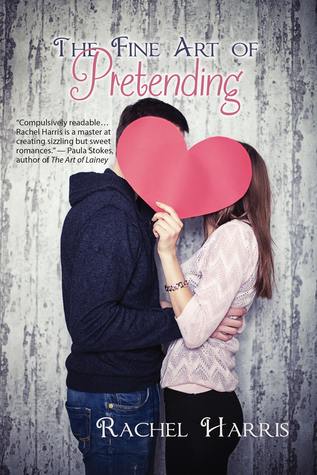 About THE FINE ART OF PRETENDING:
According to the guys at Fairfield Academy, there are two types of girls: the kind you hook up with, and the kind you're friends with. Seventeen-year-old Alyssa Reed is the second type. And she hates it. With just one year left to change her rank, she devises a plan to become the first type by homecoming, and she sets her sights on the perfect date—Justin Carter, Fairfield Academy's biggest hottie and most notorious player.
With 57 days until the dance, Aly launches Operation Sex Appeal and sheds her tomboy image. The only thing left is for Justin actually to notice her. Enter best friend Brandon Taylor, the school's second biggest hottie, and now Aly's pretend boyfriend. With his help, elevating from "funny friend" to "tempting vixen" is only a matter of time.
But when everything goes according to plan, the inevitable "break up" leaves their friendship in shambles, and Aly and Brandon with feelings they can't explain. And the fake couple discovers pretending can sometimes cost you the one thing you never expected to want.
My Review!
I have been longing for this book ever since I heard of it. It's Rachel Harris, so of course, I was going to read it. I waited until I was in the mood for a light and fluffy read, and I couldn't wait to dive into it. But while I really enjoyed it, The Fine Art of Pretending lacked the depth that I so desperately wished for. Don't get me wrong, it was adorable and perfect for the kind of mood I was in. It just wasn't my favorite of her books.
Rating: 3.5 Cute Stars!
Alyssa Reed, on the outside, seems to have her life together. She's a volleyball star, has three amazing best friends, and loves to bake. But she gets this idea in her head that she's not good enough for the boys at her school, so she enlists the help of her friends, Kara and Gabi, to kick-start Operation Sex Appeal. Why? Well, I read a review that made me stop and think more deeply about this book: the reviewer talked about Aly's motivations, why she's decided that she needed to change her appearance to attract guys' attention. Basically Aly just wants to stop being that friend-zoned girl who can joke around with them but is never seen as sexy and attractive. I think her reasoning was realistic, albeit very misguided. Aly never needed to change who she was to get a boyfriend or make them see her as just a hookup. She just had
to realize that she was good enough as she is
. It took her almost the whole book to realize that.
And with Brandon's help and his utter adoration toward Aly, she's able to let go of her goals and understand that being a Commitment is not a bad thing.
Boy, Rachel sure knows how to write swoony boys. Brandon is the epitome of a good guy--sweet, loyal, funny, and kindhearted. He always has Aly's best interests at heart, and all he wants is to convince her that she's perfect the way she is, that she's not a Casual. Brandon's been through a lot, and Aly helped him by just being her. He values her friendship, but when he starts having romantic feelings for her, he panics. He doesn't want love. He doesn't want a relationship. He doesn't want a Commitment. But he's seeing Aly in a different light, and through a dared kiss, he's forced to admit that he's long past friendship.
Their friendship was wonderful, I think I may have loved it more than their jump into romance. Which didn't feel like a jump so as much as a foot race. It was very slow-burning and waiting for the two main characters to stop being so ridiculous and realize that they're perfect for each other. Everyone else had long before they were fake-dating. But they were pretty freaking adorable together.
And the other characters were just as adorable! I loved Aly's two best friends, Kara and Gabi. They are both hilariously different from one another, which balances the dynamic trio. And I adored that they had Aly's back, through everything, even if they didn't agree with her tactics. I also loved Brandon's friends. Carlos, who was funny and sweet and just an all-around great guy (I'm crossing my fingers he gets his own book). Drew, who is levelheaded, perceptive, and understanding. But, I gotta tell ya, Justin Carter was my favorite. Honestly, he had me swooning just a *wee* bit more than Brandon! This heartbreaker is more than his status and good looks, and I can't wait to find out more about him.
The whole concept was different, though I thought it was detrimental to young girls' way of thinking.
Basically, there are two types of girls at this school: Casuals (ones who only want hookups) and Commitments (ones who are boyfriend material), which were coined by Brandon and his friends.
The premise of the book was centered on the fact that
Aly wants a makeover so guys see her as a Casual. It killed me that she believed she wasn't good enough just as she was, a sweet and funny girl who would make some guy incredibly lucky. I know it's
realistic because so many girls are insecure about their looks and who they are, especially in middle and high school (I know I was). But I also think it sends the wrong kind of message. However, I loved that Aly found her way through the craziness that is high school and boys and drama and still stayed true to herself.
This review feels a little negative, but in truth, I really did enjoy this story. It was perfect for the mood I was in, and I love Rachel Harris' books. The Fine Art of Pretending was just adorable!
Award-winning and Bestselling author Rachel Harris writes humorous love stories about sassy girls next door and the hot guys that make them swoon. Emotion, vibrant settings, and strong relationships are a staple in each of her books...and kissing. Lots of kissing.
An admitted Diet Mountain Dew addict and homeschool mom, she gets through each day by laughing at herself, hugging her kids, and watching way too much Food Network with her husband. She writes young adult, new adult, and adult romance, and LOVES talking with readers.