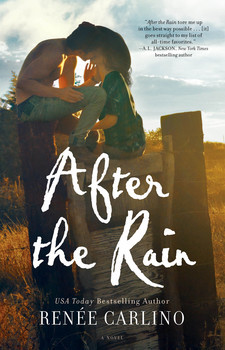 Title:
After the Rain
Author:
Renée Carlino
Publisher:
Atria Books
Release Date: November 11th, 2014
*eARC kindly provided by Atria via NetGalley*
From Goodreads...
From the USA TODAY bestselling author of Sweet Thing and Nowhere But Here comes a deeply emotional contemporary romance about the second chances waiting beyond the shattered dreams of youth.
Under the bright arena lights of a rodeo show, young Avelina Belo falls for a handsome cowboy with a larger-than-life personality. After a whirlwind courtship, she happily moves away from her family in northern California and settles into married life with her cowboy on a seven-thousand-acre cattle ranch in Montana. One freak accident later, Avelina's hopes for the future come to an end.
Nate Myers graduated from UCLA medical school at the top of his class, ready to follow in the footsteps of his father, a superstar cardiothoracic surgeon. Six years later, Nate's career is being ruined by a malpractice suit. Questioning himself for the first time, he retreats to a Montana cattle ranch to visit his uncle and gain perspective. There, he meets a beautiful young woman named Avelina who teaches him more than he ever knew about matters of the heart.
My Review!
I'm having mixed thoughts and feelings regarding this book. Actually, scratch the feelings part. I felt nothing while reading this story. I felt no strong emotions at all. I don't know if that was the writing or the characters or the plot. I can't even pinpoint why not even the tragedy that Ava went through could make me sad. Honestly, I felt very disconnected from the characters and the story-line. I did love the messages of healing and having faith and taking second chances. But I think the characters really brought down my enjoyment in the story. I'll get to why in just a sec.

I had a like/hate relationship with Avelina Belo. There was no middle ground with me; I either wanted to punch her in the face or give her a big hug. I think a lot of it had to do with the way she was portrayed. She was a weak character and very childlike. She was in her twenties, but it didn't feel like it. She had so much growing up to do, which is why I shouted for joy when she made a tough decision near the end of the book. I approved of it. I thought it was exactly what she needed. I was really impressed with the level of maturity she displayed. However, for much of the book, she came across as callous, childish, and impossibly stubborn and unreasonable. I understand it. She went through a painful tragedy that completely broke her. But the way she responded and how she interacted with the other characters left me feeling unsympathetic and just tired of her selfishness.The whole world, and all of the characters in it, revolved around her. Not intentionally, I know. But even the friendship and subsequent romance she developed with Nate starred her.
And let's move onto Nate Myers. I liked him, but I didn't love him. I didn't develop a strong connection with him, even having his POV. He came across as arrogant, cold, a little detached from life. And there's a reason for it--ever since he graduated high school (early, fyi), he's been on the fast-track to becoming a surgeon. He's had no time for social relationships, aside from his best friend (whom I loved but he only made a few cameos in the story). I liked the growth he had as a character and how taking a break from the hospital put life into perspective for him. And he becomes enamored with the girl who won't even speak to anyone.

I just didn't feel that he and Ava were a great fit. I didn't feel the chemistry between them. It seemed more like it was their for convenience sake. Sure, they had nice banter and a slow buildup that made the I love yous more realistic. But, I don't know, something about them together just didn't click with me. I think a little of it had to do with the lack of feeling in the story, and a bigger part due to the age difference between them. It's not a huge difference. It's only five years. But it felt huge, because like I said above, Ava appeared very childlike to me. And they were also at completely different stages in life. Because of that, it almost felt like Nate was her caretaker and not her lover.

One thing I wish would have better more developed were the secondary characters. They all made short cameos, but none of them were really important to the story-line. And I wish they were! When Ava decided to quit life, she detached herself from everyone. And since Nate wasn't very social, he didn't have any close friends. I would have loved more deep interactions with the other characters, especially Dale and Nate's father! They were hilarious together. I wanted more of them, and the rest of the people who live on the ranch.

The plot was okay. I wasn't totally bored with it, but not much happened. Most of it was about Ava, the tragedy, a back-and-forth romance that seemingly grew from nowhere. There was a bit of petty drama, revolving around Ava. Jealousy, pride, overreacting to something that doesn't even make sense. There was even one moment in the book that just made me want to strangle Ava. Nate was pulled into an emergency surgery, and she had to wait at the hospital. She slept in the cold car in just a short dress, because apparently hospitals don't have waiting rooms and comfy chairs. When he came out of surgery, she made it all about her and just blew up on him. I get it, Nate had to reset his priorities. He really did love being a doctor more than her sometimes. But the way she reacted was just extremely childish. I'm pretty sure his saving a life is way more important than your idiocy.

I actually really liked that ending and how it tied everything together. But all in all, I wouldn't recommend this book, especially if you love stories like this that will actually make you feel something. You know what, though? Maybe it's just me because it has such a great rating on Goodreads. Clearly, I'm the black sheep when it comes to this one.
RATING: