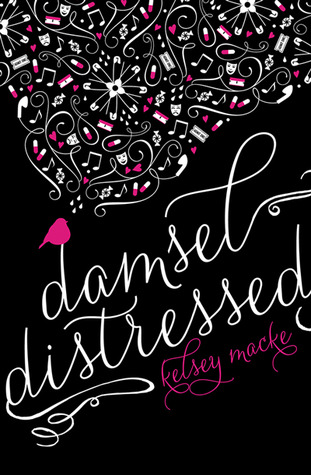 Title:
Damsel Distressed
Author: Kelsey Macke
Publisher:
Spencer Hill Contemporary
Release Date: October 14th, 2014
*eARC kindly provided by
Spencer Hill Contemporary via NetGalley*
From

Goodreads

...
Hot girls get the fairy tales. No one cares about the stepsisters' story. Those girls don't get a sweet little ending; they get a lifetime of longing
Imogen Keegen has never had a happily ever after–in fact, she doesn't think they are possible. Ever since her mother's death seven years ago, Imogen has pulled herself in and out of therapy, struggled with an "emotionally disturbed" special ed. label, and loathed her perma-plus-sized status.
When Imogen's new stepsister, the evil and gorgeous Ella Cinder, moves in down the hall, Imogen begins losing grip on the pieces she's been trying to hold together. The only things that gave her solace–the theatre, cheese fries, and her best friend, Grant–aren't enough to save her from her pain this time.
While Imogen is enjoying her moment in the spotlight after the high school musical, the journal pages containing her darkest thoughts get put on display. Now, Imogen must resign herself to be crushed under the ever-increasing weight of her pain, or finally accept the starring role in her own life story.
And maybe even find herself a happily ever after.
My Review!
I think more books need to be written like this. Ones with undesirable and unreliable characters. Ones that deal with mental health and not make it into this big deal about stigmas and labels and drama. I want more books to portray mental illness in a positive light, ones that feel real and genuine and don't overplay it or downplay it. One that just make it like life. And that is what Damsel Distressed did.

I think, out of all the books I read this year, none of them had a character quite like Imogen Keegen. Overweight, shy, insecure, not apologetic for who she is even when she doesn't like herself. And she doesn't. She has a problem with confidence and making friends and being normal. That's all Imogen wants. She wants to be normal. She doesn't want to be like this anymore; she doesn't want to battle with a mental disorder that has kept her from growing in seven long years. She just doesn't know how to move on from her mother's death and live her life. She's selfish, disconnected, and a lot of her thoughts revolve around her. And normally that would annoy me in a character and most likely make me hate them. But with Imogen, it feels real. It doesn't feel like it's there for no reason at all. And it's not. Because with her bipolar moods and her deep depressions, this is what it's like when she's going through all of that. And I think the author handled all of that so well, in making us not only sympathize with Imogen but cheer for her. Cheer her on in her quest to becoming a person who enjoys life again, one who doesn't hide behind her sarcastic personality. Someone who finds who she is again, when she'd spent years feeling lost and alone and like no one cares about her at all.

But people do care. Grant cares. He cares so much that he can't stand that his best friend is like this, that she can't do anything without hiding behind a false facade. It's hard, being on the receiving end of these types of mood swings and these constant thoughts of negativity. It's hard watching someone you love lose sight of who they are and succumb to a darkness that eats away at their very soul. And even when he couldn't take it anymore, he still stayed by her side. Because he knew that the real Imogen was down there, waiting to be freed. And she was his best friend. So he wanted to do all that he could to help her find the joys in life and move on from her past. I adored their cute and complicated relationship. And Grant, with his nerdy shirts and kind heart, his easy smile and charismatic personality. I thought he was the best person to love Imogen. One who would understand all that she was going through and be her sounding board, even if it hurt him.

The secondary characters were all wonderful as well. I loved that Imogen found some friends who didn't care about her weight or her looks or why she was so sarcastic all the time. Sure, she had slipups, had her moments of insecurity when it came to them. Like I said, she was selfish. She would always look for the negative and act like everything was a personal attack on her. But she learned that real friends stick by you, even when you hurt them. I'm glad she finally found people like that, when she didn't have her family's strong support.

Speaking of no strong family support, the drama with her stepsister kind of bogged down the story for me. I didn't think a lot of it was that necessary. I just didn't care for what was happening there; I was more interested in Grant's and Imogen's relationship and the main character's growth. Because that's what the story was about; it was about Imogen. It was her story of loss and grief, pain and darkness. But it was also about her striving to make changes and taking control of her life. Imogen needed a strong wakeup call; she needed a push in the right direction. And I'm so glad she took it, so happy that she came out of that tragedy stronger and better than she was before it. It's not a perfect solution, and she'll have to work at it every single day. But by the end, Imogen was ready to actually try. And that was the most rewarding moment of all.

Damsel Distressed was a contemporary novel about a girl who struggled with mental health issues, labels, and the grief that she just couldn't seem to shake. It was about learning that what happens to you doesn't define you. And it was about taking control of your life and choosing to live and love and not let the call of darkness ruin your chances of helping yourself.
RATING: