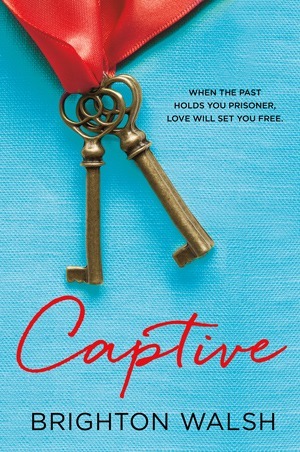 Title: Captive (Captive, #1)
Author: Brighton Walsh
Publisher: St. Martin's Griffin
Release Date: March 24th, 2015!
*eARC kindly provided by St. Martin's Press via NetGalley*
From

Goodreads

...
He's the most dangerous man she's ever met…and she's falling in love with him.
Madison Frost is desperate to escape her life. Daughter of a prominent businessman, she has everything a girl could ask for. Except for a family who's present in her life, and anyone to talk to outside the four walls of the prison she calls home. Madison dreams of one day leaving her life behind. She never thought being kidnapped is how it would happen.
Now she's being held captive by a man who's as frightening as he is sinfully gorgeous. Enormous, muscular, and filled with secrets, the man they call Ghost is an enigmatic mercenary, and Madison is trapped with him. She doesn't know who hired him or why, but the more time she spends at his mercy, the more she realizes he's not what he seems. Beneath his rough exterior lies an unexpected gentleness and a heart as broken and battered as her own.
But as Madison lets down her walls, Ghost holds tight to his, hiding secrets that could destroy everything.
My Review!
I loved, loved, loved that this wasn't your typical captor/captive story. People who are wary of reading this book because of that, I'm telling you to give it a shot anyway! It is SO GOOD and focuses on the two main characters and their relationship. It's not a mystery; it's not a thriller. It's a romance between two people who have fought their whole lives with their identities and have found in each other someone who sees them.

Can I just take a moment to appreciate the fact that this was told in dual POV? It made the characters both feel relatable and personable. It's also nice when you're dealing with the sort of story-line that Brighton writes in this book. You need both Madison's and Ghost's thoughts and feelings.

I so appreciated the growth of both characters, but especially Madison's. Here's a rich college student who seemingly has nothing to cry about. But behind the mask that she wears with people is an insecure and quiet girl who just wants someone to fight for her, who wants someone to see her.
"Most people don't look at me long enough to see more than what I allow them to see."
She's strong, so much stronger than she gives herself credit for. She deals with a lot in this book, from parents who don't care to bad past relationships to being kidnapped. But not once does she ever give up or stop fighting, even when she's hurt and scared. She's beautiful, but she doesn't know it because no one's ever told her that or shown her that she matters. No one, except for the guy who kidnapped her.

Oh, Ghost. Silent, deadly, strong, fierce, protective, intelligent. He was so complex and wonderfully written, from his questionable morals to his growing feelings for Madison. He totally made me swoon in those moments when he let down his guard and laid out his feelings.
Madison was a forever kind of girl, and I didn't have a forever to give her.
He's more than he seems, and Madison realizes that early on, especially after getting to know him. He's had a hard life, grew up in a lonely environment and became the sole protector of his brother at such a young age. There is so much about his past that Madison can relate to and how she comes to understand what put him in this line of work. A job that's now jeopardized because of a mark he didn't intend to fall in love with.

Their relationship is not without its ups and downs, clearly. Not to mention, there is a morality issue here that is always in the backs of their minds. For how can captor and captive fall in love and actually make a go at a relationship with each other? And what do you do when secrets threaten to collapse whatever foundation you've built together? Both Ghost and Madison are struggling with so much and they form a connection, a lasting bond. Their banter was great, and so was their chemistry. And their romance was passionate and quiet, full of learning and comfort and understanding. It made their love in the short time that they were together feel believable and genuine.

This book was about Ghost and Madison and their developing relationship, so there weren't very many secondary characters, especially important ones. But the two that were important made lasting impressions on me, Sylvia and most notably Riley, whom I can't wait to read about in Exposed. I wish they'd been in more scenes, and their relationships with the two MCs a bit more developed, but I didn't mind too much. I found myself just wanting more of Ghost and Madison.

Again, the plot revolved around Ghost and Madison. Sometimes I didn't even remember that this was a captor/captive story. There is a subtle mystery surrounding the kidnapping, but it's not a huge part of the book, not until nearer the end. Not until the two main characters realize that they can't stay in this cabin forever, just the two of them, no kidnapping or scary men between them. But real life caught up to them, and Madison and Ghost were forced to face certain truths. Madison, that she had the power to change her life and make it her own. And Ghost, that love and dreams are never out of reach and that he deserved to have them. They both had such wonderful growth, which made the ending that much sweeter.

Captive was more than just a story about a guy kidnapping a girl and them falling in love with each other. It was about two characters who'd gone through life never really living it and with people who never saw beneath the surfaces. And with each other, they finally found the person who looked underneath and saw that they were worth it and that they mattered.
RATING:
4.5 Paw Prints!