So hey, I started a new feature for the blog! I wanted something where I could have someone rec' me a book that I would read and review on here. And I wanted to see if they picked a winner or a loser. At first, I wanted this to be a monthly recommendation from the same person. But after a conversation on Twitter, I realized I wanted to keep it open for others to be able to rec' me books, too. Why, you ask? Well, sometimes I can be really head-strong about not reading a book. And sometimes I'm wary of hyped up ones. So I wanted a feature that would basically be someone forcing me to read a book. Sounds awesome for YOU, right? Ha. Anyway, so that's the origin of this new feature, Get Rec'ed. And the "reviews" are going to be set up differently because this is supposed to be fun and not critical. :)
I've a
ctually
had the idea for awhile, but I've just been so lazy about starting it. Just ask Cassie (

The Magical Adventures of Cassie the Weird

), the first person to give me a recommendation for this feature. IN JANUARY. Yeah, that's right. I was supposed to have read this book in January, but I kept pushing it back and pushing it back. Until finally, I was like: hey, I should probably read this. And while I was contemplating it, a slew of people started yelling OMGing ARE YOU SERIOUS HOLLYing tweeting at me about why I hadn't read this book yet. (jk love you all thanks for pushing me to read it). So this not only goes out to Cassie, but to Kaitlin (

Reading is My Treasure

), Rachel (

A Perfection Called Books

), and Racquel (

The Book Barbies

) too.
You guys picked a winner. :) And I
sneakily added this one into my schedule and kept it out of my updates so y'all wouldn't know. Hehe.
Oh yeah, you're probably wondering what book I read. It was this preciousssss.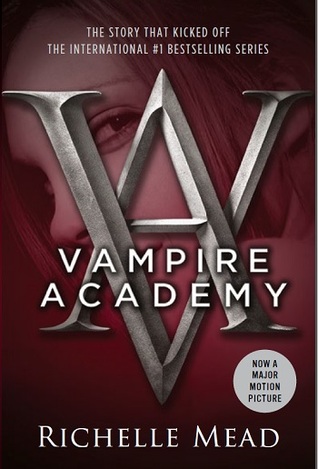 *Minor spoilery. Maybe?
Okay, first of all, how dare you guys let me go this long without reading it? I never realized how much I needed this book in my life. It was honestly so much fun, and the characters are badass and awesome and I just have so much love for this book. Why? Let me tell you.
A SEXUALLY CONFIDENT FEMALE MC
I cannot stress to you how much I need more confident main characters, especially women. I had been wary of reading this book, but when Racquel mentioned that Rose Hathaway was one of these characters, I was all: OMG NEED TO READ THIS BOOK ASAP. You see, we'd juuuust been talking about how there aren't enough sexually confident females in books (especially YA), least of all MCs. So when she told me that, I was immediately sold on the story. And let me tell you, Rose Hathaway did not disappoint! She was a confident smartass who wasn't perfect by any means and who put others' needs above her own more than she should have sometimes. She was unapologetic and fiercely protective. She was reckless and witty but she never appeared unlikable to me. I loved her from the beginning. She's not perfect; hell, she sucks at training and she's never given the easy way out. She didn't always make the best decisions, and she wasn't a nice person sometimes. But you know what? She was real. She wasn't a cookie-cutter character who never had to work hard or make tough decisions. She was more mature than I thought she'd be, and she knew who she was and she made no apologies for that. Gimme more MCs like Rose, please!
A FRIENDSHIP WITH DEEP, SELFLESS LOVE AND RESPECT
Rose has a best friend named Lissa. But Lissa is so much more than that to her. They have a bond, a profoundly deep psychic connection that shares more than they'd probably like with each other. Rose is Lissa's guardian. Well, unofficial one. And because of their bond, Rose feels fiercely protective of her friend, and vice versa. These ladies are the truth definition of friendship. Their love and respect for each other is something you don't find nearly often enough in YA, imo. Even when they're fighting, they put the others' needs before their own. And because of their connection, they're basically all up in each other's business all the time, so there are no secrets between them. And the way that they cared for each other, how protective and selfless they were, made me absolutely adore their friendship. They are basically sisters who have no one else that understands them as well as each other.
A PLOT NOT CENTERED AROUND ROMANCE
Where in the world of YA can you find books that don't focus on the romance? Not often! I mean, I would have liked a *bit* more development on the romantic side, but I wasn't unhappy with it. There are, what, six books in this series? I can definitely stand a slow-burning development. Also, there are two of them going on, so neither gets more focus than the other. And it's funny that I was kind of swooning over the secondary one more, but well, it's only book one. We'll see what happens in Frostbite. ;)
A DRAMA LAMA THAT HAS A PURPOSE
Don't you hate those books with unnecessary drama just to create angst and make the main characters look better than the rest? There is a lot of drama in this book, and normally that would make me cringe and just annoy the ever-living shit out of me. But it never felt unnecessary or ridiculous. It was high school. I can't expect everyone to love each other and sing kumbaya at a campfire (and yeah I kind of feel like a hypocrite, because I've given books less stars for high school drama before). But all of this actually served a purpose. It wasn't just there. It was important to the story-line, but it was also important to the characters' developments. It fit what was going on and how some things played out. Did I like it? Not always. Did it bother me enough to make me want to stop reading? Absolutely not.
A MYSTERY THAT IS SUBTLE BUT STILL PAGE-TURNING INDUCING
I was completely intrigued by this story-line from the beginning. I was hooked. I think that was mostly due to Rose's character, but once animals started dying (the first one was a fox and I may have died a little DON'T TOUCH ME I'M FINE) and Lissa become a girl who is definitely more than she appears (I am so not trying to be ridiculously vague here, but I want to keep this spoiler-free and besides, the peeps who have read this will know what I'm talking about), I wanted to keep reading to find out what was happening! I had my suspicions, but I could never confirm them and also the plot wasn't focused on it so sometimes I didn't even remember that there was something else going on besides learning about this world and watching the characters go to school and train for their futures (and hey, run-on sentence). Anyway, when everything finally came together, it was pretty action-packed. Not as much as I thought it'd be, but I liked it!
A FUN BEGINNING TO A LONG-ASS SERIES
Like I said, this book was just so much fun! And I did NOT expect it to be as deep as it was, especially regarding the characters. I honestly went into this book expecting it be filled with the high school cliches and cookie-cutter characters, but it wasn't. There is so much more to them than you know. And obviously since this is a series, there is room for more development with them and their relationships of the romantic variety (at least I hope so, because I'm not entirely convinced of Rose and Dmitri--sorry everyone, must be the teacher/student vibe, it weirds me out a little). And I know that there is definitely more stuff to learn about with this paranormal world.
As you can tell, I really, really, really enjoyed this book! It wasn't the strongest beginning to the series, but I have to say, I can't wait for more! More of these characters, more of this world, and more of these relationships. :)
As you can see, Cassie (and everyone else) picked a winner! And hey, wanna make me read a book? I have Goodreads shelves you can choose from (because I am on a book-buying ban right now so it'd have to be either something I own or one I can get from the library). But these may or may not have been updated recently...
*Physical
*ARCs
*Kindle
*Library
Just leave me a comment with the name of it! BUT YOU WILL NEVER KNOW WHEN I'M READING IT! *cue evil laugh*