Title:
Black Iris
Author: Leah Raeder
Publisher: Atria Books
Release Date: April 28th, 2015!
*eARC kindly provided by Atria via NetGalley*
From

Goodreads

...
The next dark and sexy romantic suspense novel from the USA Today bestselling author of Unteachable.
It only took one moment of weakness for Laney Keating's world to fall apart. One stupid gesture for a hopeless crush. Then the rumors began. Slut, they called her. Queer. Psycho. Mentally ill, messed up, so messed up even her own mother decided she wasn't worth sticking around for.
If Laney could erase that whole year, she would. College is her chance to start with a clean slate.
She's not looking for new friends, but they find her: charming, handsome Armin, the only guy patient enough to work through her thorny defenses—and fiery, filterless Blythe, the bad girl and partner in crime who has thorns of her own.
But Laney knows nothing good ever lasts. When a ghost from her past resurfaces—the bully who broke her down completely—she decides it's time to live up to her own legend. And Armin and Blythe are going to help.
Which was the plan all along.
Because the rumors are true. Every single one. And Laney is going to show them just how true.
She's going to show them all.
My Review!
Startlingly honest, unapologetic, and filled with tension of both the delicious and chilling kind, Black Iris was a force to be reckoned with. It pulls no punches and slams you over and over again with the stark reality that not everyone's lives are perfect. That not everyone is perfect. It is raw and dark and full of reckless abandon. But it is a powerful book that is completely needed in a genre that is overdone with straight couples and perfect endings and sunshine-filled relationships. And likable characters.

Let's just get this out of the way first: Laney Keating is an unapologetic bitch. She is cold, calculating, and manipulative. She is a hunter. She is an impenetrable fortress. She is an unreliable narrator. But we know this in chapter one. She says it herself (since the way this is written is Laney telling her story, it's like she's talking right to us). She's not a likable character, but you know what, I loved her. I'm not always a fan of unlikable characters, not because of the things they do or say, but because of the way the author writes them. Leah Raeder managed to make me sympathetic to Laney while also wanting to slap her across the face. She is definitely not your typical MC, and I think that's what I loved most about her. She was so unpredictable, so brash and reckless. So completely unreadable, even though this is in her POV. I told you above that she's an unreliable narrator, and it's true. But, don't go into this thinking there is going to be this big epiphany and that Laney is going to find redemption and forgiveness, because that is not this type of story. She did grow throughout the book, but not in the way one would think. But I thought it was sort of perfect for her character.
Then we have Armin and Blythe. Day and night. Hot and cold. The two of them are almost polar opposites, and their relationships with Laney are the same. The push and pull, the tug-of-war, the manipulation and lies. And oh, the romance. God, I don't even know what to say about it, because you should just go in blind. The directions it takes, the way the three lives intertwine, the way the characters' relationships with each other play out. There is so much going on behind the scenes, so much to all of them that you don't know. They're all complete messes, and they are all fucked up in their own ways. But you can't help sympathizing with them and loving how the author created such complicated romances that showed the fluidity of sexuality and the confusion and fear that comes with it.
The plot is another point of the story that is hard to talk about without going into too much detail. The only reason this is receiving 4.5 stars from me is because of the time changes. It jumps from past to present and back again without really taking a breather. I was confused a lot, and it was hard for me to infuse myself into one chapter before I was pulled into another time period. But it never really took away any enjoyment, because I was more focused on the characters' relationships with each other than the plot. And that was probably a bad choice to make, as nothing in this book is what it seems. I found myself constantly surprised, in good and bad ways. And I loved how it ended.
The writing is seriously gorgeous, and it flows so nicely. This book is also layered, from the characters, main and secondary, to their pasts, and to the way everything plays out. It all had a hand in creating a story told in the perspective of an unreliable narrator who is clearly so much more than that.
RATING:
4.5 Paw Prints!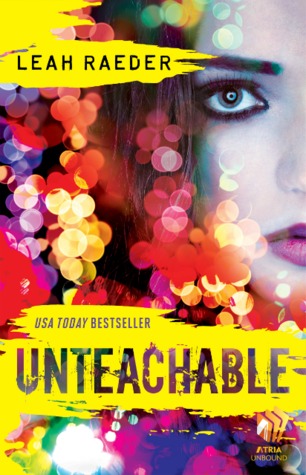 Title: Unteachable
Author: Leah Raeder
Publisher: Atria Books
Release Date: March 24th, 2014
*eARC kindly provided by Atria via NetGalley*
Maise O'Malley just turned eighteen, but she's felt like a grown-up her entire life. The summer before senior year, she has plans: get into a great film school, convince her mom to go into rehab, and absolutely do not, under any circumstances, screw up her own future.
But life has a way of throwing her plans into free-fall.
When Maise meets Evan at a carnival one night, their chemistry is immediate, intense, and short-lived. Which is exactly how she likes it: no strings. But afterward, she can't get Evan out of her head. He's taught her that a hookup can be something more. It can be an unexpected connection with someone who truly understands her. Someone who sees beyond her bravado to the scared but strong girl inside.
That someone turns out to be her new film class teacher, Mr. Evan Wilke.
Maise and Evan resolve to keep their hands off each other, but the attraction is too much to bear. Together, they're real and genuine; apart, they're just actors playing their parts for everyone else. And their masks are slipping. People start to notice. Rumors fly. When the truth comes to light in a shocking way, they may learn they were just playing parts for each other, too.


Smart, sexy, and provocative, Unteachable is about what happens when a love story goes off-script.
My Review!
*Spoilers. Fair warning.

So, a little confession: teacher/student relationships creep me out, no matter the ages, circumstances, or how they end. The only reason I read this was because I loved Black Iris, and Leah Raeder's writing is wonderful. I wanted to see how she handled a situation like this one. But I was NOT happy with it at all.
I am so goddamn disappointed with this book. To me, Unteachable was an unrealistic and romanticized student/teacher relationship that ended with no consequences with either of the parties like it should have. Not that it needed to for the story, per se, but when they're together, they're constantly thinking of all the reasons it's wrong and how they need to be careful. And so, there should have been this element of danger and forbiddenness, but there wasn't. They basically spent like 10% of the book actually in the school fooling around and the other 90% everywhere else. There was always this sense of foreboding, that they'd get caught and the consequences would be grave. But nothing happened to them. NOTHING. There was a bit of blackmail from another student that resulted in a little drama that actually flows into Black Iris. But it wasn't this huge big ginormous deal because it was pointless. There was never any real threat.
Oh, maybe I should talk about the characters. Well, I couldn't connect with Maise at all. At many points, I did feel for her and what she was going through. She was more mature for her age, felt like a thirty year old stuck in a teenager's body. She'd had to take care of herself since she was a little girl because her mother is a prostitute and a drug addict, and her father skipped out on them when she was a kid (hence the issues with boys). She had no parent figures, no guidance, no love or support. She was lonely, razor-edged, and closed off. And of course it would take this ONE guy to heal her. A guy she shouldn't have or even want.
I'm not gonna lie, I had liked Evan in the beginning. But he was cagey. He was very evasive about his past and his life and why he had taken the teaching job at her high school. We don't find out much about his past, and all we see is this good guy who takes care of Maise and only wants what's best for her. But he was honestly creepy, and it wasn't just because of the age difference. And it's all the more apparent when we find out what happened before he came to this high school. It just upped the ick factor tenfold, and I cannot in good conscience not see how the author didn't use that to make Maise open up her eyes about this guy. Why was it just brushed over? Why did it not make her want to run in the opposite direction? Why, why, why? I got no answers, which really pissed me off.
I could have gotten behind this romance, if I had actually felt a connection between the two main characters. If I'd had this sense that they were soulmates who shared a profoundly deep bond. But I just didn't believe it with them. This felt extremely insta-lovey, and all they did was basically have sex. They did talk too, but we never actually got to hear any of those conversations unless they pertained to Maise's life. Not to mention the ick factor of this. Sure, Maise is 18, which technically makes it legal (and that is a really nice excuse, is it not). But Evan is THIRTY-TWO! I'm sorry, but I just can't get behind this relationship. Not just because of the age factor, which is a strong reason, but because I believed that they weren't good for each other. Evan was sort of creepy, and he wouldn't share his past with her. And Maise might have been more mature for her age, but he was still taking advantage of her vulnerability. He was emotionally and mentally more stable than she was, even if he had a fucked up past like her. (But he really didn't because it wasn't a factor in his nonexistent character development, and there was basically no sense in bringing up his "hard" life experiences at all). And she might have been having sex already, but that didn't mean she was ready for a guy this mature and at such a different life stage than her.
The worst part, though, was the ending! All throughout the story, I was convinced it was going to end with them going their separate ways. That they'd say goodbye and look back on this as a lesson they were taught or whatever. Not to mention, like I said above, Evan was portrayed as this guy who put Maise's needs above his own, a selfless man who only wants what's best for her. And every single page leading up the end, he kept pushing her away and saying that she needed to leave and go live her own life and follow her dreams. That he wanted her to do that because she was so young and with so much ahead of her. So that basically meant nothing since he showed up in the plane seat next to her, in this really cheesy ending to a book that didn't seem to have a point to it. Also, the whole Casablanca thing was setting us up for that goodbye-never-to-see-each-other-again ending, but apparently that didn't mean anything.
The secondary relationships were all surface, and everything with them ended too perfectly. That was another unrealistic point of this book. Unteachable was basically about Maise and her addiction to a guy who is forbidden, and the amount of sex that they have and the fact that they get to have their happily ever after without any consequences. I went into this with an open mind and I am sorely disappointed that it didn't handle the teacher/student relationship well at all.
RATING: