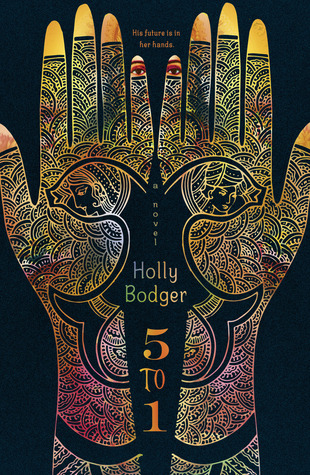 Title: 5 to 1
Author: Holly Bodger
Publisher: Knopf Books for Young Readers
Release Date: May 12th, 2015!
*eARC kindly provided by Random House Children's via NetGalley*
From

Goodreads

...
In the year 2054, after decades of gender selection, India now has a ratio of five boys for every girl, making women an incredibly valuable commodity. Tired of marrying off their daughters to the highest bidder and determined to finally make marriage fair, the women who form the country of Koyanagar have instituted a series of tests so that every boy has the chance to win a wife.
Sudasa, though, doesn't want to be a wife, and Kiran, a boy forced to compete in the test to become her husband, has other plans as well. As the tests advance, Sudasa and Kiran thwart each other at every turn until they slowly realize that they just might want the same thing.
This beautiful, unique novel is told from alternating points of view-Sudasa's in verse and Kiran's in prose-allowing readers to experience both characters' pain and their brave struggle for hope.
My Review!
5 to 1 was a brilliant, thought-provoking novel that I read in one sitting. It was such a quick read, one that packed an emotional punch in very few pages. The combination of prose and verse was EXCELLENT. I've never read a book like that before, other than one, but it was definitely not as well-written as this. The verse, the lyrical, the poetical, was especially impactful for me. It was wonderful.

The verse was in Sudasa's POV, a girl who has to marry but doesn't want to. However, it's expected of her. It's been expected from birth. Women are a valuable commodity in this society, because they are outnumbered by males. They are a prize, one that boys grow up knowing they need if they want a good place in society. But Sudasa wants more than this. She wants love. She wants a choice. She doesn't want to be forced to watch boys compete for her hand in marriage. She just wants to be free of this. Sudasa is such a strong character, one that I admired so much. She's intelligent, outspoken, different. Different from a family who still believes in this tradition. Different from a people who don't voice their dissent. Sudasa dreams of more for herself, and so does the guy who apparently doesn't want to marry her even though he's in the Tests.

The prose was told in Kiran's POV, which was a nice change of pace from Sudasa's chapters. It never became hard to switch between the two for me. He's hiding his true desires even as he competes in Tests that could kill him. He was as easily likable as Sudasa; he's just a guy who has dreams and plans of his own. I loved how Kiran's chapters gave us more insight into this society, his life, and what it's like for a boy living in this world. Boys are taught from birth that they'll have a chance to compete with one another for a girl. For marriage. For a better station in society. But Kiran despises this system; he despises Sudasa, before he realizes that maybe she's just like him. That maybe she wants something different too. That maybe she doesn't want this anymore than he does.

This is not a romance; in fact, there is ZERO romance. And I was okay with that. Because it is so much more about the two characters and their wants, their dreams. It was about two people who had been taught a certain way their whole life but who desired something more. I loved their banter, loved that the Tests became a sort of personal challenge for them with each other. Kiran and Sudasa don't understand each other, but their preconceived notions are quickly disputed. And through this, they find in each other an ally, a friend. Someone who understands, and someone who wants the same thing.

The ending left their relationship open; it left everything open. But I didn't mind, because it was amazing. I loved it. I definitely could have used just a *bit* more information when it came to this new society, though we do see how it came to be from the beginning. It's a sort of post-apocalyptic, utopian world in India. Like nothing I've read before. And I've never read a book where WOMEN were more valuable than men (which was just excellent for my feminism heart) and I was all YOU GO SUDASA WOO FEMALES ARE ALL-POWERFUL. But in all seriousness, this story-line provokes thought. Not just of what could happen, but of what society is capable of, and of what it means to be human. To be compassionate. To dream. To hope.

5 to 1 was unlike anything I've ever read before, and I loved it so freaking much. Everything about it. Brilliant, so brilliant.
RATING: