From the Den is a feature to showcase the books that I don't post reviews for on the blog, whether I liked them or not. I read so many books that never make it onto The Fox's Hideaway, so I wanted a feature where I could tell y'all about them. :)
The Kiss of Deception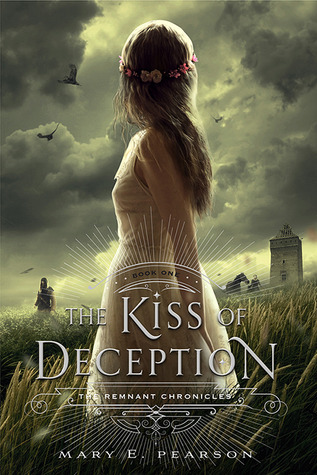 This had been a reread in prep for The Heart of Betrayal (which I also read and hopefully will have a full review for, so that's why it's not on here). It was just as amazing the second time around! And I could focus better on the characters and their relationships, after knowing who was who from the start. :)


With Visions of Red
I'm not even sure what to do with this book. I actually didn't know it was a serial before starting it, so I'm kind of upset about that. But this is one serial I wouldn't mind following in installments. It was so damn good! And crazy. And just WHOA.
End of Days
I thought I was going to write a full review for this, but nah. I don't have a lot of thoughts. It was good, a satisfactory ending to one of my favorite series. But it's quite clear this wasn't meant to be a trilogy, and I'm upset it got cut off and everything got smushed into this finale. However, I did love it! I talked to Shannon about this once she finished, and she wasn't as happy, understandably so. It was fairly predictable, and a little underdeveloped (especially with the additions of more secondary characters), and the battle at the end wasn't as epic as I'd hoped it'd be. But, you know what? I can't find it in me to care about all that. I was HAPPY with the ending. I was happy I got more Penryn and Raffe banter. And I was happy it ended happily. :)


The Tenderness of Thieves
I liked this book, but it wasn't as good as I thought it'd be. I couldn't connect well with the main character at all, even though we shared some of the same background. I also disliked the romance. I wasn't much a fan of Handel, and it's quite easy to guess from the synopsis what his big secret is. But I was happy the ending took a different direction than most YA novels. Also, the parent/teen relationship, and the friendships between Jane and her girls, was fabulous to see and read about in this.


Storm Warning
I read this for the Bookish Bingo challenge, and I quite liked it! Definitely different from what I thought it'd be, but I hated the multiple POVs because I ended up not caring about three out of the five characters. The other two? I could have read a whole book about them and their romance. Speaking of, the romance was a huge disappointment. It was all underdeveloped and insta-lovey. I think that cliffhanger might have been the saving grace, because now all I want to do is read the sequel to find out who died at the end. (I have a guess, and if it's right, I WILL BE PISSED). Anyway! Lots of dramatics, lots of shifting relationships. But I still enjoyed it, to a certain extent.


Hope y'all like the new feature! Like I said in the first post, this will be a monthly showcase from now on, starting in June. If I keep up with it! HAHA. Anyway, at this point in time, I'm probably leaving NY so I'll be back to the land of the internet soon enough. And I'm sure I've missed my laptop immensely and will be happy to be reunited. Checking out now. :)