I created this feature back in March, and I'm so excited to be continuing it! So if you missed that first post, I'll sum it up for you: Get Rec'd is basically where YOU MAKE me read a book, but you'll never know when it happens or if I'll ever post about it. It's all so very mysterious. ;)
And this Get Rec'd is brought to you by Val (The Innocent Smiley). I, for one, cannot wait to see her reaction to this. She's been telling me to read this one for MONTHS, and I finally got around to it. So, what book would that be? See below! :)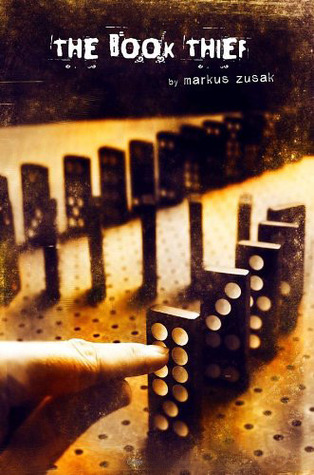 I. I don't even know what I just read. I don't know what to think. I don't what to do or how to feel about this book. It was, in one word, phenomenal. And let me tell you why.
A UNIQUE NARRATOR
I was so NOT expecting the book to be narrated this way, to be told in the voice of a person who was watching everything happen from the behind the scenes, who could tell you things that you would have missed had it been recounted by the characters themselves. But you know what? It was unique, and I loved it. The narrative was a mix of gruesome horror, dry humor, exploration of the human race, and how it can be both beautiful and ugly. The writing was a little wordy at times, very flowery and purple prose. But I didn't mind it so much, even when I didn't totally understand a few scenes or quotes in the book.
A HUMBLE BOOK THIEF
Liesel is an astounding character, one who brought so much light and joy to the people whose lives she touched. She toed the line between childhood innocence and heartbreaking reality as she grew up in a place that wouldn't stay untouched by war. She had a level of maturity one wouldn't expect with a girl her age, but Liesel was forever learning. Always listening, always asking questions, always wanting to know why. Curious, headstrong, almost fearless. She was never satisfied until she knew the answers, until she heard everything. She was a bright-eyed child who was so very intelligent for her age (I had been expecting her to be a teenager at the start, but she was only ten). She had such an innocent quality to her, even in the midst of the horror, even in the face of the cruelest of humanity. But she never let that jade her, and she continued to be brave and to do the right thing, even when it hurt her. She went through a lot in this book, and witnessed both the ugly and the beautiful, and never let any of it define her.
A TOUCHING FRIENDSHIP
How much do I love Rudy? THERE IS NO MEASURE! The relationship between he and Liesel was one of my favorite parts of this book. There was something so beautiful about their childhood innocence and dialogue, the way they became each other's best friends. How they bonded through name-calling, stealing, and being braver than many of the other kids their age. They had such a genuinely real friendship that could have become so much more, had it been given the time to mature. Gah. It's so hard to say much more without giving anything away, so I'll just leave it be. Content to stay in a bubble myself. It hurts too much to remember otherwise.
A MAN NAMED HANS
Hans was Liesel's foster father, a man who became the most important person in her life. He would hold her after her nightmares, soothe away her fears, and indulge her dreams. He taught her how to read; he opened the gate through which Liesel found her passion: words. They developed such a deep, important bond with each other. I loved how, through Hans, Liesel grew into a strong female who didn't forsake someone who needed help. She was not a Nazi, not someone who hated the Jews. In fact, she was disgusted by concentration camps and the parades, something Hans shared also. He was stupidly kind but couldn't stand by and just watch. He had to take action. He had to prove that people, that humanity, was still good. Hans was one of my favorite characters, for everything he did, and for everything he was.
A RICHLY DEVELOPED TALE
This book is massive, but understandable given how much there was to tell. Not just about Liesel, and Hans, and Rudy, and Rosa (her foster mother, who was hilarious and callous but who loved her family so), but about the people whose lives intersected with theirs. Like I said above, because it was narrated in such a way, we were able to see so much, not just about the immediate characters. And none of this felt random, and it didn't take away from the overall story-line. Because everything was important, everything was needed. This book was so richly detailed, the characters so fully developed with big personalities (even some of the unimportant ones). It was about more than just a book thief. It showed the dark and light of humanity. It questioned how something can be ugly and beautiful at the same time. And it all circled back to one young girl who developed a penchant for stealing books.

This book is life-changing, soul-crushing, and utterly remarkable. I don't know what more to say here, because I'm kind of still stuck in a story that I think everyone should read. It's just that good, that amazing. A book that'll stick with me for awhile, and one that is truly something to read.