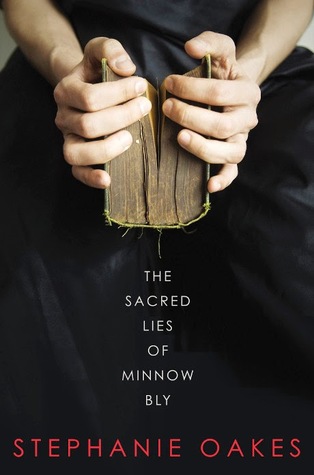 Title:
The Sacred Lies of Minnow Bly
Author: Stephanie Oakes
Publisher: Dial/Penguin
Release Date: June 9th, 2015!
*physical ARC kindly provided by Penguin*
From

Goodreads

...
With a harrowing poetic voice, this contemporary page-turner is perfect for fans of Laurie Halse Anderson's Speak, Julie Berry's All The Truth That's in Me, and the works of Ellen Hopkins.
The Kevinian cult has taken everything from seventeen-year-old Minnow: twelve years of her life, her family, her ability to trust.
And when she rebelled, they took away her hands, too.
Now their Prophet has been murdered and their camp set aflame, and it's clear that Minnow knows something—but she's not talking. As she languishes in juvenile detention, she struggles to un-learn everything she has been taught to believe, adjusting to a life behind bars and recounting the events that led up to her incarceration. But when an FBI detective approaches her about making a deal, Minnow sees she can have the freedom she always dreamed of—if she's willing to part with the terrible secrets of her past.
The Sacred Lies of Minnow Bly is a hard-hitting and hopeful story about the dangers of blind faith—and the power of having faith in oneself.
My Review!
I've been wanting to read this book ever since I heard of it! It sounded so good, and I loved that it was a contemporary retelling of a not-so-familiar Grimm fairytale, The Handless Maiden. Going into this one, I had absolutely NO idea what to expect! That made The Sacred Lies of Minnow Bly a truly engrossing page-turner that surprised me at almost every turn.

This story is told in the perspective of Minnow, a seventeen year old brought up in a religious cult that she wants freedom from. I loved her voice! It was easy to fall into the story, to be swept away in the past and present, the unfolding of the events that led Minnow to juvenile detention. I was not expecting this novel to be as dark as it was! What happened to Minnow in that community is unspeakable and unbearably hard on her. It fills her every thoughts, even when she tries so hard to forget it. She was a strong character who let love and curiosity spill from her mind until she wanted just a taste of that freedom and life. It was a spark that lit deep within and opened her up to endless possibilities, even when she struggled with childhood ideals and notions that contradicted them. "The power of having faith in oneself" in the synopsis describes Minnow's situation perfectly.

This was truly a contemporary, a character-driven novel. It was very much about Minnow, her old life and her new one, and the people who appeared in each. Minnow had amazing character growth, and everyone else played a hand in it (no pun intended). She struggles with her feelings for her parents, the boy she was not allowed to be with, and the girls at her new home in juvie. All play a part in Minnow's development, especially the FBI detective who wants her story. Her sanity is in question, and so are her tales of what happened at the camp. But Minnow will not give in so easily, and it will be ever hard to guess if her words are lies or the truth.

Throughout the novel, the plot revolves around the mystery surrounding how Minnow lost her hands and if she actually murdered the leader of the cult. It sounds kind of boring, given that there wasn't much action. But I never grew bored with it. I was completely hooked on the story and constantly sifting through the pieces of past and present to gain the full picture. The plot was filled with introspection, a girl who was transplanted into a life she didn't understand and who was trying to figure out her new place in the world, with a little bit of romance thrown in for good measure.

The Sacred Lies of Minnow Bly was a compelling story about one girl's struggles and triumphs. It was gritty and dark and, at times, a brutal account of the community mind of a cult.
RATING: