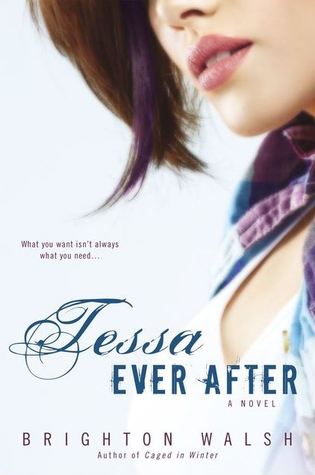 Title:
Tessa Ever After
(Caged in Winter, #2)
Release Date:
May 5th, 2015!
In this grippingly emotional New Adult novel from the author of Caged in Winter, what you want isn't always what you need…
Jason's been living (and loving) the rich playboy lifestyle for five years, but now his parents are pressuring him to get involved in the family business. The last thing he wants is another obligation, but when his best friend moves out of state and asks Jason to look after his sister, he can't just say no.
Tessa had to grow up way too soon. After dealing with the aftermath of her parents' deaths, then becoming a teenage mom, she knows the meaning of responsibility. Which is why, at twenty-two, she's looking for so much more than a party boy. She's looking for someone who can stand by her and her daughter…forever.
A relationship between them is doomed from the start, but who says they can't have a little fun? But as Jason gets closer to Tessa—and her daughter—fun starts to turn into something else… Something Jason's not sure he's ready for.
My Review!
The best friend's sister/sister's best friend romance trope is one of my FAVORITES. And after reading Caged in Winter, I was dying to get my hands on Tessa's and Jason's story. Two characters I grew to love in the few scenes they were in during CiW, ones whose happy ending I wanted to read so badly. Because they both deserved that happy ending.
Tessa, who is so strong and selfless and hard-working, a girl who just wants to do right by her daughter. She's worked extremely hard to become the woman she is now, and she feels like she's failing. With Cade gone, she's left on her own and she never realized how much he helped out. And she's floundering, trying so hard to be the best mother she can be, putting so much pressure and expectations on herself. I loved Tessa's strength, even when she was struggling. I loved that she kept fighting for more, for herself and her daughter. She's her own worst enemy, and she's better than what she thinks of herself, but she doesn't see that. All she can see is a failure.
But Jason doesn't see a failure when he looks at her. He sees a woman who had to grow up too fast, one who took control of her life and made something for herself. He can't say the same for himself. He's been in school for five years, wasting away his time because he knows that once he graduates, he has to work for his father. And that's not what he wants. But he won't let himself want anything else, won't let himself dream of possibilities. And that almost stops him from losing the best thing that's ever happened to him. Jason could be so clueless, so narrow-minded, but he had wonderful growth like Tess. He found something worth fighting for, a dream, and two girls who made his life infinitely better.
The romance between the two of them was HOT. Their chemistry is off-the-charts. Jason is a smooth, confident dirty-talker who knows what he wants and is not afraid to go after it. He's a total Alpha, but one who cares so deeply for Tess and one who just wants to prove himself to her. *fans self* Tessa is more cautious, a little insecure. Her past relationships have given her a less than stellar opinion on sex and romance. She wants a little more for herself, something that she struggles with because how could she think she needs more than her little girl? But she wants love. Someone to share in the load, someone who will hold her at night and play in the snow with Haley. Is it selfish? I say hell no. And Tessa didn't realize all along that the man who was perfect for them was right there the whole time. I adored reading about them falling in love. It was a passionate, steamy affair that made the two main characters better. In each other, they found a partner, and a love that had a strong foundation built in friendship, mutual respect, and understanding.
I have to say, I'm usually not a fan of kids in books, or main characters who are parents. Not that there is anything wrong with them, not at all. And I KNOW that they are sorely underrepresented in books, especially in NA ones. I'm in this age range, and let me tell you, so many of my fellow high school graduates have kids. It's extremely common. So I don't know why I don't like reading them that much, but maybe it's because I haven't read enough good ones (and also could probably be because I don't like kids that much in real life). Being a mom was such an integral part of Tessa's life and her development as a character. I love how awesome she is to her Haley, how patient and understanding, and you can see how much she loves her little girl. And Haley was such a great secondary character; she's so freaking adorable. I especially loved the scenes with Jason and her (he dressed up for a tea party for her BRB MELTING FROM SWOONS), or all three of them together. They're the cutest damn trio.
I also loved the additions of Paige and Adam, and of course, Cade (even though he needed to mind his own damn business and let Tess live her life the way she wanted to). Paige is the greatest best friend. She's cool, confident, and so very different from Tessa's more quiet demeanor. I want this woman to get her own book! GET ON THAT, BRIGHTON. Also, I've always loved the bromance between the three guys--Adam, Cade, and Jason. I want more of that, too. (I am so demanding).
I was not expecting to write such a long review, but I had so many thoughts and feelings about this book! I loved the focus on the romance, but I also loved the focus on family and friendships. Family doesn't just mean by blood; it can be the people you choose for yourself. And that is something that Jason comes to realize. Tess and Haley became his family, and he would do anything for his girls. That ending was PERFECT. I adored Tessa Ever After so freaking much, I almost never wanted it to end.
RATING