I have some more mini reviews for y'all today! Of the fantastical variety. One of them was incredibly disappointing, another was decent, and the last was fucking amazing and omg everyone who loves fantasy needs to read it.
*all eARCs received from the publishers via NetGalley*
*all of these came out in May SO YOU CAN BUY THEM NOW*
The Huntress of Thornbeck Forest
I liked this well enough, but I have to say, I was pretty bored throughout the book. I thought it'd be more exciting, and that there'd be more action. It's definitely character-driven, but in this instance, I wanted a more intense and engaging plot. Something that would hold my attention. The story-line was predictable, and there wasn't much conflict, and I wanted there to be with a synopsis like this. A girl who hunts the woods and gives to the poor, one who is always afraid of getting caught. Sounds exciting, right? Wrong.
The characters were great, but they were pretty bland. And I was kind of upset at how much Odette's looks were referred to throughout the story. Like they were all that mattered, like they put her ABOVE the other girls in town. Something about that rubbed me the wrong way, but Odette herself was a wonderful character. A complete Mary Sue, but I liked her a lot. Her romance with Jorgen was very sweet, and he himself was a good guy, one who just wanted to do his duty and protect the people he loves. These characters were the saving grace of the book, because the plot was really underwhelming, and the mystery was predictable.
RATING:
Like the one above, this one was another book I liked! BUT it was loads underwhelming, and I was almost pushing myself to finish it even though I didn't totally want to. I
am
glad I finished, but I didn't fall in love with this story like I wanted to. It was a bit predictable, but it was fast-paced and I like fae stories a lot. The romance could have been way more developed though, and so could have the characters. I never really connected with them, or felt that they were more than one-dimensional. The main character, Alina, was kind of clueless, but she was headstrong and dived into the danger (even when it could have killed her). The romance was so insta-lovey, but I looked over that because I liked the characters' push and pull relationship. Banter is good. This was not my favorite fae story I've ever read, but I still enjoyed it.
RATING: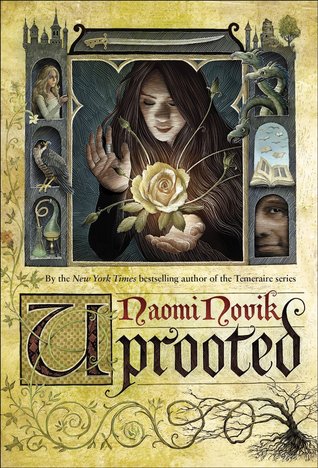 Oh my heavens, this book! It took me a LONG time to finish, but boy, was it one to savor. There is so much uniqueness in this story, so much loveliness, so much
realness
. I adored the characters! Agni
eszka is definitely one of my favorite heroines ever! So sassy, so headstrong, a fighter. Clumsy, reckless, naive. She was a perfect combination of strength and vulnerability. Her character was so real and genuine. A girl who took what life handed her but who dished it back. One who would do anything for the people she loves, even if it destroyed her. Even if she didn't have a clue what to do. She never stopped trying. She never stopped giving up. She wasn't perfect. Lord knew she was stubborn, and reckless, and didn't always do or say the right thing. But Agnieszka was such a badass heroine, and one that had wonderful growth throughout the story.
And her relationship with The Dragon? Oh gods, I ship it so much. There is a HUGE age difference between them, and it's fairly easy to recognize, but I never felt that they weren't good for each other. They had such a strong connection, and hilariously awesome banter, and a bond forged through magic. They challenged each other, pushed each other to be stronger and better, and they had such passion and chemistry. They bickered so much (definitely sexual foreplay, just sayin'), but they came to care for each other a great deal. It was definitely a slow-burning romance, and one that I would have LOVED if it had been more developed. I wanted MORE from it.
This was such a unique story-line, one that hooked me and drew me in, one that I tried to guess at but was surprised at every single turn. It was like The Wood, a force that kept trying to pull me in even after I set the book aside for others. It definitely had my interest, though it took me a little bit to get into it. This mystery, and the suspense, had me completely enthralled. It was well played out, though I'd have liked a bit more backstory on what had happened and who the people were, at the end. Speaking of end, I LOVED the end of this. It was perfect.
Uprooted
was just so damn good! One to savor.
RATING: