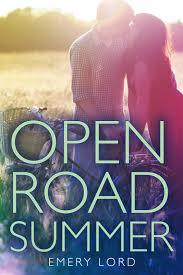 Title:
Open Road Summer
Author: Emery Lord
Publisher: Walker Children's
Release Date: April 15th, 2014
From Goodreads...
After breaking up with her bad-news boyfriend, Reagan O'Neill is ready to leave her rebellious ways behind. . . and her best friend, country superstar Lilah Montgomery, is nursing a broken heart of her own.
Fortunately, Lilah's 24-city tour is about to kick off, offering a perfect opportunity for a girls-only summer of break-up ballads and healing hearts. But when Matt Finch joins the tour as its opening act, his boy-next-door charm proves difficult for Reagan to resist, despite her vow to live a drama-free existence.
This summer, Reagan and Lilah will navigate the ups and downs of fame and friendship as they come to see that giving your heart to the right person is always a risk worth taking.
A fresh new voice in contemporary romance, Emery Lord's gorgeous writing hits all the right notes.
My Review!
*Contains minor spoilers!
I was warned about the slut-shaming. I knew it would be in this book, and when I started it, I looked for it. I waited for it. And I am so disappointed it was even in here. Because, like many have pointed out, it didn't make sense in this story. It was particularly disconcerting because Reagan herself is a sexually confident female. She knows she's hot, she knows guys like her, and she dresses to that effect. So it was hypocritical coming from her, especially since the only thing these girls had done was go to Matt's concert and scream for him. Like they would for any celebrity singer they were near, I'm sure. So yeah, I kind of wish this had been addressed or that Reagan realized how bad it was and showed remorse over being overly critical to girls who are only having fun at a concert with one of their favorite, and hot yes, artists. All it did was show what a petty bitch the main character can be, which is fine and good. I love flawed females. I just don't appreciate slut-shaming. Ever. Especially when it's ignored and doesn't seem needed in the story.
*takes deep breath* I'm glad we got that out of the way, because it needed to be said. And I needed to set that aside so I can review this book. Because aside from the slut-shaming, I loved every single thing about this story. And I didn't want my love to be clouded over a small, seemingly
inconsequential
, detail (just fyi, slut-shaming is never inconsequential to me, I'm just more sensitive to it than most).
Reagan O'Neill is a flawed female character. I know this. I love this. She had a lot of growth in the story, and I appreciated her development. It wasn't going to change over night;
she
wasn't going to change over night. And Reagan knows she needs change. She knows she's made a mess of herself, and she wants to fix the broken parts.
She wants to do better
. And she wants to spend this summer with her best friend and learn from her mistakes and be a better person. I respect that so much. I respect Reagan for the respect she gives herself and the attitude of
I can't change but I can do better
. She's not perfect by any means. She's angry, hurt, and tough. She hides behind the attitude because it lets no one see her vulnerability. But she can be judgmental as all hell, stubborn, and just plain
mean
. She's brutally honest and can hold her own against a guy who seems determined to get to know her. But she doesn't think he'll want her, and if he does, that it'll pass like a summer fling at the end of the tour. However, Matt Finch won't let her get away with her usual tricks. He pushes her, challenges her, and makes her start to believe that opening up her heart can be so,
so
worth it.
Matt Finch is the type of literary boyfriend who is everything good and kind and wonderful. He was a genuinely good, down-to-earth guy who didn't let his celebrity status define him. He didn't put up with Reagan's shit, and he quite honestly deserved more than how she treated him at times. Yet he fell for her, looked past all of her insecurities and tough exterior, and he found someone who didn't just look at him like a country singer. But as
Matt
, someone more than just his talents, more than just his status.
Their romance was full of the fun banter and sparks that I love in books. It was a rocky road sometimes, given how much these two argue (I'm pretty sure they do this just for sexual foreplay, just sayin') and what happens in the story. Now, I already said Reagan's flawed, but I could totally understand her reactions to The Kiss That Shall Not Be Named. Given her history, and her lack of trust in people, it was normal for her to retreat. To pull away. To not even give him a chance to explain (like I would have, but I
am not
Reagan). It made her feel insecure, Matt's friend made her feel insecure in the beginning. And when it happened, Reagan was forced to face those insecurities and the wound from her last breakup reopened. It was her natural reaction to it. But Matt was right; Reagan had only been looking for an excuse to leave him, and she found one. However, he was never going to let her get away with that. And I was so happy when they found their way back to each other by the end.
I'm not gonna lie, the music might have been my favorite part of this book. I don't know if Emery wrote the songs herself, or someone else did, but they were amazing additions to the story! Especially Matt's, and when he basically serenades Reagan up on stage in front of thousands of fans. Talk about swoon! Also, I ADORED, absolutely
adored
, Reagan's relationship with her friend, Dee. It's one of my favorite book female friendships. I loved how they had each other's backs through everything, even when they were fighting, even when they weren't sure of themselves or their lives. They had each other to fall back on. And Dee was just so darn cute and kind and good-natured. I loved how big her personality was, and her heart.
Open Road Summer
was a feel-good book that just made me so happy to read.
RATING: