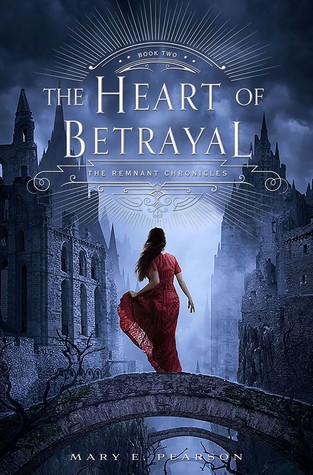 Title: The Heart of Betrayal (The Remnant Chronicles, #2)
Author: Mary E. Pearson
Publisher: Henry Holt and Co.
Release Date: July 7th, 2015! PRE-ORDER NOW!
From

Goodreads

...
Intrigue abounds in this hotly anticipated sequel to The Kiss of Deception!
Held captive in the barbarian kingdom of Venda, Lia and Rafe have little chance of escape. Desperate to save her life, Lia's erstwhile assassin, Kaden, has told the Vendan Komizar that she has the gift, and the Komizar's interest in Lia is greater than anyone could have foreseen.
Meanwhile, nothing is straightforward: there's Rafe, who lied to Lia, but has sacrificed his freedom to protect her; Kaden, who meant to assassinate her but has now saved her life; and the Vendans, whom Lia always believed to be barbarians. Now that she lives amongst them, however, she realizes that may be far from the truth. Wrestling with her upbringing, her gift, and her sense of self, Lia must make powerful choices that will affect her country... and her own destiny.
My Review!
*Spoilers if you haven't read The Kiss of Deception yet! There also might be minorish spoilers for this book. They're tiny, but I do allude to a few things. Just to warn ya. :)
And the deception continues! No, but seriously, there was a lot of deception happening in this book, maybe even more so than the first. It was interesting to see how the relationship dynamics changed, how they evolved throughout the story unfolding around them. It is definitely more character-driven, though the plot never grew boring or predictable to me. I was enamored by the fantastical elements just as much as I was enamored by the three main characters and their journeys.
Lia has always been one of my favorite heroines, and that fact didn't change when I reread
The Kiss of Deception
and then dived into the sequel. If anything, I love her even more now. What she does, how she survives, who she has to become to keep herself alive? It took so much strength and courage, something that solidified the fact that Lia will do whatever it takes, damn the consequences. She's an intelligent, determined princess who is forced to face what she left behind in the first novel. She's forced to make impossible decisions and to bend until she almost breaks. I know some people are going to burn her at the stake for what she does in this book, for her choices and actions, and for what she has to do to survive. But, to me, she turned around a gut-wrenching situation and OWNED it. She was quiet but defiant, let herself feel all the emotions and also gave herself the power to just
want
. To, even when she was pushed almost to the breaking point, want more. And she stole whatever moments of love she could because they made her feel like a girl again and that she would make it through this. Also?
Lia puts the bad in badass
.
Rafe, oh Rafe. The guy I thought I fell in love with when I read TKOD the first time. (But in hindsight, I think it was actually Kaden,
oops sorry Rafe I still love you blame it on Mary Pearson's excellent deception skills
). He grew a lot as a character, and through this story-line, we see the many sides of him. The politician, the smooth liar, the graceful servant, the handsome prince. Like Lia, he had to do whatever it took to survive in Venda. He was pushed so beyond what he was ever prepared for, but he handled it as well as he could. He's still that arrogant, smirky little devil from the first book, but he became so much more than that.
He grew up
, not just grew. He put Lia first, above and foremost, even when his life was on the line (as she did for him, they're such martyrs). He's an intelligent, sassy creature who loves his girl and will do whatever it takes to get her out of Venda, bring her back to his kingdom, and marry the hell out of her to appease both of their families. But not just their families anymore. A marriage, a normal life, is what they want together.
But Kaden, damn him and his complicatedness. I was so set on Rafe in
The Kiss of Deception
, but I found myself falling for the "wrong" guy in the love triangle (this rarely happens to me) in this book. He's so much more quiet, so mysterious and appealing to me. And yes, he is BAD, in the sense that he is bad for Lia. I know this, and I respect her and her choice in Rafe (if any of you were worried about the love triangle, trust me, it's over in HOB). But he is such a multifaceted character, a young man who grew up in a certain way, with certain beliefs and opinions. A guy who starts to realize that maybe those values aren't what he believes and thinks anymore. He starts to question himself, and with Lia, we see a better side to him. A facet of himself he forced deep down inside, someone who wants to do right but isn't sure how to make it happen. But he tries his hardest, even when he keeps failing. And there is so much more to his past that I want to know. I want the author to dig even DEEPER with him. Because that guy?
He's so worth it
. Also I spent half the book wanting to give him a giant bear hug even though he didn't exactly deserve that. I'm crushing hard.
Oh God, I could talk your ear off about Kaden, and this love triangle. But I feel I've already discussed the romance through my comments on the two guys, both of whom bring out a different side of Lia. With Rafe, she feels safe and wanted, and he literally raced across the world for her. With Kaden, she feels love of a different kind, of friendship, full of forgiveness and a little deception on her part (remember those choices I said would make people want to burn her at the stake? Yeaaaah). But ultimately, she is
in love
with Rafe, and that is who she chooses. It was apparent in the first book, but it was solidified in the sequel. Whatever happens in this book, Lia chooses for herself, first and foremost. And I loved that.
There were many secondary characters, a few I really loved. The little servant girl, for one, who stood up for Lia even when she shouldn't have. So,
so
brave. The tribe of people who accept Lia as their own and who give her courage to stand up to the Komizar. Speaking of the Komizar, what a truly complicated villain. What a creepy man who looks like he's Lia's age, which means yes he is handsome. But no, he's not a good guy. I would never root for someone like him, but he made much of what happened in this so interesting, especially his relationship with Kaden. They were like brothers, but this book really forced Kaden to pick a side and that complicates his friendship with the Komizar. One that definitely has consequences by the end, for the both of them.
The plot was packed with emotional punches, action scenes, and blurred lines. It upped the stakes for the three main characters. It's a book that explored survival, and what people would do when backed into a corner. It's a book that pits brother against brother, friend against friend. One that shows that there is no black and white when it comes to people. It's a gray area, and relationships are complicated. It was also full of more fantastical elements than in the first book, and I was constantly trying to figure everything out. It is so difficult to do that! (So that means I need to reread these books again and again. :D). They're definitely a more subtle part of the story-line, but they're
there
, and they have importance especially to Lia. I has theories, but I cannot confirm anything at this moment. I need the third book, so WHERE IS IT, MARY? I HAVE A STRONG NEED FOR IT.
I have to admit, I was wary of this sequel and that it would suffer from second book syndrome (which is totally a thing guys, books can suffer too). But I had no reason, obviously! I loved
The Heart of Betrayal
so much. Maybe not as much as TKOD, as that one holds a special place in my heart. But it was a brilliant sequel that tore out my heart, stomped on it, and then put it back in my chest still damaged (yes still damaged, I'm not over this at all). I felt all the feelings, and my love for these characters knows no bounds. I'm already dying for the third book, and this one isn't even out in stores yet. WHY CAN'T I HAVE THE UNTITLED SERIES ENDER NOW?
RATING: