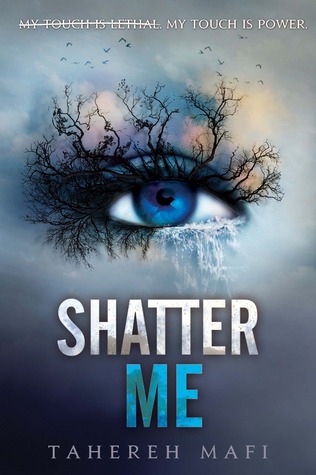 Title: Shatter Me (Shatter Me, #1)
Author: Tahereh Mafi
Publisher: HarperCollins
Release Date: October 2nd, 2012
Juliette hasn't touched anyone in exactly 264 days.
The last time she did, it was an accident, but The Reestablishment locked her up for murder. No one knows why Juliette's touch is fatal. As long as she doesn't hurt anyone else, no one really cares. The world is too busy crumbling to pieces to pay attention to a 17-year-old girl. Diseases are destroying the population, food is hard to find, birds don't fly anymore, and the clouds are the wrong color.
The Reestablishment said their way was the only way to fix things, so they threw Juliette in a cell. Now so many people are dead that the survivors are whispering war – and The Reestablishment has changed its mind. Maybe Juliette is more than a tortured soul stuffed into a poisonous body. Maybe she's exactly what they need right now.
Juliette has to make a choice: Be a weapon. Or be a warrior.
*This was a reread in preparation for finishing the trilogy, so I decided to share my thoughts from the first time I read it, and this second time. Let's see if my feelings changed or if they stayed the same!
First Read: June 2nd, 2014
Rating: 4.5 Paw Prints!
I only know now that the scientists are wrong.

The world is flat.

I know because I was tossed right off the edge and I've been trying to hold on for 17 years. I've been trying to climb back up for 17 years but it's nearly impossible to beat gravity when no one is willing to give you a hand.

When no one wants to risk touching you.
Juliette has a problem: her touch is fatal to anyone she comes into contact with. It's a problem that her parents couldn't deal with, that society deemed was psychotic, and that she's been labeled a monster for most of her life. And she starts to believe it.
I loved Juliette's character! I thought she was the perfect blend of strength and vulnerability. She's spent her whole life thinking she's a monster that it's hard for her to believe anything different. I loved her voice and how she told the story. Tahereh Mafi has a very
unique
writing style. You either hate it or you love it. But I thought it was perfect for this type of story. The way Juliette saw the world, her thoughts and feelings. I liked the crossed out sentences and the repeats of words. It fit Juliette's character and her erratic thoughts. It took a little bit of time to move past it, but once I did, I very much liked it.
I also loved Adam! At this point, I'm on his team. But you never know what happens in the sequel. ;) Honestly, I'd like a little more development with the secondary characters, especially with Warner. They all have their own personalities, but we don't find out much about them. I loved the additions of James and Kenji! I can't wait for more fun dialogue and interactions amidst the terror and looming possibility of war.
And oh, the romance. It was sweet, passionate, and subtly sensual. It was just so beautiful that Juliette could find love in the midst of her broken life. A love that makes her feel worthy, makes her feel safe and secure, and most of all, doesn't make her feel like a monster. <3
I really liked where this plot headed! Without giving away much, I'm excited for the sequel. And I'm excited to see where the author takes this
superhero
type of story-line. :)
Shatter Me
was a truly unique read
. I'll be patiently impatiently waiting to read the sequel.
Second Read: July 17th, 2015
Rating: 4.5 Paw Prints!

New Review:
I reread this in prep for
Unravel Me
, and I loved it just as much the second time around! There is something so addicting about this story. It's different. The writing style makes it different, and unique. It's not for everyone. It's hard to get over. But I think the crossed out words and the repetitiveness fits the book, and the main character. Juliette is a little insane. I mean, we meet her in an INSANE ASYLUM. We meet a quiet, intelligent girl who was thrown away like she didn't matter at all. I loved Juliette's inner strength. All her life, she's felt powerless, but throughout the book, she grows into her own. She lashes out at the people who make her feel small; she doesn't let her past or her power define her. She's not perfect, but her vulnerability makes her human, and beneath her tough exterior is just a girl who wants to be loved. To
matter
to someone.
And Adam makes her feel like that, like she's important, like she fits in his world. She's only ever been a monster to people, but Adam knows what her power does to her, knows that she hates it because it's only ever made her feel less. But he tries so hard to make her believe that she's more than the gift she never asked for. I know everyone's one Team Warner, but I'm not! Not in this book, at least. I can see why she loves Adam. He's confident, quiet, and cares for Juliette more than she ever thinks. He gives her something she's been sorely missing in her life; a friend who stands by her side and a love that makes her feel whole when she's ever only felt broken inside. I'm not sure what he does in the next two books to make everyone hate him, but right now he's an Adam I can root for.
Warner was a great addition to the story as well. He's not a good guy, and he makes some of the "villains" I've read about look tame. He's calculating, and cold, and forces Juliette into corners where her choices make her hate herself even more than she already does (not exactly a romantic ship I could possibly get behind). But I can't wait to see where his character arc takes him. I have a feeling there is way more to him than meets the eye, though all I want to do is punch him. Anyway, I also loved the addition of Kenji, a secondary character with fantastic charisma and a mystery of his own. He brought comedic relief in intense situations, and I love my characters who use humor to mask their fears. I want MORE of him! :D
I'm not a huge fan of dystopian, but I like this quite a lot. The world-building could be a lot better though (I *think* I have the general idea of how it all started, but I'm not totally sure), but I'm guessing we'll get more of it in the next books. But I definitely LOVE where this has headed! Talk about a story-line that I can fall in love with. I love books with characters who have special powers, and I'm so excited to see where this series takes that kind of plot. I'm very intrigued! Time to FINALLY continue the series and read
Unravel Me
! :)
As you can tell, my thoughts really didn't change that much! Considering that it was over a year ago since I read this the first time, I'd say that's pretty damn good. And also I decided to keep the same rating. I loved Shatter Me. I loved Juliette even more this time around. There is just something about her voice that draws me in and makes me want to shelter her from the big bad world. But she doesn't need to be sheltered, because she is one badass chick who has the power to destroy what makes her feel weak. However, clearly after finishing the series, my thoughts and feelings differ on the two boys. You'll be able to read those soon. ;) But in this one, I just wanted more background on them, and Kenji. Also like I said, the world-building could have been a bit better, but we learn much more in the next books.
But I'm wondering: have you read this book/series? What do YOU think about it? :) Check back tomorrow for Unravel Me's review!