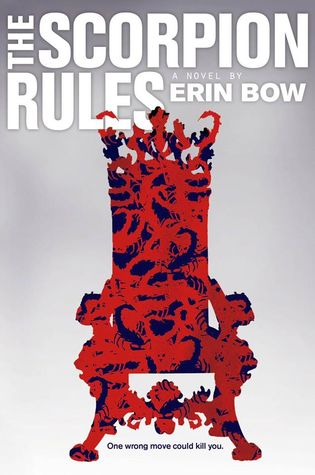 Title:
The Scorpion Rules
Author: Erin Bow
Publisher:
Margaret K. McElderry Books
Release Date: September 22nd, 2015
*I picked up an ARC at BEA*
From

Goodreads

...
A world battered by climate shift and war turns to an ancient method of keeping peace: the exchange of hostages. The Children of Peace - sons and daughters of kings and presidents and generals - are raised together in small, isolated schools called Preceptures. There, they learn history and political theory, and are taught to gracefully accept what may well be their fate: to die if their countries declare war. Greta Gustafsen Stuart, Duchess of Halifax and Crown Princess of the Pan-Polar Confederation, is the pride of the North American Precepture. Learned and disciplined, Greta is proud of her role in keeping the global peace, even though, with her country controlling two-thirds of the world's most war-worthy resource — water — she has little chance of reaching adulthood alive. Enter Elián Palnik, the Precepture's newest hostage and biggest problem. Greta's world begins to tilt the moment she sees Elián dragged into the school in chains. The Precepture's insidious surveillance, its small punishments and rewards, can make no dent in Elián, who is not interested in dignity and tradition, and doesn't even accept the right of the UN to keep hostages. What will happen to Elián and Greta as their two nations inch closer to war?
This book was so different, and just so much fun!! It was unexpectedly funny, but also shockingly heartbreaking. Like I truly came to care about many of the characters and was sad when stuff happens. I didn't expect to like it so much, but it was so DIFFERENT from what I've read in the dystopia genre. And I loved the main character's voice, and I really liked the relationships between the kids of the world leaders (some more than others, but that's okay). They cling to each other, become family, because their own relatives would sooner let them die to start wars. It's something that really makes you THINK.
Would you ever be able to pull the trigger, make a war announcement, knowing your child would die for it?
My answer: I couldn't.
RATING: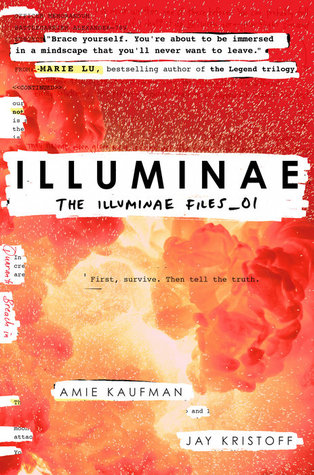 Author: Amie Kaufman & Jay Kristoff
Publisher:
Knopf Books for Young Readers
Release Date: October 20th, 2015!
*I picked up an ARC at BEA*
This morning, Kady thought breaking up with Ezra was the hardest thing she'd have to do.
This afternoon, her planet was invaded.
The year is 2575, and two rival megacorporations are at war over a planet that's little more than an ice-covered speck at the edge of the universe. Too bad nobody thought to warn the people living on it. With enemy fire raining down on them, Kady and Ezra—who are barely even talking to each other—are forced to fight their way onto an evacuating fleet, with an enemy warship in hot pursuit.
But their problems are just getting started. A deadly plague has broken out and is mutating, with terrifying results; the fleet's AI, which should be protecting them, may actually be their enemy; and nobody in charge will say what's really going on. As Kady hacks into a tangled web of data to find the truth, it's clear only one person can help her bring it all to light: the ex-boyfriend she swore she'd never speak to again.
Told through a fascinating dossier of hacked documents—including emails, schematics, military files, IMs, medical reports, interviews, and more—Illuminae is the first book in a heart-stopping, high-octane trilogy about lives interrupted, the price of truth, and the courage of everyday heroes.
My Review!
Quite simply, this book was fucking brilliant. It's one of the most unique stories I've ever read. Probably THE most unique, to be honest. It has a lot going for it; sassy and strong characters, a crazy complicated plot, and a style of reading that brings everything together. There is a ship you'll want to ship for all the days, a story that just never stops moving, and a journey that is all parts intense, addicting, and heartbreaking. And this is all I'm going to say about
Illuminae
because I believe going in blind is the best way to read it. Otherwise, I don't think it'd have the same impact.
AM I NOT MERCIFUL?
RATING: