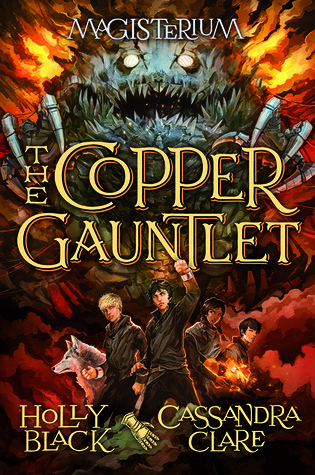 Title: The Copper Gauntlet (Magisterium, #2)
Author: Holly Black & Cassandra Clare
Publisher: Scholastic Press
Release Date: September 1st, 2015!
*I received an ARC of this at BEA. Thank you, Scholastic!*
From

Goodreads

...
Callum Hunt's summer break isn't like other kids'. His closest companion is a Chaos-ridden wolf, Havoc. His father suspects him of being secretly evil. And, of course, most kids aren't heading back to the magical world of the Magisterium in the fall.
It's not easy for Call . . . and it gets even harder after he checks out his basement and discovers that his dad might be trying to destroy both him and Havoc.
Call escapes to the Magisterium -- but things only intensify there. The Alkahest -- a copper gauntlet capable of separating certain magicians from their magic -- has been stolen. And in their search to discover the culprit, Call and his friends Aaron and Tamara awaken the attention of some very dangerous foes -- and get closer to an even more dangerous truth.
As the mysteries of the Magisterium deepen and widen, bestselling authors Holly Black and Cassandra Clare take readers on an extraordinary journey through one boy's conflict -- and a whole world's fate.
My Review!
As much as I enjoyed this book, and the first, the middle grade genre is just not for me. Call is an obnoxious, sarcastic pre-teen with a lot going on in his life. From what happened last year to his dad not wanting him to practice magic to the revelation that rocked his world, he's a little bit under pressure. But he's got his good friends, Tamara and Aaron, to help him out. So much of what those three get into is pretty unbelievable given their age, and I just couldn't take it seriously. And with no parents or mentors who really cared, they were able to do whatever the hell they wanted and get away with it. But
lol no you're children stop thinking you can do things on your own
. The story-line is fairly predictable as well, so it's not like it's super twisty or mysterious. But god help me, I AM interested in the 3rd book. To my utter dismay. Though this is a very short and fun read that will make a lot of middle grade fans happy, it's just not MY genre.
RATING:
*****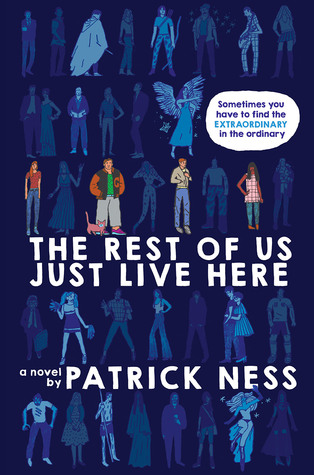 Title: The Rest of Us Just Live Here
Author: Patrick Ness
Publisher: HarperTeen
Release Date: October 6th, 2015!
*I received an ARC of this at BEA. Thank you, HarperCollins!*
What if you aren't the Chosen One?
The one who's supposed to fight the zombies, or the soul-eating ghosts, or whatever the heck this new thing is, with the blue lights and the death?
What if you're like Mikey? Who just wants to graduate and go to prom and maybe finally work up the courage to ask Henna out before someone goes and blows up the high school. Again.
Because sometimes there are problems bigger than this week's end of the world, and sometimes you just have to find the extraordinary in your ordinary life.
Even if your best friend is worshiped by mountain lions.
Award-winning writer Patrick Ness's bold and irreverent novel powerfully reminds us that there are many different types of remarkable.
My Review!
Okay, so here's the deal: I
liked
this book. Right? But here's the problem: I just didn't totally GET it. And I'll try to explain that in a minute. So the main character, Mikey's, voice is one of the best ones I've read in awhile.
Especially
for a male. He felt so relatable, and I loved that genuine quality to him. And his relationship with his friends just felt so REAL, despite the paranormal/supernatural atmosphere. Actually, atmosphere is a strong word, but it WAS magical realism (is that even the genre I want? Man, I can never figure that one out). But I'm not sure how well I liked that element to the book. I've come to realize that this just isn't my type of story. It'll be wonderful and so well-received from others, but for me, it was just something entertaining for a few hours (it was a very quick read).
The Rest of Us Just Live Here
has a lot going for it, though, and I'd definitely recommend it.
RATING: