Title: Legacy of Kings (Blood of God & Royals, #1)
Author: Eleanor Herman
Publisher: Harlequin Teen
Release Date: August 18th, 2015!
*I received a physical ARC of this from BEA.
From

Goodreads

...
Imagine a time when the gods turn a blind eye to the agony of men, when the last of the hellions roam the plains and evil stirs beyond the edges of the map. A time when cities burn, and in their ashes, empires rise.
Alexander, Macedonia's sixteen-year-old heir, is on the brink of discovering his fated role in conquering the known world but finds himself drawn to a newcomer…
Katerina must navigate the dark secrets of court life while hiding her own mission: kill the Queen. But she doesn't account for her first love…
Jacob will go to unthinkable lengths to win Katerina, even if it means having to compete for her heart with Hephaestion, a murderer sheltered by the prince.
And far across the sea, Zofia, a Persian princess and Alexander's unmet betrothed, wants to alter her destiny by seeking the famed and deadly Spirit Eaters.
Weaving fantasy with the shocking details of real history, New York Times bestselling author of Sex with Kings Eleanor Herman reimagines the greatest emperor the world has ever known, Alexander the Great, in the first book of the Blood of Gods and Royals series.
My Review!
Dear Lord I've had this book sitting on my review list for so long but I waited over three months before finally writing it. But the problem here is that I just don't remember anything about it. All I know is that I really enjoyed it at the time, even though the multi POVs were very confusing and sometimes made it hard to really get INTO the story. And although I'm a huge history buff, I'm not at all familiar with where and when this book is set. But I did like the history, even when I had no idea what going on. This was definitely full of details, and the characters were pretty fleshed-out. But with this type of book, and series, it's just better to read them all in a row. Because then you get to know the characters better, the secondary plotline of magic would make more sense, and you won't be sitting there a year from now with the sequel in your lap wondering what the hell actually happened in Legacy of Kings. Haha.
RATING:
*****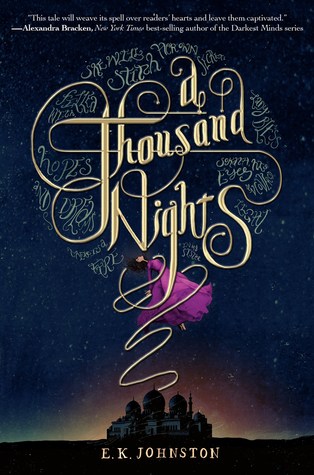 Title: A Thousand Nights
Author: E.K. Johnston
Publisher: Disney Hyperion
Release Date: October 6th, 2015!
*I received a physical ARC of this from BEA.
Lo-Melkhiin killed three hundred girls before he came to her village, looking for a wife. When she sees the dust cloud on the horizon, she knows he has arrived. She knows he will want the loveliest girl: her sister. She vows she will not let her be next.
And so she is taken in her sister's place, and she believes death will soon follow. Lo-Melkhiin's court is a dangerous palace filled with pretty things: intricate statues with wretched eyes, exquisite threads to weave the most beautiful garments. She sees everything as if for the last time. But the first sun rises and sets, and she is not dead. Night after night, Lo-Melkhiin comes to her and listens to the stories she tells, and day after day she is awoken by the sunrise. Exploring the palace, she begins to unlock years of fear that have tormented and silenced a kingdom. Lo-Melkhiin was not always a cruel ruler. Something went wrong.
Far away, in their village, her sister is mourning. Through her pain, she calls upon the desert winds, conjuring a subtle unseen magic, and something besides death stirs the air.
Back at the palace, the words she speaks to Lo-Melkhiin every night are given a strange life of their own. Little things, at first: a dress from home, a vision of her sister. With each tale she spins, her power grows. Soon she dreams of bigger, more terrible magic: power enough to save a king, if she can put an end to the rule of a monster.
My Review!
I'm not going to lie, the writing in this was GORGEOUS. But here's the thing: it was like it
was trying too hard to feel old-school. The pace was sloooow because of that, and the journey the main character is on is not exactly filled with adventure. It's a lot of mystery wrapped up in a main character you don't really understand or know throughout the book. And the author never lets you in on who she is. You just know her motives, her situation, and her desire to do what needs to be done. You never even find out her NAME. The only name of significant importance is Lo-Melkhiin's. The guy who's killed hundreds of wives and comes looking for another. But what he gets is a girl with a plan. A plan with no room for romance between the two (which was actually super refreshing in a YA novel). There were also mysterious magical things going on behind the scenes that I can't really remember (or paid much attention to while reading, I guess) and it led up to a intensely-packed but short scene that I think the whole book was leading up to. And I really liked the ending! Also want to mention that this is definitely way, way different from
The Wrath and the Dawn
even though they're basically the same stories.
RATING:
*****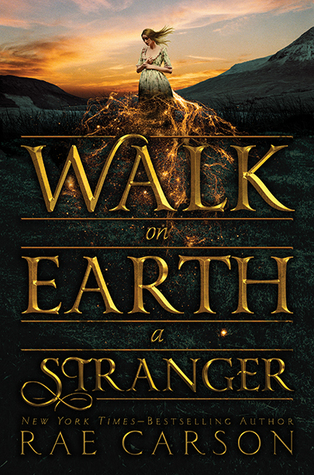 Title: Walk on Earth a Stranger (The Gold Seer Trilogy, #1)
Author: Rae Carson
Publisher: Greenwillow Books
Release Date: September 22nd, 2015!
*I received a physical ARC of this from BEA.
Gold is in my blood, in my breath, even in the flecks in my eyes.
Lee Westfall has a strong, loving family. She has a home she loves and a loyal steed. She has a best friend—who might want to be something more.
She also has a secret.
Lee can sense gold in the world around her. Veins deep in the earth. Small nuggets in a stream. Even gold dust caught underneath a fingernail. She has kept her family safe and able to buy provisions, even through the harshest winters. But what would someone do to control a girl with that kind of power? A person might murder for it.
When everything Lee holds dear is ripped away, she flees west to California—where gold has just been discovered. Perhaps this will be the one place a magical girl can be herself. If she survives the journey.
The acclaimed Rae Carson begins a sweeping new trilogy set in Gold Rush-era America, about a young woman with a powerful and dangerous gift.
My Review!
So, I don't think Rae Carson's writing is for me. I tried
The Girl of Fire and Thorns
once before, and I DNFed a little ways in. I can't even explain it, but her writing makes me want to quit reading her books. But I was actually enjoying the beginning, and I was curious, so I wanted to continue. The middle was slow and I slogged through it and I got bored quite a bit, but I'm glad I made it to the end. I loved how strong the MC was, that she dressed as a boy to get of a tough situation and never gave up. Even though of course most people knew she was a girl anyway, I really liked how that all played out. The historical aspect to this was very spot-on for how the country and the Oregon Trail was during that time period. BUT it was like 90% historical fiction and only 10% fantasy. I was disappointed that nothing happened in that regard, except for a few bits throughout. It was like a carrot being dangled in front of a horse to keep it walking. I was enticed by the idea of it and now I'm intrigued enough to read the sequel.
RATING: