Title: Exposed (Captive, #2)
Author: Brighton Walsh
Publisher: St. Martin's Griffin
Release Date: July 21st, 2015!
*eARC kindly provided by St. Martin's Press via NetGalley*
From

Goodreads

...
In this sexy, suspenseful New Adult novel, a young woman hiding from her criminal past is taken captive by her ex-boyfriend, the ultimate bad boy.
Evie is about to embark on the perfect life. Beautiful, poised, and engaged to a rising business star, she fits the part of trophy wife perfectly, except for one thing: her entire identity is a lie.
Five years ago she created a new identity for herself, but it all crashes back when something she witnessed years ago comes back to haunt her. Now she's in danger of losing more than her social status.
Determined to protect the careful life she's built for herself, Evie doesn't want anything to do with Riley, the criminal for hire who broke her heart years ago. But Riley has other ideas. He's never forgotten Evie, and to protect her, he steals her away. Hidden from the world, sparks begin to fly as old memories resurface and their passion reignites.
My Review!
Okay, so this is gonna be short and sweet because I am so behind on reviews right now.
I really enjoyed this book, as I have with all of Brighton's I've read so far. It wasn't the strongest, nor my favorite (I don't think anyone's gonna beat Jason and
Tessa Ever After
so that's not really fair competition in any case). BUT it was just a lot of fun to read. And steamy, very steamy. ;) Riley and Evie have a very intense and passionate relationship, one that makes the fast-paced romance more believable when you add in that they were first loves for each other back in high school. And their feelings for each other have never gone away, a fact that comes to light very early on in the book. But they have a lot of obstacles to go through: Evie's past, her life the last year (which kinda felt convenient when you find out about it, but I wasn't too bothered by it), and the people who still want her dead. It all led up to a resolution that I felt was anticlimatic and way too simple. But I digress, this book was more about Evie and Riley, their second chance, and the lengths people will go to to protect the ones they love. And yay for Ghost cameos!
Exposed
was just a fun, hot romance between two characters who deserved a second chance at love.
RATING:
*****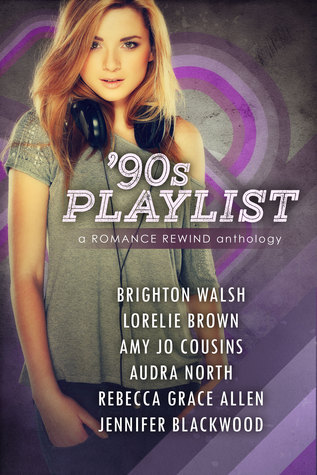 Title: '90s Playlist
Author(s): Brighton Walsh, Lorelie Brown, Amy Jo Cousins, Audra North, Rebecca Grace Allen, Jennifer Blackwood
Publisher: N/A
Release Date: October 13th, 2015!
*eARC kindly provided by one of the authors, Brighton. Thank you, wonderful!*
Six stories of sex, love, and being young in the '90s, inspired by songs of the decade…
My Strongest Weakness by Brighton Walsh
It was supposed to be a one-time thing. No one would find out; no one would have to know. And then once turned into twice, and twice turned into several times a week, and now pierced, punk-loving, rebellious Tia Lanning is banging Mason Brooks, the big man on campus and Mr. All American. But banging him isn't the problem. Falling for him is. Especially when he's content to let her remain his dirty little secret.
Worthwhile by Audra North
Jill didn't expect her semester in Leeds to start with getting dumped by her boyfriend. Especially since she only came to England to be with him. Two weeks in, all she wants to do is go home. Finding love with someone new is definitely not an option. But when she literally stumbles into grad student Stuart's arms, her experience abroad becomes a lot more worthwhile.
Roni lives for the raves in Oakland's warehouse district. Dancing till dawn in white gloves under black lights breathes life into her soul. Nothing will get her kicked out of her underground world faster than turning over Skittles, her dealer. She refuses to provide info about the underage runaway to his big brother Tom. But Tom is going to find Skittles with or without Roni's cooperation. But Tom is special. He's rich, handsome and bold. Roni wishes she was special. And like the rave scene she loves, nothing lasts forever.
Smells Like Teen Spirit by Rebecca Grace Allen
Rory Stone's days of grunge and poetry are behind her, her reality now in bags of Arabian brew, and counting the change in the tip jar. Can indie singer James Griffith rock her muse back into the present?
The Belle vs. the BDOC by Amy Jo Cousins
Shelby Summerfield is a gold star lesbian, even if she doesn't look like one. Florence Truong is the only other dyke at Carlisle College in 1993 not wearing plaid flannel, and Shelby sets her sights on seduction. But instead of a delightful tumble in the sheets, Florence calls her out for being a straight girl. With seduction off the table, Shelby settles for revenge for her humiliation. But if all she wants is to show up her campus rival, how come Shelby can't stop herself from saving Florence instead of annihilating her?
Little Red Thong by Jennifer Blackwood
Emily Jones is ready to embark on the most epic spring break trip of her college career with her bestie, twin brother, and her brother's best friend, Chase. Chase has been in love with Emily since the eighth grade when she kicked his ass in laser tag. He's not going to piss away his last chance to tell her how he feels. When the group decides to play a game of Spring Break BINGO that involves body shots, a red thong, and secret hookups, this is the perfect catalyst to get him out of the friend zone. But as things get heated, they have to decide if twenty years of friendship is worth putting in jeopardy because of a game, and what will happen when they hit dry land.
My Review of My Strongest Weakness!
This review is only going to be for Brighton Walsh's short story instead of the whole book. For the moment! I do want to read the rest at some point, but I was mostly interested in this because Brighton wrote a story here. So confession: I don't remember the 90s. I was born in '93, so I was just a kid. So I'm not the expert on all things from the decade, but I could pick out some definite 90s stuff there. Haha, I'm going to get so much shit. I WILL READ ANYTHING BY BRIGHTON, OKAY, EVEN IF IT'S NOT MY ELEMENT.
Anyway! I paid more attention to the story than the actual theme, and I adored it! I loved the whole opposites attract, hate-to-love romance. And I loved the message that you shouldn't judge people by what they look like or who they are on the outside. It's the person on the inside that counts. Throughout the story, our two main characters are loathe that they feel so much for the other, but they can't stay away. However, due to both of their need to not disrupt the status quo, they decide to keep their "relationship" a secret. But we all know how that works.
Tia and Mason fall for each other, despite the fact that neither of them are quite okay with telling the world about their relationship. Mason more so than Tia. He had a lot of growing up to do, cared more about his status in a frat than he did about standing up for his feelings for a girl he never thought he'd fall for. And Tia was stubborn about it as well, though she was more willing to give them a chance. And when Mason fucks up, she has to decide if he's still worth it, if making a go at being more than just friends-with-benefits is what she really wants. Even though this was a short story, I still really enjoyed their banter, and loved seeing how their relationship turned into love. They were opposites in a lot of regard, but they fit well together. They just had to stop being so idiotic about status quo and cliques to realize that. :p
I knew I would like Brighton's story, as I've enjoyed all of her books. Even though it didn't give me the nostalgic feel as it would people who actually grew up in the 90s old enough to remember it, I really liked it. And I would have totally have read a whole book about these two characters.
RATING:
*****
I will seriously read whatever this woman writes, no matter what! She's one of my all-time favorite authors, and I SO enjoyed both of these stories. And I'm pretty much dying for Paige in Progress. Have you guys read any of her books yet? IF YOU HAVEN'T, WHAT ARE YOU WAITING FOR, GO DO THAT! :D