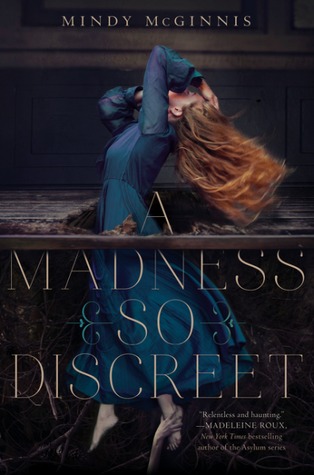 Title: A Madness So Discreet
Author: Mindy McGinnis
Publisher: Katherine Tegen Books
Release Date: October 6th, 2015!
*Source: physical ARC.
From

Goodreads

...
Grace Mae knows madness.
She keeps it locked away, along with her voice, trapped deep inside a brilliant mind that cannot forget horrific family secrets. Those secrets, along with the bulge in her belly, land her in a Boston insane asylum.
When her voice returns in a burst of violence, Grace is banished to the dark cellars, where her mind is discovered by a visiting doctor who dabbles in the new study of criminal psychology. With her keen eyes and sharp memory, Grace will make the perfect assistant at crime scenes. Escaping from Boston to the safety of an ethical Ohio asylum, Grace finds friendship and hope, hints of a life she should have had. But gruesome nights bring Grace and the doctor into the circle of a killer who stalks young women. Grace, continuing to operate under the cloak of madness, must hunt a murderer while she confronts the demons in her own past.
In this beautifully twisted historical thriller, Mindy McGinnis, acclaimed author of Not a Drop to Drink and In a Handful of Dust, explores the fine line between sanity and insanity, good and evil—and the madness that exists in all of us.
My Review!
*Minor spoilers!
Please tell me there's going to be a sequel. PRETTY PLEASE?! That's all I want in life. You know, I don't think I paid enough attention to this book until a few weeks before its release, and I don't know why because it sounded like my kind of book. As a psychology major, I'm always very interested in the exploration of mental illness (and especially mental institutions and the like) in books, so when I finally got my hands on a copy of it, I knew I wouldn't be able to hold off reading it for long. And I'm so happy I listened to my mood, said
why the hell not
, and just started it. Because once I did, I never wanted it to stop.
Normally historical fiction isn't my thing. I tend to find HF books boring, but this one was so NOT. And I think that's because of both the way Mindy McGinnis wrote it, and the subject. I think I remember reading in an interview that she spent like a whole year researching this book before she even started it, and you can tell. This was thoroughly and completely researched, and the historical details were so spot-on. I know a lot about mental institutions' histories from psych classes, but there is only so much you can learn in a 15-week course. There is so much about them, and the way they ran, that has been forgotten. Ignored. Because you know what? It wasn't pretty. Mental institutions were AWFUL, and anyone could be thrown in one, not just the insane. And the way they were treated was truly horrific, as evidenced by what happens in this book, especially in this time when people still didn't understand the mentally ill.
The main character, Grace, is full of strength. The situation that she was in, the treatment she received from the people who were supposed to take care of her, the shit that she went through, all of it just toughened her up. Her strength kept her going, even when she wanted to give up hope. But she persevered, and found a purpose.
A purpose that let her finally know what safe and comfortable felt like, that gave her control and power over her life
. Grace has a quick wit, and is exceedingly smart, a trait that entices the incomparable Dr. Thornhollow to take a chance on her, to give her a second shot at life. And she takes it, all the while still trying to move on from what happened in the mental institute, and before. It takes its toll on her, and makes her question a lot about humans and the fine line between good and evil. But that inner strength of hers and that need to be useful give her fulfillment for the first time in her life. And after everything she went through, she still manages to smile and laugh, which I think is incredibly
beautiful.
Dr. Thornhollow gave her that purpose, and brought some light back into her life. The good fellow was performing lobotomies on some of the patients at her old institute, and was stunned when Grace asked for one. At that point, she had basically given up on life and happiness. But he convinced her that she was more useful alive, and that she could aid him in his work. The doctor wanted to try out his science to catch criminals, to use psychology and look at all aspects of a crime than just the during part, to try to capture the killer. And he knew that Grace's eye for detail and her intelligent mind could help him out in Ohio, so he staged her death and smuggled her out of Boston under the cloak of night. And once there, the two of them work together to solve a mystery that ended in moral dilemmas and questioned what made one insane or not, what made someone strictly good or evil. But, as we all know, that area is so gray and the lines not so easily drawn in the sand.
Through the crime-solving, the two of them get to know each other, and we the readers do as well. The banter between them, and the other characters in this book, were so on point. I was cackling aloud many times, and wanting tissues at others. The streaks of dry humor lightened up the tension and broke through the dreary atmosphere when needed. Especially with Thornhollow. This dude is hilariously socially awkward, doesn't totally understand human emotions, and can throw out a one-liner like no one's business. Seriously, the under-the-breath insults had me stopping to laugh for a few seconds before I could move on. I think he and Grace complemented each other SUPER well, and I'm honestly a little disappointed nothing ever evolved out of it. Because I think it would have been amazing, but I do understand how it didn't really fit the story, or Grace's character, to have a romance.
This book was chocked full of friendships, though, and they were just as fulfilling. I especially loved Grace's friends, first with Mrs. Clay in the Boston institute, and later on with Nell (the dirty-talking Irish lass) and Elizabeth (the quieter soul who talked to a non-gendered specific String on her shoulder). The friendship between the latter two and Grace was wonderful, especially since it really helped strengthen the main character and give her more to look forward to than killings. I adored how they supported each other, and how they looked after one another. And the banter between them was just so fun and REAL.
Throughout the book, I was hooked on the storytelling, and I was just as obsessed with finding out who the killer was as Thornhollow and Grace. I loved how they used psychology in their discussions, and how they started looking at a whole person instead of just the moment when the murder happened (which is what most police and criminal investigators were doing at the time). Thornhollow had decided that it would be beneficial and help catch the killer a lot faster, and he was testing that theory out with Grace alongside him. I wasn't sure about the whole situation at the end, but then I was like
who am I kidding SWEET, SWEET JUSTICE WAS SERVED
. I was happy, especially with how it helped Grace move on from everything that had happened to her. Even when she lost herself a few times, and backtracked, her development was truly something to behold by the end.
I am serious about a sequel. I really want one. I want way more books about Thornhollow and Grace solving crimes (and falling in love MAYBE POSSIBLY YES?). I'm kind of obsessed, to say the least. Going in, I knew I would probably really enjoy this book. I just didn't know HOW MUCH I would love it. And that I would be dying for more, of these characters and of the storyline. I need more books like this, ones that explore psychology ala Criminal Minds, and ones that are dark but also full of hope.
A Madness So Discreet
was a deliciously horrific thriller that pulled me along on a journey of wills, strength, and one woman's fight to find her voice.
"Dear child, do you even know all the rage that is inside you?"
"Sometimes the loveliest places harbor the worst monsters."
RATING: