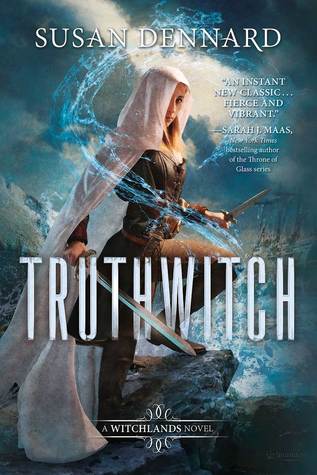 Title: Truthwitch (The Witchlands, #1)
Author: Susan Dennard
Publisher: Tor Teen
Release Date: January 5th, 2016!
*ARC borrowed from my lovely friend, Val, who also reviewed the book today so go check hers out!
From

Goodreads

...
On a continent ruled by three empires, some are born with a "witchery", a magical skill that sets them apart from others.
In the Witchlands, there are almost as many types of magic as there are ways to get in trouble—as two desperate young women know all too well.
Safiya is a Truthwitch, able to discern truth from lie. It's a powerful magic that many would kill to have on their side, especially amongst the nobility to which Safi was born. So Safi must keep her gift hidden, lest she be used as a pawn in the struggle between empires.
Iseult, a Threadwitch, can see the invisible ties that bind and entangle the lives around her—but she cannot see the bonds that touch her own heart. Her unlikely friendship with Safi has taken her from life as an outcast into one of reckless adventure, where she is a cool, wary balance to Safi's hotheaded impulsiveness.
Safi and Iseult just want to be free to live their own lives, but war is coming to the Witchlands. With the help of the cunning Prince Merik (a Windwitch and ship's captain) and the hindrance of a Bloodwitch bent on revenge, the friends must fight emperors, princes, and mercenaries alike, who will stop at nothing to get their hands on a Truthwitch.
My Review!
I've been waiting for this book for over a year. I remember joining Susan's newsletter back when she first started it, and at that point, I'm fairly certain she had just sold the proposal for The Witchlands series. So I've been hearing about this book since forever, it feels like. And I built it up so much that, when I finally had a copy of it sitting in my room, I kept pushing it away. I was afraid of the hype. I was afraid of high expectations and being disappointed and ruining a book I'd waited on for so long. And I'm so, so, so happy to say that "No, I wasn't disappointed." No, the hype didn't kill it. I'm saying that it's worth the wait, and that it's so deserving of the excitement it's been receiving in the community.
I have to be honest, though, it took me a long time to actually get INTO the story. It reminded me of
Uprooted
in that way. I picked up that book, put it down, and re-started it so many times over the course of a few weeks.
Truthwitch
was, not gonna lie, a little hard to get into because of the sheer amount of information being thrown at you. I'm not talking about info-dumps though. But it's always hard for me to get situated comfortably in a new fantasy world, so I slogged through the beginning instead of just breezing through it. Sometimes it took me out of the story, but boy, was it worth the slow pace.
You'll first meet Safiya von Hasstrel. Stubborn, reckless, not intimidated by danger and big men. She's strong, she's fearless, and she knows how to kick serious ass. But she's also quick to anger, slow to forgive, and knows just how to get herself into trouble. She's the type of person who runs headfirst into a fight, which is the complete opposite of Iseult, her best friend and Threadsister. Iseult was the calm and cool one, the person who followed Safi's plans but who was always the one to clean up the mess. Just as fearless, and just as strong, the two of them made the most perfect duo. Through everything that happens, the two girls have each other, no matter what. And it is their friendship that turned out to be the best part of this book. It was so wonderful to have that here, a bond so strong that it's unbreakable, and with two girls who will literally go to the ends of the earth for one another.
The friendship actually gave me more feels than the possibilities of romance. I'm just not totally convinced of anything yet, even though I can basically see how it's going to play out. There was some great ship moments with a certain Captain of the sea, Merik, though. A guy with more than one side to him, and someone who just wants to do the right thing, even if it's going to cost him. The second dude, Aeduan, in the story is a mystery. A Bloodwitch, a monk. A guy who seems to have his own motives for everything, but you never know what that is. He's definitely got my attention, though. ;)
The book was slow at first, but there was a lot of action going on! Fights, trouble, danger, chases, high-seas adventures. From one moment to the next, our two leading ladies never stop moving. And they never stop being kickass heroines, which I
loved
. The four POVs were not at all hard to handle, and I cannot wait to see how the slowly-evolving storylines and subplots come together. Since there are 4 books in the series, there is going to be a lot of change and the stakes will get higher and I'm excited for all of the unraveling. And I'm looking forward to falling even more in love with these characters and their stories. <3
Full of magic and with an action-packed plot,
Truthwitch
had my attention from the first page up until the very last. The female friendship was empowering and wonderful, and the fantasy world was fully and richly detailed so that I actually felt like it was real. And lastly I want to say:
can I have the sequel yet?
:)
RATING: