From the Den
is a feature to showcase the books that I don't post reviews for on the blog, whether I liked them or not. I read so many books that never make it onto The Fox's Hideaway, so I wanted a feature where I could still tell y'all about them. :)
*****
Book I Thought I Was Going to Full Review But Didn't
I originally was going to write a full review for this, and well, that didn't happen. I LOVE Kasie's books, but I just never have a lot to say after I read them (which is definitely NOT bad, as I adore her books). So yeah, I loved Charlie. She wasn't always a nice character. She was a little judgmental toward typical females, and I thought the focus on how DIFFERENT she was to "normal" girls was harmful. By the end, she'd accepted who she was and that she didn't have to be anyone else to be loved and wanted. But that kind of attitude was pretty annoying (and it didn't just come from her). I loved her relationship with her dad, and her brothers, and I thought the family secret was done well. I did want more development there; it felt too... quickly gone over. Braden was such a great guy, and I adored how the romance was very light, and that this was more about Charlie trying to figure out who she is and what she wants, which is something that felt very realistic and that I appreciated a lot. And I think this may have just been my favorite Kasie West book to date. :)
Rating: 4 Stars!

October Read
Not a Drop to Drink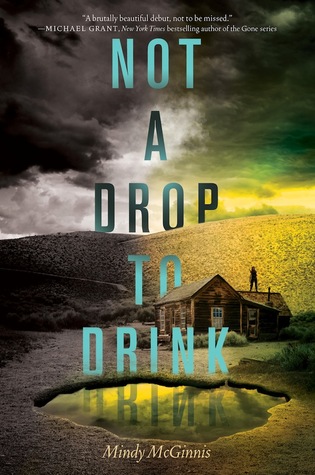 Man, this read was tough, and hard, and bittersweet. It's a survival story, so obviously there's heartbreak. But wow, I did not expect so much. It was emotionally intense, and it's usually not my type of story, but I was truly engrossed. I love Mindy's storytelling, and I found myself invested in these characters and what was happening to them and wanting so badly for all of them to survive and live happily ever after. Ha. Ha. HAHAHAHAHASOB THANKS MINDY. My favorite part, though, is the strength and courage and heart of all of the women in this book. From reading Madness, and now this, I can tell this is a recurring theme in this author's books. And it makes me and my heart SO HAPPY. I loved Lynn's character; her stoic, hard exterior, her vulnerability, her curiosity, her intelligence. I loved how her strength didn't just come from her survival, but from her love for the people in her life. All of the women in this story were tough-as-nails and made choices that not many people could do in real life. But they had to, because this story was about a world in which water is no longer a basic human right, and people are living in danger day after day. It was felt very, almost horribly realistic. I swear my throat was parched after that beginning.
Rating: 4 Stars!
November Read
The Rose Society
I didn't love this one as much as the first. Like, for some reason, I had devoured TYE but this sequel had been super easy to keep putting down. I wasn't completely as immersed in the story, and there were times I felt what the characters did was unbelievable. But I did enjoy the heck out of it! And I loved how it got even darker than the first book. Like, so much darker. And of course, I adore Adelina's character. I love how she's not completely a villain, that she's also trying to accept her powers and how bad she could be, but how she doesn't want that. She TRIES to do good, but it doesn't always work. And I think that makes her so much more real. I'm loving her story!
Rating: 3.5 Stars!
An NA With Too Many High Expectations
Call Me, Maybe
I'm so disappointed with this one. It had a shallow main character who had no development at all, and no personality. The book blogging was a nice touch, but I wish it'd had more focus in the story. The love interest was one-dimensional, and I did NOT like how he responded to the drama in the book. I did adore their relationship in the beginning, but had much preferred the phone-calling to when they were together in real life. I don't know, it just didn't feel developed enough where I could believe that they were in love (or, well, that Clementine was). And I was bored. I feel like this'll be a hit with people, but it just didn't work for me. Sadly.
Rating: 2.5 Stars!
*****
Have you read any of these? If so, what did you think of them? :)