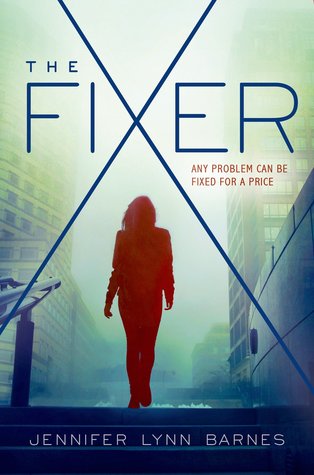 Title: The Fixer (The Fixer, #1)
Author: Jennifer Lynn Barnes
Publisher: Bloomsbury USA Children's
Release Date: July 7th, 2015!
*Physical ARC given to me by my wonderful friend,

Crystal

. :)
From

Goodreads

...
This thriller YA is Scandal meets Veronica Mars.
Sixteen-year-old Tess Kendrick has spent her entire life on her grandfather's ranch. But when her estranged sister Ivy uproots her to D.C., Tess is thrown into a world that revolves around politics and power. She also starts at Hardwicke Academy, the D.C. school for the children of the rich and powerful, where she unwittingly becomes a fixer for the high school set, fixing teens' problems the way her sister fixes their parents' problems.
And when a conspiracy surfaces that involves the family member of one of Tess's classmates, love triangles and unbelievable family secrets come to light and life gets even more interesting—and complicated—for Tess.
Perfect for fans of Pretty Little Liars and Heist Society, readers will be clamoring for this compelling teen drama with a political twist.
My Review!
This book wasn't initially on my radar until I started seeing other bloggers' reactions to it, and it's not typically my type of story. But the whole
'
S
candal meets Veronica Mars'
hook had my attention! I do love books with really good political intrigue, which is what
The Fixer
gave me. But not only that, it gave me a story that had heartfelt relationships, amazing banter, and a main character you can't help but love.
I adored Tess Kendrick! She's a little slow to warm up to, meaning that she's a stoic character who closes herself off from people. But I could understand why she did, since she's never really had someone totally there for her (other than her grandpa). She lost her parents at a young age, and then her older sister left her behind. She's stubborn, and has hard edges, but she's willing to TRY. And when her life is turned upside down more than once, Tess hides behind that facade until she realizes that she needs to let the people she cares about into her life. And that she needs to give herself a chance, in this new city and with the sister who wants to do better by her. She's an intelligent and quick-witted character who stumbles and falls, but who picks herself back up and keeps going. She is one
hell
of a tough cookie.
And her relationship with her sister is a huge part of her character development. I loved the dynamic between them, the push and pull, the back and forth. They had a lot to work through, and even more so as the book goes on and you learn more about their past. But, even though they both didn't really know how to be sisters anymore, it didn't mean that they weren't still there for each other completely. Their love for one another far outweighs the resentment, the grief, and the anger. And I loved that their relationship wasn't perfect, because you know what? None of them are. They fought, and Tess kept trying to push Ivy away, but they worked through it all. They still have a long ways to go (what an understatement, amirite?), but that's okay. I have faith that they'll be able to push aside their differences and hurt, and stay in each other's lives.
There were also some really wonderful friendships, and the beginnings of a romance or two forming. At this new school, Tess makes friends almost unwillingly. She doesn't really care about anything, and she doesn't want to be there, and she certainly doesn't want to be The Fixer like Ivy. But these people worm their way into her life, and she can't keep them out of it. Especially Asher. Tess can't fight his charm, and his adorableness that just makes you laugh and want to ruffle his hair like a little kid. He's special, guys. He's funny, and I love him so much. And then there's Henry, who becomes an unwilling participant in all of this, and who tries so hard to be the flippant and uncaring about everything. And I'm not sure where the romance will go, but I ship both of the possibilities and I'm not even sure I should be shipping both but I damn well am and H E L P. Also I really loved the friendship between Tess and Vivie. Vivie is such a bright spot. I also liked Emilia's presence in the story. I can't wait for more shenanigans with these five!
The political intrigue was something that had me hooked on the story. I'm normally not a huge fan of YA thrillers because they kinda just feel unbelievable to me. But I was totally invested in this group of kids playing at being Scooby Doo and the Mystery Gang with the higher powers of Washington, D.C. It DID seem a *bit* unreal at times, but whatever. And this totally felt like Scandal meets Veronica Mars, with a little of How to Get Away With Murder thrown in for good measure. Exactly what I want in a story. Plus the banter was just super great, and I loved how the relationships weren't left behind in the dust in favor of the mystery. There was a good mix that led up to a surprising and crazy ending. I WANT MORE, DAMN IT.
The Fixer
was so much more than what I thought I was going to get when I started this book. I'm so glad the hype surrounding this one was not unfounded! I don't know if I'd ever have picked it up otherwise, and I would have missed out on such a great book. And I cannot WAIT for more of this storyline and these characters!
RATING: