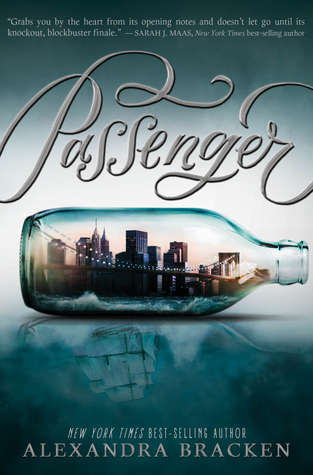 Title: Passenger (Passenger, #1)
Author: Alexandra Bracken
Publisher: Disney-Hyperion
Release Date: January 5th, 2016!!
*I received a physical ARC from the lovely Disney people at BEA.

From

Goodreads

....
passage, n.
i. A brief section of music composed of a series of notes and flourishes.
ii. A journey by water; a voyage.
iii. The transition from one place to another, across space and time.

In one devastating night, violin prodigy Etta Spencer loses everything she knows and loves. Thrust into an unfamiliar world by a stranger with a dangerous agenda, Etta is certain of only one thing: she has traveled not just miles but years from home. And she's inherited a legacy she knows nothing about from a family whose existence she's never heard of. Until now.

Nicholas Carter is content with his life at sea, free from the Ironwoods—a powerful family in the colonies—and the servitude he's known at their hands. But with the arrival of an unusual passenger on his ship comes the insistent pull of the past that he can't escape and the family that won't let him go so easily. Now the Ironwoods are searching for a stolen object of untold value, one they believe only Etta, Nicholas' passenger, can find. In order to protect her, he must ensure she brings it back to them— whether she wants to or not.

Together, Etta and Nicholas embark on a perilous journey across centuries and continents, piecing together clues left behind by the traveler who will do anything to keep the object out of the Ironwoods' grasp. But as they get closer to the truth of their search, and the deadly game the Ironwoods are play­ing, treacherous forces threaten to sep­arate Etta not only from Nicholas but from her path home . . . forever.
My Review!
This was my first Alexandra Bracken book, and it will NOT be the last! There is something so gorgeous about her writing, and the way she wove together the past and present. I'm not a huge fan of time-travel books, even though I love history, because the mechanics of it can just fly over my head. But there were no info-dumps here, no ridiculously long-winded explanations. That aspect of the book, the time-travel, was easy to understand and believe. But the characters? Oh, the characters were my favorite part!
Henrietta "Etta" Spencer first appears to be this obedient, quiet girl. One who lets others choose her path, and one who puts the violin above everything else. But she loves playing. She loves the discipline, even though it makes her a perfectionist who cannot stand mistakes. But when tragedy strikes, and life unravels, she starts questioning her choices and reevaluating what's important. And she no longer has the passion for the violin, though she won't back out of honoring her loved one. That's when she's pushed through time and thrust into the year 1776 and sent on a quest that she has no choice but to accept. Through it all, Etta doesn't give up. She doesn't cower and she doesn't lose hope. She
fights
; she
survives
.
She uses her skills, her mother's stories, and her intelligence to save her skin and that of a boy who is dealing with his own troubles
. She was well within her rights to break down, to just let herself be pushed around. But Etta was so strong, though she had her moments of weakness, especially when it came to her short temper and stubborn rebellion and her blind curiosity.Her growth was absolutely wonderful and I loved her character.
Nicholas Carter is a pirate who is so much more than meets the eye. We meet him in the middle of a full-blown war on the waters, in the middle of him killing someone (It's like OH HAI NIC… WAIT WHAT). He's rough around the edges, quiet, contemplative. His eyes take everything in even when his mouth is done speaking. And he's someone who gets the job done, and his job currently? Bringing Etta to the Ironwoods. But he knows he's essentially throwing her into the lion's den, so he stays to protect her, just in case. And because of that, and Ironwoods offer, he's tossed throughout the centuries with her, on the quest for a mysterious object whose origins are covered in lies. Nicholas doesn't have much trouble assimilating, even though he's never felt like he truly belongs anywhere. But with Etta, he starts to understand what love and home and life feels like, what it means to
belong
. Because of his race and his past, he's never been able to shake off the feeling of helplessness and the constant insults thrown his way. But Etta sees past all of that, and looks inside, to
a guy who just wants to be worth something
.
Their romance was slow and sweet and agonizingly beautiful. In each other, they both find a place to belong, especially when they're torn from their homes and tossed into worlds that are constantly trying to push them down. Through it all, Etta and Nicholas are forced to depend on each other, to put their trust into someone they just met. It helps form a connection between them, and they start to care for each other, even when that trust is tenuous at best. The love that develops between them was so real and genuine, a love that gives them something to fall back on when they don't know what to do or how they'll get out of the mess they're in. A love that shows both Etta and Nicholas that appearances aren't everything, and that the heart is what counts.
I loved how Alexandra used this book to tackle the subjects of feminism and slavery, of race and prejudices. Throwing a 21st century girl into the heart of a time where women were considered the inferior gender was certainly bound to create sparks of anger and rebellion. I loved that Etta didn't stand for it, that she questioned the laws, and that she stood up for Nicholas even when she was told to be quiet. Because of the slave laws, Nicholas being born to a woman in captivity left him branded a slave too. It's a label that has never gone away, even when he's proven himself over and over again that he's a good, hardworking man. It's a label that Nicholas would very much like to leave behind. And I loved that, through Etta's perspective and that of the man himself, we're able to catch a glimpse of what it was like back then and how it affected people of all races and status. And we see just how much humanity has changed (though it is not truly equal for everyone even in this age, especially for women and minorities, which the author also talks about).
One of my favorite parts of this book was also the history! Like I said above, I LOVE history. I love reading stories set in the past, which is hilarious since I don't read historical fiction. Like, ever. (I think I'm just very picky when it comes to them). I like historical books that don't make me feel like I'm slogging through the story, like I can't understand anything if I haven't researched the time period. The author certainly piles on the details, but in such a way that it flows with the story. That it just adds another layer to an already richly developed book. And the two POVs were DISTINCT. They were different; they felt like a 21st century woman and a pirate from 1776. It was never hard to distinguish where they were at and who was speaking. I also loved that it was told in 3rd person and that I could still connect with both characters.
I think maybe my only gripe (gripe is a strong word, more like a minor
"eh, it could have been better but I don't really care anyway because I loved the book too much
") with this was the secondary characters. There were many; ones that helped the characters and others that were set out to destroy them. Most of them had developed relationships with the MCs, though we didn't see them much throughout the story. Like Etta's mom, who is wonderful and clearly protective of her daughter. They had a great relationship, but when Etta time-travels we lose that, though her mom is always at the back of her mind through everything. I loved Chase and Captain Hall too, and I wish we'd gotten more of those two. I also would love the Ironwoods to play a heavier role in
Wayfarer
. I feel like the surface was barely scratched with them.
I'm almost mad at myself for reading this so early, since I'm dying after that cliffhanger. But the pain was totally worth it (ask me this again in a few months, and I'll probably tell you to shut up).
Passenger
was just a beautifully written book that cleverly interweaves the past and present, with characters that come from two completely different times but who find in each other a common ground and a place to belong, and a story that takes the readers on a whirlwind of an adventure.
RATING: