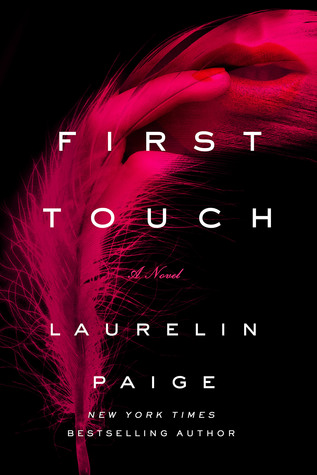 Title: First Touch (First and Last, #1)
Author: Laurelin Paige
Publisher: St. Martin's Griffin
Release Date: December 29th, 2015!
*Much thanks to St. Martin's Press for sending me an early finished copy of this!
From

Goodreads

...
When Emily Wayborn goes home to visit her mom while on hiatus from her hit TV show, she receives a voicemail from her former best friend, Amber. Though the two were once notorious party girls, they haven't spoken in years. Although the message might sound benign to anyone else, Amber uses a safe word that Emily recognizes, a word they always used to get out of sticky situations during their wild days. And what's more chilling than the voicemail: it turns out that Amber has gone missing.
Determined to track down her friend, Emily follows a chain of clues that lead her to the enigmatic billionaire Reeve Sallis, a hotelier known for his shady dealings and play boy reputation. Now, in order to find Amber, Emily must seduce Reeve to learn his secrets and discover the whereabouts of her friend. But as she finds herself more entangled with him, she finds she's drawn to Reeve for more than just his connection to Amber, despite her growing fear that he may be the enemy. When she's forced to choose where her loyalty lies, how will she decide between saving Amber and saving her heart?
My Review!
I really enjoyed this book! The cat and mouse game, especially in the beginning, had me completely enthralled. It definitely went in a more surprising direction than I had thought it would, but in a good way. This was a mix of thriller and romance that kept me on my toes and made me want to not put this book down until I'd finished it (I did do that once, but there were reasons, and I'd been really excited to get back to this story, so I don't count it).
The main character, Emily, was a fiery and intelligent woman who was on a mission to seduce a powerful man to find out what happened to her ex-best friend. She was smart, and even when she made choices that made you want to smack her, she made them deliberately. Everything she did, she chose to do. And she stood up to Reeve, in ways that he liked. In ways that he didn't. But that turned them both on. They really were a couple who
fit
together. They were so much alike, and yet so different, and their relationship played off of them both. At first, it's more of a game, and Emily never forgets about her friend, Amber. But throughout the story, it becomes something so much more than either of them had been expecting. Reeve was a man that I personally wouldn't be drawn to in real life, but I could see the appeal. Powerful, commanding, controlling and possessive but in ways that Emily loved. He was a delicious enigma that I couldn't wait to unravel. He is so much more beneath the surface, and it surprises Emily just how much his outward appearance, and what she's learned of him through her investigations, doesn't change her mind. Or her heart. Theirs is a romance that is not going to be tasteful to every reader, but it worked for the two of them. It worked so well.
I would say this isn't a TRUE thriller, but more of a subtle suspenseful mystery that will ensnare readers. Through everything that happens, there is always one question pressing at the back of the main character's mind: what happened to Amber?
And as the story goes on, and you learn more and more about the two main characters, and about Amber, the more you want to find out just exactly what happened to the girl that neither of them can seem to forget or let go of
.
RATING:
*****
Title: Paige in Progress (Reluctant Hearts, #3)
Author: Brighton Walsh
Publisher: Brighton Walsh
Release Date: January 19th, 2016!
*Much thanks to the author and her publicist for the eARC!
She wanted a one-night stand...and then he moved in next door.
Paige Bennett is more than content with her life and what she does—and does not—have in it. She's got a supportive family, a great apartment, and the best friend a girl could ask for; so what if her relationships expire faster than a carton of milk? After a disastrous detour courtesy of poor judgment in the boyfriend department, her plan is back on track and her dream job is finally within her grasp. Nothing can make her lose focus now. Well, nothing except the one-night stand she had with her best friend's surrogate brother. The one-night stand she can't stop thinking about.
Adam Reid has always been reliable...the responsible son, the loyal friend, the steady boyfriend. Two years ago, he graduated Magna Cum Laude and is well on his way to making a name for himself at an accounting firm in Denver—a far cry from working as a helper in the Mom and Pop store his parents own in Michigan. But when said store starts failing, he's the only one who can step in and help. So reliable Adam does what he always does, and he comes to the rescue.
Paige thought Adam was a safe bet because he lives halfway across the country. But then suddenly he's moving back to their town, and then into her apartment building, and soon he's worming his way right into her life. If she's not careful, he might sneak his way into her heart, too...
My Review!
This wasn't my favorite in the series, but I did love it! I knew I was going to love Paige from the moment she stepped onto the pages (heh) in the first two books, and that never changed one bit. This girl is fierce, loyal, independent, take-charge, and super adorable. I loved that she was not afraid to speak her mind and go after what she wanted, whether that be the internship and job she so desperately desired or a guy she picked up at the bar to have a one-night stand with. Paige doesn't do relationships, but there's one man she can't forget or stop thinking about, no matter how hard she tries.
Adam. Who knew the quiet, even-tempered guy would be such an Alpha both in the bedroom and outside of it? His control and arrogance turns Paige on, even though she doesn't want it to. Even though she doesn't want a relationship, she can't fight their attraction and chemistry. And before they know it, the two of them are caught up in a romance, with non-dates and couple activities, that looks suspiciously like a relationship. And it scares Paige away, but Adam isn't having it. Though I didn't exactly agree with his... ultimatum, for lack of a better word, I did understand how he couldn't have just what she wanted him to have anymore. It wasn't working out for either of them, because Paige was too terrified to try again, and Adam couldn't settle for anything less. But as it's wont to do in romance books, the two of them do find a happy ending that made me just absolutely melt. It was beautiful to see Paige open up and find a love that was worth wading through all the shit for. And I'm so glad it was Adam, who challenged her and took care of her, and made her feel truly
wanted
.
I adored Adam's and Paige's story! I especially loved that it wasn't completely focused on the romance, and that there were loads of family and friend scenes between my favorite characters from before, and new ones that I came to love. I LOVED, LOVED, LOVED the Cade, Winter, Tessa, Haley, and Jason (!!!) cameos. And I loved the additions of Tanner and Dillon, Paige's two older brothers, and Adam's parents. They made the story feel that much richer. But what really got me was the romance. Adam and Paige had amazing and HOT chemistry, but it wasn't just in the bedroom. They really were made for each other. :D
RATING: