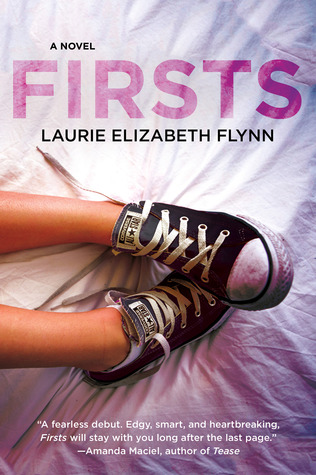 Title: Firsts
Author: Laurie Elizabeth Flynn
Publisher: St. Martin's Griffin
Release Date: January 5th, 2016!
*Physical review copy kindly provided by St. Martin's. Thank you so much!*
From

Goodreads

...
Seventeen-year-old Mercedes Ayres has an open-door policy when it comes to her bedroom, but only if the guy fulfills a specific criteria: he has to be a virgin. Mercedes lets the boys get their awkward, fumbling first times over with, and all she asks in return is that they give their girlfriends the perfect first time- the kind Mercedes never had herself.
Keeping what goes on in her bedroom a secret has been easy- so far. Her absentee mother isn't home nearly enough to know about Mercedes' extracurricular activities, and her uber-religious best friend, Angela, won't even say the word "sex" until she gets married. But Mercedes doesn't bank on Angela's boyfriend finding out about her services and wanting a turn- or on Zach, who likes her for who she is instead of what she can do in bed.
When Mercedes' perfect system falls apart, she has to find a way to salvage her reputation and figure out where her heart really belongs in the process. Funny, smart, and true-to-life, FIRSTS is a one-of-a-kind young adult novel about growing up.
My Review!
Oh man, this book. I don't think I've ever had so much anxiety while reading a story. And I don't mean like the anxiety I feel in a favorite fantasy series and I'm scared a main character I love is going to die. I mean, like I legit had anxiety watching Mercedes continuously do things that are going to make it hard for people to like her, who did things because she just didn't know how to do it another way, who made me anxious because all I wanted was for her to be happy and it killed me when she couldn't let that happen. But I thought we needed to see all of those mostly wrong choices and poor decision-making that we know won't be good for her, so we could appreciate her growth throughout the story.
Mercedes is a slow cooker, a character who makes it hard for readers to warm up to her at first. She is young, and angry, and a little bit naive. But don't discount her experiences because of that. She's a teenager. She's still
learning
. About who she is and about what she wants out of life. She's learning that life can be filled with warmth and affection and happiness if she will only let herself have it. It was HARD to read about her making all of these mistakes and being a terrible person. And she was, at times; she didn't know how to do friendship, or love. She didn't think she deserved any of it, and so she pushed people away. She grasped for control in a wrecked homelife and a past that won't let go of her. She grasped for any control she could find, and where she found it, was in taking guys' virginities. But she soon comes to understand that that was not why she was doing that, and she had to figure out that she could take back control in a different, more healthy way. That she deserved compassion and understanding, that she was worthy of so much more than she thought she was. No, she wasn't always a great character. But you know what? She had amazing development, and her journey makes all of those moments of aggravation (and all of that anxiety she gave me!) worth it. It was beautiful to watch it unfold.
And she had the help of the wonderful Zach, and the lovely Faye. She even had her friend, Angela, after a lot of hurt and anger. It was hard to see a best friend who took her boyfriend's word over Mercy's, but I loved how it showed how very complicated friendships can be, and how the good ones make it through with forgiveness and understanding. She didn't have good parents. Her mother was awful, and twisted Mercy's mind so much, and made her daughter feel like a thing to be used and discarded by men. I
hated
her. She didn't have a relationship with her father, or even much communication with him. She really just had her friends, the ones who didn't leave even when she pushed them away. Anyway, I do want to talk about Faye again, after being prompted by conversation. I LOVED Zach and thought he was such a great guy toward Mercy, and I really adored their relationship. BUT I also would have loved if something had happened with Mercy and Faye. They're both attracted to each other, it's clear, but nothing ever comes out of it. They do acknowledge their feelings, and they talk about it. But I wanted MORE from it because I thought the author had been setting it up and then was a *little* disappointed when nothing actually happened.
I loved how Laurie handled the bullying and the situation that spiraled out of control. It could have gone in a really different direction; it could have been used so carelessly. But it wasn't. I hated how people had treated Mercedes, but I loved how everything came about in the end. I really loved that Zach and Faye stood by Mercy's side through it all, how awesome their friendship was. The sex positivity was especially great to see in a YA book, and I loved how the author didn't shy away from exploring that and talking about it through Mercy's POV. This is definitely a brave and edgy debut. The blurbs don't lie there. It deals with very real topics, especially regarding teenagers and sex. But I thought Laurie handled them with such care. I did wish for a bit more development, or focus, on some of the relationships, but it was more about Mercy's story so I didn't mind so much. Though this book is definitely flawed, I loved it a whole lot. And though the main character is
clearly
flawed, I loved her story.
Firsts
was such an honest portrayal of what being a teenager is like and trying to figure out who you are.
RATING: