Today I'm happy to be participating in the The Tsar's Guard Parade for Evelyn's Skye's debut fantasy!
When I first heard about
The Crown's Game
, I HAD to have it. And I am so excited about the book and this blog tour!
Coming up with a topic to talk about was pretty hard, but I find Russian culture and history fascinating (even though I don't know a whole lot, to be honest). So I thought it'd be fun to share some novels that are either set in or inspired by Russia that are on my TBR. :)
9 Russian Set/Inspired Novels I Want to Read
1.

The Crown's Game

by Evelyn Skye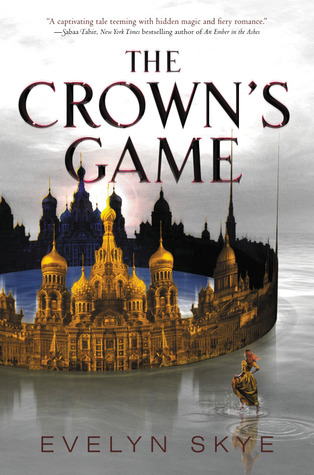 I mean. Obviously, this is on my list! Fantasy is my FAAAAVE, and I especially love that this seems to be set in an alternate Russia where magic is normal, and there are people with special and powerful gifts.
This is another Russian-inspired fantasy I want to read. Also one that has a main character with a special gift! I've heard such great things about it, and that cover is SO. PRETTY.
3.

The Bronze Horseman

by Paullina Simons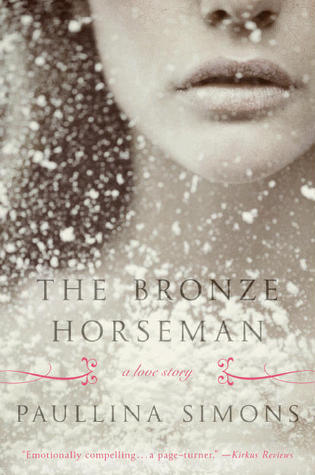 This is one of those really huge and popular books that I hear about a lot but have continuously put off. Probably because it's over 800 pages, and let's be real, who has time for that? :p
4.

Sekret

by Lindsay Smith
I love books involving spies and main characters who are morally complex. It seems it also has a bit of paranormal/magic in it. WANT.
5.

The Gathering Storm

by Robin Bridges
This is like a fantasy/paranormal series set in Russia, and I've had it on my TBR for awhile now. I'm hoping to get to it soon, especially since the books are all published.
6.

The Boy on the Bridge

by Natalie Standiford
I hadn't heard much about this one when it came out, but I was very interested in it at the time. It's got some mixed reviews, but I definitely want to give it a try, especially since the romance sounds different.
7.

The Fetch

by Laura Whitcomb
I found this one through the lists on Goodreads, and it sounds so good! I'm a big fan of paranormal stories about death, and it's set during the Russian Revolution, so I'm even more interested in it.
8.

The Lost Crown

by Sarah Miller
This is set during World War I and is about the Romanovs. This particular piece of Russian history fascinates me, and this book sounds like a nice spin on the story.
9.

Queen of Tomorrow

by Sherry D. Ficklin
I read the first book in this series, and I wasn't very impressed. HOWEVER, I want to give the sequel a chance. But it's really unfair that these covers are so pretty, because they just make me want to love the books so badly.
I hope you enjoyed this post, and that you might have found more books to add to your TBR! Be sure to check out the rest of the parade here on Evelyn Skye's website. There are so many fun posts to read!
Here is a little bit more information on the book and author, and be sure to enter the ARC giveaway below! :D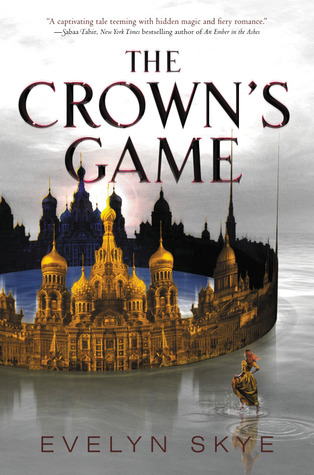 Title: The Crown's Game (The Crown's Game, #1)
Author: Evelyn Skye
Publisher: Balzer+Bray
Release Date: May 17th, 2016!
Pages: 416
Formats: Hardcover, eBook
From Goodreads...
Vika Andreyeva can summon the snow and turn ash into gold. Nikolai Karimov can see through walls and conjure bridges out of thin air. They are enchanters—the only two in Russia—and with the Ottoman Empire and the Kazakhs threatening, the Tsar needs a powerful enchanter by his side.
And so he initiates the Crown's Game, an ancient duel of magical skill—the greatest test an enchanter will ever know. The victor becomes the Imperial Enchanter and the Tsar's most respected adviser. The defeated is sentenced to death.
Raised on tiny Ovchinin Island her whole life, Vika is eager for the chance to show off her talent in the grand capital of Saint Petersburg. But can she kill another enchanter—even when his magic calls to her like nothing else ever has?
For Nikolai, an orphan, the Crown's Game is the chance of a lifetime. But his deadly opponent is a force to be reckoned with—beautiful, whip smart, imaginative—and he can't stop thinking about her.
And when Pasha, Nikolai's best friend and heir to the throne, also starts to fall for the mysterious enchantress, Nikolai must defeat the girl they both love . . . or be killed himself.
As long-buried secrets emerge, threatening the future of the empire, it becomes dangerously clear . . . the Crown's Game is not one to lose.
About the Author:
Evelyn Skye was once offered a job by the C.I.A., she not-so-secretly wishes she was on "So You Think You Can Dance," and if you challenge her to a pizza-eating contest, she guarantees she will win. When she isn't writing, Evelyn can be found chasing her daughter on the playground or sitting on the couch, immersed in a good book and eating way too many cookies. THE CROWN'S GAME is her first novel. Evelyn can be found online at

www.evelynskye.com

and on Twitter @EvelynSkyeYA.
*****
This ARC giveaway is INTERNATIONAL!! So yeah, you WANT to enter!