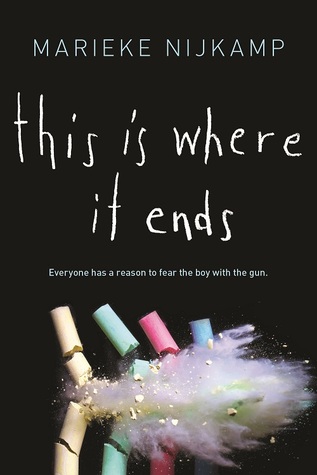 Title: This Is Where It Ends
Author: Marieke Nijkamp
Publisher: Sourcebooks Fire
Release Date: January 5th, 2016!
From

Goodreads

...
10:00 a.m.
The principal of Opportunity, Alabama's high school finishes her speech, welcoming the entire student body to a new semester and encouraging them to excel and achieve.
10:02 a.m.
The students get up to leave the auditorium for their next class.
10:03
The auditorium doors won't open.
10:05
Someone starts shooting.
Told over the span of 54 harrowing minutes from four different perspectives, terror reigns as one student's calculated revenge turns into the ultimate game of survival.
My Review!
I'm not quite sure how to review or rate this one. I enjoyed the read, but I felt SO disconnected from it and the characters. The only time I teared up was when I started thinking of what it would be like to lose someone I love (and omg I don't like GOING there). And honestly, I hated the flashbacks. They kept taking me out of the story, and I thought some of them were not relevant to the what was happening, like they were filler. I did like how we got a lot of background on the characters, and saw what they were all going through, but I don't think it quite came together like it should have. Because I ended up finding a lot of this just SENSELESS. And maybe that was the point, to show how senseless and unfair and awful shootings are? But the fact that the book went into depth on the shooter's character and actions, it doesn't seem like that was the point, especially considering some of the shit that happened that felt ridiculous (re: Tomas). I just think the book didn't do what it was supposed to do here. And that saddens me, because I didn't get the intense, emotional, and chilling read that others did. I honestly can't even really tell you why. I don't think I know myself why this didn't impact like I wanted it to. Don't get me wrong, I did like the book, but I didn't love it and I don't have any strong feelings on it.
RATING:
*****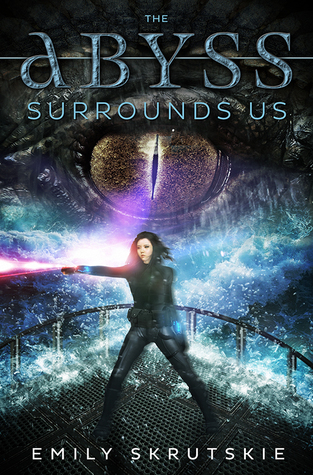 Title: The Abyss Surrounds Us (The Abyss Surrounds Us, #1)
Author: Emily Skrutskie
Publisher: Flux
Release Date: February 8th, 2016!
*eARC kindly provided by Flux via NetGalley*
For Cassandra Leung, bossing around sea monsters is just the family business. She's been a Reckoner trainer-in-training ever since she could walk, raising the genetically-engineered beasts to defend ships as they cross the pirate-infested NeoPacific. But when the pirate queen Santa Elena swoops in on Cas's first solo mission and snatches her from the bloodstained decks, Cas's dream of being a full-time trainer seems dead in the water. There's no time to mourn. Waiting for her on the pirate ship is an unhatched Reckoner pup. Santa Elena wants to take back the seas with a monster of her own, and she needs a proper trainer to do it. She orders Cas to raise the pup, make sure he imprints on her ship, and, when the time comes, teach him to fight for the pirates. If Cas fails, her blood will be the next to paint the sea. But Cas has fought pirates her entire life. And she's not about to stop.
My Review!
Normally space isn't really my thing. But pirates, f/f romance, and genetically-engineered beasts that protect spaceships? WANT. NEED. The weirdness of it probably would have steered me away at first, but I was really intrigued and there's a shortage of queer romances, especially between girls in YA, so that was a big reason I decided to request this book. And I'm glad to say that I really enjoyed this!
This was such a unique story, with a main character who was training to become a full-fledged trainer for Reckoners, large turtle-like sea monsters who protect ships from pirates. But none of her training prepares her for being kidnapped and forced to work for the wrong side. I adored Cas, and how she was such a strong character. Not just because she fought, but because she did what she had to do to survive and save herself. It takes so much courage to go up against someone so powerful, and she did her best.
It was a good thing she wasn't completely alone, as she had some of the pirates on the boat who became, not so much allies but frenemies who helped her. And one was a girl who could possibly be the love of her life. I loved how their romance was soft, quiet, and that they both wanted to be EQUALS before they chose to act on it (something that I don't see ever in books with romantic storylines like this). And a few other fun characters who I'm sure we'll get to know more about in the sequel.
I was very intrigued throughout, even after the almost info-dump style of the beginning. Like I said, this isn't generally my type of book, but I definitely wanted to keep reading! I wanted to see how all of the pieces fit together, why Santa Elena, the nasty female Captain of the ship, had a Reckoner pup in her care, and how she was able to kidnap Cas. And now, I can't wait to see where the sequel goes!
RATING: