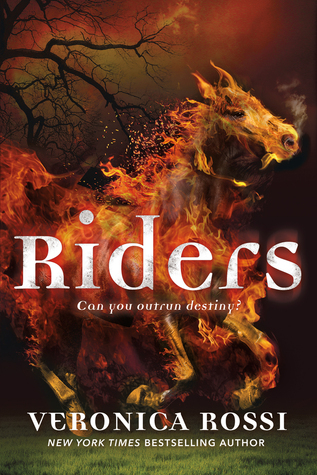 Title: Riders (Riders, #1)
Author: Veronica Rossi
Publisher: Tor Teen
Release Date: February 16th, 2016!
*eARC kindly provided by Tor Teen/Macmillan via NetGalley*
From

Goodreads

...
For eighteen-year-old Gideon Blake, nothing but death can keep him from achieving his goal of becoming a U.S. Army Ranger. As it turns out, it does.
Recovering from the accident that most definitely killed him, Gideon finds himself with strange new powers and a bizarre cuff he can't remove. His death has brought to life his real destiny. He has become War, one of the legendary four horsemen of the apocalypse.
Over the coming weeks, he and the other horsemen--Conquest, Famine, and Death--are brought together by a beautiful but frustratingly secretive girl to help save humanity from an ancient evil on the emergence.
They fail.
Now--bound, bloodied, and drugged--Gideon is interrogated by the authorities about his role in a battle that has become an international incident. If he stands any chance of saving his friends and the girl he's fallen for--not to mention all of humankind--he needs to convince the skeptical government officials the world is in imminent danger.
But will anyone believe him?
My Review!
This review is going to end up shorter than usual because I don't have much to say about the book. Which isn't to say this was bad, not at all, in fact the opposite. I thought this was a fun story, but also a sometimes weak and underwhelming one that didn't quite live up to its intriguing and unique beginning. The way it was told, in hindsight by the main character, definitely worked for me, though I did miss not having the real time moments a bit. But the plot dragged at times, making me wonder what the point was to it all (which we do find out eventually).
I'm still unsure of many things in this book, even after reading the ending, and knowing the truth behind what happened and learning more about the supernatural aspect. But the believability is pretty lacking. I didn't know what to expect going into this book, and I hate that, although I really enjoyed
Riders
, I'm not completely sure it worked for me (plot wise). And I really have no idea where the sequel is going to go, who will be telling the story, if it will be Gideon or one of the other Horsemen. But I am very intrigued about it, and I really need to know if my favorite character is okay!
My favorite is not Gideon, but I did love his voice. He's not going to be an easy character to like, though. He's very MALE, and aggressive (which is actually there for a reason, I guess, with him being War and all), controlling (which I found to be not as annoying, because he was grieving and trying to grasp control as his life was falling apart), and he pissed me off when he would mock the other characters. BUT with all that being said, I could relate to him a lot, and understand his motivations and actions. He just needs to freaking CHILL.
I personally loved the other characters more, especially Sebastian, who is Famine. He's an actor, and a lovable, adorable human being who makes everyone feel comfortable and more like a team. Then there's Marcus, Death, whose character was stereotyped horribly, and who isn't that fleshed out. He's just as aggressive as Gideon, and the two lock horns often. And lastly, there is Conquest, or more commonly known as Jode. He's British, sarcastic, and lightens up the tense situations with his comments. And in the middle of them all is Daryn, the Seer (Seeker?) who brought them together. I liked them all, but I feel like we didn't really get to know them enough yet.
The characters were pretty much the saving grace of this book. The plot, on the other hand, was the weak point. I almost wish it'd gone in a different direction, because what should have been the climax of the story was super underwhelming and not what I had thought. This review feels way more negative than I want it to.
I mean, a
fter absolutely LOVING her Under the Never Sky series, this was a *little* disappointing. But I really did enjoy it a lot! I found that I could hardly stop reading. And i
t's definitely an intriguing concept, having these Horsemen and their gifts in the modern world. I'm excited to see where
Seeker
takes us!
RATING: