Today I'm sharing two mini reviews of books that released in February this year! :)
Title: He Will Be My Ruin
Author: K.A. Tucker
Publisher: Atria Books
Release Date: February 2nd, 2016!
*eARC kindly provided by Atria via NetGalley*
The USA TODAY bestselling author of the Ten Tiny Breaths and Burying Water series makes her romantic thriller debut with this heartpounding story of a young woman determined to find justice after her best friend's death, a story pulsing with the "intense, hot, emotional" (Colleen Hoover) writing that exhilarates her legions of fans.
Twenty-eight-year-old Maggie Sparkes arrives in New York City to pack up what's left of her best friend's belongings after a suicide that has left everyone stunned. The police have deemed the evidence conclusive: Celine got into bed, downed a bottle of Xanax and a handle of Maker's Mark, and never woke up. But when Maggie discovers secrets in the childhood lock box hidden in Celine's apartment, she begins asking questions. Questions about the man Celine fell in love with. The man she never told anyone about, not even Maggie. The man who Celine herself claimed would be her ruin.
On the hunt for answers that will force the police to reopen the case, Maggie uncovers more than she bargained for about Celine's private life—and inadvertently puts herself on the radar of a killer who will stop at nothing to keep his crimes undiscovered.
My Review!
Like all of K.A. Tucker's books, this one was damn good! It was pretty addicting, this cat and mouse game, this thrilling mystery that you could never tell in which direction it was going to go. But… then the twist hit, and I was mad. Mad because I'd been led to believe one thing, and then found out it was false. Mad because it felt like it was there more for shock value only. I'm not quite sure I believe the motives and the WHY, but looking back, I can see how it wasn't who it seemed to be (this is so very probably confusing and doesn't make sense, but well, SPOILERS). But kudos to Kathleen for keeping me guessing, which is never an easy feat to do as I'm ridiculously good at figuring out the mysteries before the authors want me to. And I was really hooked on the story. I definitely didn't like putting it down until I KNEW. Although not as intense and dark as I thought it would be, I really appreciated the way the story was told. I liked the flashbacks in-between Maggie's chapters, especially because it gave the readers more insight and we were able to see what the main character couldn't figure out since she didn't have all of the pieces. I thought Maggie was a character you could sympathize with, although she could be really judgmental and she was also privileged. But throughout the story, her determination and stubbornness makes you root for her, and you can tell her friend's death affects her hard. She learns hard truths, feels pressured with life and with finding Celine's killer, but she keeps on going and never stops. That was admirable! Though I didn't love
He Will Be My Ruin
, I found the book to be highly entertaining and it had my attention until the very end.
RATING: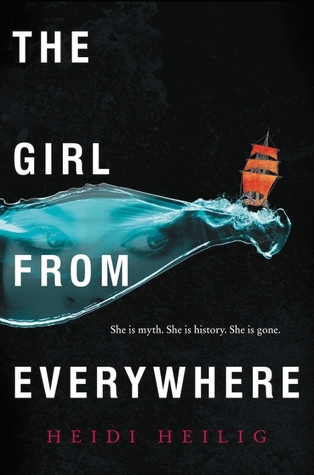 Title: The Girl from Everywhere (The Girl from Everywhere, #1)
Author: Heidi Heilig
Publisher: Greenwillow Books
Release Date: February 16th, 2016!
Get It:
Amazon
From

Goodreads

...
Nix has spent her entire life aboard her father's ship, sailing across the centuries, across the world, across myth and imagination.
As long as her father has a map for it, he can sail to any time, any place, real or imagined: nineteenth-century China, the land from One Thousand and One Nights, a mythic version of Africa. Along the way they have found crewmates and friends, and even a disarming thief who could come to mean much more to Nix.
But the end to it all looms closer every day.
Her father is obsessed with obtaining the one map, 1868 Honolulu, that could take him back to his lost love, Nix's mother. Even though getting it—and going there—could erase Nix's very existence.
For the first time, Nix is entering unknown waters.
She could find herself, find her family, find her own fantastical ability, her own epic love.
Or she could disappear.
My Review!
As much as I thoroughly enjoyed this book, I don't have a lot to say about it, so this will end up a mini review. I liked Nix, the main character, A LOT! She's a strong-willed, fiery (sometimes naive and ridiculously stubborn) girl who just wants to please her dad and who ends up blaming herself for her mother's death (which NO). I could understand why she let her father stomp all over her heart, but he was a selfish asshole, and I really just wanted her to leave him. Though, the ending makes me feel a bit better, and I AM very curious to see where their relationship goes in the sequel. (I LOVE complicated, realistic familial ties, so I did end up loving how the author showed them both, but still, could her father BE more selfish??). I also want to find out how the romance goes. I'm wary of a love triangle. SO wary. I fell for Kashmir (Kash) hard, and I adored his character, and how he took care of Nix and would follow her to the ends of the earth. So I'm definitely on his team, though I *hope* there is not a love triangle (even if it makes sense that Nix developed feelings for someone NOT on the ship). I really, really love how detailed this book was, and the historical part to it sang to my inner nerd. However, the time travel aspect of this was difficult to understand for me. I don't even understand much of what happened in the latter half of the book (someone please explain to me the Auntie stuff??) and I had to reread paragraphs to grasp anything. Hopefully there are more, clearer explanations in the sequel because the confusion had weighed me down throughout the read. All in all, though,
The Girl from Everywhere
was a fun, thrilling ride full of historical and shippy goodness.
RATING: