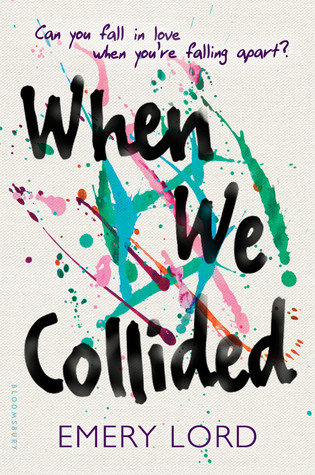 Title: When We Collided
Author: Emery Lord
Publisher: Bloomsbury USA Childrens
Release Date: April 5th, 2016!
Get It:
Amazon
From

Goodreads

...
Meet Vivi and Jonah: A girl and a boy whose love has the power save or destroy them.
Vivi and Jonah couldn't be more different. Vivi craves anything joyful or beautiful that life can offer. Jonah has been burdened by responsibility for his family ever since his father died. As summer begins, Jonah resigns himself to another season of getting by. Then Vivi arrives, and suddenly life seems brighter and better. Jonah is the perfect project for Vivi, and things finally feel right for Jonah. Their love is the answer to everything. But soon Vivi's zest for life falters, as her adventurousness becomes true danger-seeking. Jonah tries to keep her safe, but there's something important Vivi hasn't told him.
My Review!
*Major spoiler, so tread carefully!
Emery Lord has quickly become one of my favorite authors. And one of my favorites to follow on social media. :D After loving all 3 of her novels, I cannot wait to see what else she has in store for us. I cannot wait for more lovable characters, more shippy romances, more fabulous friendships, more focus on mental health (because she just GETS it), and just more amazing stories about life and love and what it means to truly
live
. Her stories are so real and relatable and totally grasp the teenage experience. They are also just such happy-making books. And
When We Collided
, in my opinion, is her best one yet.
As much as this book made me happy, it also made me angry in some moments. Because of Vivi. Firstly, I love this bold and beautiful girl so much. She is bright and colorful, and she lives life to the fullest. Perhaps a bit
too
full, sometimes, but you can't help being swept away on her adventures and laughing along with her antics. And you can't help but root for her, even when she makes you seething angry. Because here's the thing about Vivi; she may be careless and selfish at times, but she's also
learning
. About herself, about others, about life and this new challenge that makes her feel as though she has no control. Her bipolar disorder is something that she struggles with, something that she tries to hide and ignore. And when she starts throwing away her medicine, she falls and then soars up, up into the clouds where she becomes a danger to herself and antagonistic to others. She hasn't fully accepted her diagnosis, and she's stubborn about it, and so she ends up hitting a rock bottom that really puts everything into perspective for her. And I appreciated that so much because it's so
real
. It's an honest (but not completely healthy or positive because for so long, she rejects the medication and she could be so mean) representation of mental illness, and of bipolar disorder. Emery Lord showed, how yes, hard it is to love someone who struggles and pushes and needles at you, while also bringing hope and light into the story and saying that it's okay to not have it all together. That it's okay to make mistakes, that it's okay to be
angry
. Vivi's story is not perfect;
she
is not perfect. But she's more than her ups and downs, and more than her mistakes.
It's super hard to like Vivi at times, because the things she does and says hurts other people. It's hard to like someone who is quick to anger and slow to forgive. Much of that DOES stem from the bipolar, from the depression. But Vivi is also just a boldly honest person who sometimes doesn't think about others and their feelings. And it's hard when you have someone like Jonah, who is
so
good, and so kind, be metaphorically smacked down by Vivi. It makes you angry. I get it, I do. She was even like that with her mom. But mental illness makes it harder to care about others; it makes you
so angry
at the world. It makes it hard to let people in and show the darkness. Jonah brought light and laughter into Vivi's life, at a time where she felt so lost and alone, so uncertain about her friendships back home and the future. He and his family, the moments she spent with them, they made her feel so good and happy. And Vivi brought color back into Jonah's life and house, swept away the grayness and the cloud of despair that had settled around everyone and everything. Jonah lost his dad six months prior to meeting Vivi, and their family is still broken by that. It was something that made it SO easy for me to relate to Jonah; his grief, his pain, his need for normal. I've been there, and it's an impossible situation that makes it hard to want to get out of bed in the mornings. But Jonah did; he
had
to step up. I've a weakness for responsible older brothers in stories, and the way Jonah took care of his siblings made me just MELT. And he's such an all-around good guy that I DARE you not to fall in love with him. I think I could have used a bit more development with him and his family, though. But that didn't change my feelings on this book.
Vivi's and Jonah's romance was a whirlwind that neither of them had expected. And what was just seemingly a summer fling became so much more, especially when Viv started to fall in love with the whole Daniels family, and not just the one who makes her life feel fuller. It is, basically, an insta-love type of romance. But the thing is, it didn't FEEL unbelievable. It felt real and special and I loved reading about the two of them falling for each other. And I loved that so much of the book focused on their relationship, especially when it was affected by Vivi's bipolar-ness and her constant switches in moods. It's hard watching her continuously ruin what she has with Jonah. Especially since Jonah is SO good to her, and he honestly has a lot on his plate to have to deal with Viv's own anger and meanness. I had a feeling, based on the way people were talking about this book, that there wouldn't be an HEA for these two. And I was right, which didn't actually take anything away from the story, as you can tell that is where the relationship is going to head. And as much as I loved the two of them together, as much as I could totally believe in their love and romance, I found I was quite happy it was non-HEA. Because if it had been, it wouldn't have felt RIGHT. Vivi made the right choice, to focus more on taking care of herself mentally, on going back home and trying to fix the friendships she almost destroyed when she was manic. She needed to let go of Jonah and work on herself. I was such a fan of that decision. Their romance was one of those that just wasn't ready for right now, but maybe someday it will be. And that ending was BEAUTIFUL.
This book was just… colorful. The characters, so real and relatable. The story rich and full, with wonderful relationships of all kinds (LOVED the Daniels and their precious scenes together, also Vivi + her mom) and a charming seaside town. It was also such an honest (and what I would call realistic, given I know this one well) portrayal of bipolar disorder. But I loved that, not only that, but it was a very positive rep that talked and mentioned therapy and medicine. That's an important aspect that I wish more books would focus on if they dig into mental health. And while this book is imperfect, I think it was meant to be, because people are complicated and life is imperfect.
When We Collided
was a beautiful and bold book that just solidified Emery Lord as one of my favorite authors
.
RATING: