Today I've got a cool interview with Ava Jae, author of Beyond the Red, to share with y'all! Her debut book is about aliens and rebels and assassination attempts and romance. It sounds really good! And before we get into the interview, I thought I'd give you some more information about the book if I haven't enticed you enough already with my 5 word summary. ;)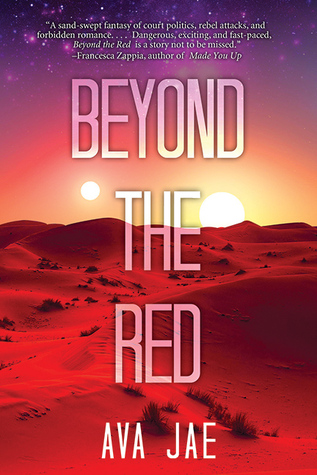 Title: Beyond the Red
Author: Ava Jae
Publisher: Sky Pony Press
Release Date:

March 1st, 2016

!
Alien queen Kora has a problem as vast as the endless crimson deserts. She's the first female ruler of her territory in generations, but her people are rioting and call for her violent younger twin brother to take the throne. Despite assassination attempts, a mounting uprising of nomadic human rebels, and pressure to find a mate to help her rule, she's determined to protect her people from her brother's would-be tyrannical rule.
Eros is a rebel soldier hated by aliens and human alike for being a half-blood. Yet that doesn't stop him from defending his people, at least until Kora's soldiers raze his camp and take him captive. He's given an ultimatum: be an enslaved bodyguard to Kora, or be executed for his true identity—a secret kept even from him.
When Kora and Eros are framed for the attempted assassination of her betrothed, they flee. Their only chance of survival is to turn themselves in to the high court, where revealing Eros's secret could mean a swift public execution. But when they uncover a violent plot to end the human insurgency, they must find a way to work together to prevent genocide.
1. Welcome to The Fox's Hideaway, Ava! For everyone unfamiliar with your book, can you tell us a little bit about it?
Sure thing! Beyond the Red is a YA Sci-Fi about a violent uprising on a distant, alien planet that threatens the reign of a teen alien queen. It's told from two points of view: Eros, a half-human, half-Sepharon (alien) rebel soldier who has lost everything, and Kora, the Sepharon queen who destroyed Eros's home and freedom, and there's blood, and explosions, and kissing.
2. And of course I have to ask about the characters! What are some qualities that your alien queen Kora possesses? Eros?
Kora and Eros are both incredibly resilient and sometimes stubborn characters, but while Kora is more prone to optimism, Eros tends to be much more cynical and cautious. They're very internal characters and Eros is pretty emotional, but their experience has made them both guarded, which complicates matters...
3. Was Greek mythology a source of inspiration for the story? Or did you just want to use the name Eros? I've been super curious about this since I read the synopsis! :D
Ha ha well, I first came up with Eros long before it even occurred to me to write Beyond the Red, and with his original character it made a lot more sense to have him named after Eros, the god of love. When I wrote him into Red, however, his character changed a ton and so now there's not much of a connection to the Greek god, but the name stuck. So no, there isn't technically much inspiration from Greek mythology, but I'm well aware of the origin of his name! :)
4. Can we get a little teaser from Beyond the Red?
Hot breath rolls over the side of my face as she brings her lips to my ear.

"What were you saying?" she says with a breathy laugh. "I think it started with 'Kora just made me look like an amateur.'"
5. How does it feel being a debut author? Are you nervous/excited/scared about your book being out in the world?
All of the above! Honestly, how I feel about it changes daily. Hourly even, sometimes. Most of the time I'm feeling all three, though lately I've been leaning more on the excited side. I've been working towards this for a looooong time, and it's really incredible to finally see it happening. Definitely scary at times...but also really amazing. :)
6. And lastly, what does YA mean to you?
YA is, to me, a very important category full of some truly incredible stories. YA characters are young people put under an incredible amount of pressure—whether it's saving a kingdom (or the world), taking care of a loved one, solving a mystery, or just trying to survive—all while trying to figure out who they are in a volatile time in their lives. I've loved watching the category grow and evolve and I can't wait to see what more joins the ranks. :)
Thanks so much for stopping by, Ava! I cannot wait to read your book, and congrats on your debut release! ☺
Thanks so much! And thanks for having me! :)
Next up tomorrow is a time-traveling fantasy from a debut author who LOVES history, and whose top ten list shows it. :D
***And don't forget to enter the giveaway!!!***