Today for March Madness, I'm super stoked to be featuring Burning Glass, who had its book birthday way back on March 1st. I cannot WAIT to read this book! I love Russian-inspired stories. And I got to ask Kathryn some questions about her debut book, which I will be sharing after the information about BG below. :)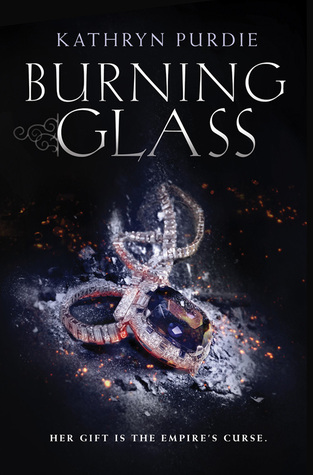 Title: Burning Glass (Burning Glass, #1)
Author: Kathryn Purdie
Publisher: Katherine Tegen Books
Release Date:

March 1st, 2016

!
Sonya was born with the rare gift to feel what those around her feel—both physically and emotionally—a gift she's kept hidden from the empire for seventeen long years. After a reckless mistake wipes out all the other girls with similar abilities, Sonya is hauled off to the palace and forced to serve the emperor as his sovereign Auraseer.
Tasked with sensing the intentions of would-be assassins, Sonya is under constant pressure to protect the emperor. But Sonya's power is untamed and reckless, and she can't always decipher when other people's impulses end and her own begin. In a palace full of warring emotions and looming darkness, Sonya fears that the biggest danger to the empire may be herself.
As she struggles to wrangle her abilities, Sonya seeks refuge in her tenuous alliances with the charming-yet-volatile Emperor Valko and his idealistic younger brother, Anton, the crown prince. But when threats of revolution pit the two brothers against each other, Sonya must choose which brother to trust—and which to betray.
Hi Kathryn, and welcome to The Fox's Hideaway! :)
1. So I heard Burning Glass is a Russian-inspired fantasy, which I didn't actually know for the longest time! It makes me even MORE excited to read your book. Why was it your inspiration for the setting of the story?
I've been fascinated by Imperial Russia for many years and felt connected to it after learning that the last Tsarevich, Alexei, the only son of Nicholas and Alexandra, had hemophilia, like my three brothers and my son. The repercussions of Alexei's hemophilia were largely blamed for the fall of the Russian Empire. My sparked interest led me to fall in love with Russian- or Russian-inspired stories like WAR AND PEACE, NICHOLAS AND ALEXANDRIA, DOCTOR ZHIVAGO, and SHADOW AND BONE. The heady Russian blend of epic, sweeping, romantic, and sometimes tragic was the perfect tone for BURNING GLASS, and I knew I would set it in world like Imperial Russia within the first moments of conceiving the idea.
2. Going off of my last question, have you ever been to Russia? If so, what were some of your favorite places you visited or things you did? If not, what would you love to see and do there?
I haven't been to Russia, but I'd love to go someday! I'd love to see the Catherine Palace; I based a lot of the interior palace in BURNING GLASS on it. I'd also love to visit The Church of the Savior on Blood and St. Basil's Cathedral, which are those colorful, iconic, onion-domed buildings that feel so uniquely Russian. And I'd love to travel through the huge countryside and see the mountains, lakes, rivers, steppes, and tundra. The Russian landscape is so beautiful and varying.
3. And now I'm switching gears because I'm curious about your main character! Sonya can feel everything that others feel. I imagine that would be very overwhelming and probably annoying being hit with others' emotions day after day. How does she deal with that?
Many Auraseers (empaths) in the novel resort to self-inflicted pain to center themselves on their own emotions and not everyone else's. But Sonya refuses to do that, so she basically goes haywire for awhile and makes bad choices because she has a hard time distinguishing her own emotions from other people's, until she finally learns some skills to distract herself by focusing intensely on just one person at a time.
4. If you could have one special gift, would you ever consider having Sonya's?
I actually was inspired to write this story because I DID feel like an empath for awhile after donating a kidney to my brother when my emotional defenses were lowered during my recovery. Sonya's experience in sensing what other people feel is like a super blown-up example of what I went through. Being truly empathic is not a fun gift. I wouldn't want it again on that level!
Whoa, that's incredible! 5. Did you sacrifice your soul to the Cover Gods for that cover? Because it is seriously gorgeous! :D Does the necklace have a big significance in the story?
Ha ha. I gave the Cover Gods my soul AND my firstborn child. ;-) It IS a gorgeous cover and I'm thrilled with it. It's very symbolic, just like the title. Neither has an obvious, straightforward application to the story unless you really give it some thought. The title and cover are more moody and atmospheric. That necklace is in the book, but just briefly. Despite its short-life on the page, the necklace is a very important symbol to what Sonya is going through. And seeing it in ashes and embers on the cover is just so cool and thought-provoking.
6. And lastly, what has been your favorite part of being a debut author so far?
My favorite part has been getting to know so many other debut and pro writers. I'm a member of the Sweet Sixteens debut author group, and they've been incredibly supportive. We're there for each other during all the ups and downs of getting initiated in this business.
Thank you so much for joining me on the blog, Kathryn! :)
And thanks again to Kathryn, I have a swag pack to give away! I will also be able to open it up internationally! The winner will receive all of the below goodies. :D
Next up tomorrow is a book about a girl who switches places with her sister, while having to deal with powers that don't want to stay hidden. :D
***And don't forget, the event-wide giveaway is going on where you could win your own copy of a book featured in MM!***