So excited to be sharing this March Madness post with you guys! This debut had been one of my most anticipated new releases, and I'm glad it's out now so I can FINALLY read it! I'm a sucker for Sherlock Holmes-type books, and A Study in Charlotte sounds absolutely fabulous. And I'm so happy I got to interview Brittany! But before I share it, I wanted to give you a bit more information about the book. :)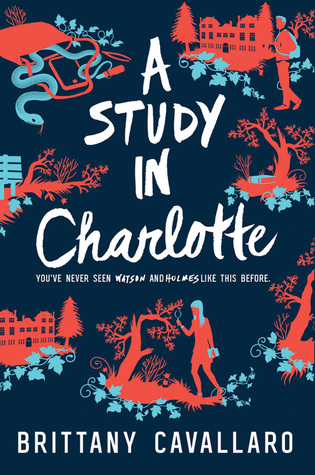 Title: A Study in Charlotte (Charlotte Holmes, #1)
Author: Brittany Cavallaro
Publisher: Katherine Tegen Books
Release Date:

March 1st, 2016

!
The last thing Jamie Watson wants is a rugby scholarship to Sherringford, a Connecticut prep school just an hour away from his estranged father. But that's not the only complication: Sherringford is also home to Charlotte Holmes, the famous detective's great-great-great-granddaughter, who has inherited not only Sherlock's genius but also his volatile temperament. From everything Jamie has heard about Charlotte, it seems safer to admire her from afar.
From the moment they meet, there's a tense energy between them, and they seem more destined to be rivals than anything else. But when a Sherringford student dies under suspicious circumstances, ripped straight from the most terrifying of the Sherlock Holmes stories, Jamie can no longer afford to keep his distance. Jamie and Charlotte are being framed for murder, and only Charlotte can clear their names. But danger is mounting and nowhere is safe—and the only people they can trust are each other.
A Study in Charlotte is the first in a trilogy.
1. Hi
Brittany, thanks for stopping by!
How did Sherlock Holmes end up being the inspiration behind your story?
I'm a Sherlockian by nature—one of the subjects I'm working on in my PhD is detective fiction—and I also love adaptations and retellings. I've loved this renaissance of Holmes stories in the last ten years! I knew that I wanted to try my hand at writing the Great Detective, and the one way I hadn't seen him compellingly re-imagined was as a teenage girl. (I've been introduced to some great girl Holmes books in the meantime.) I really wanted to see what a relationship between her and a boy Watson would look like, and that I wanted to set it at a boarding school. I took it from there.
2. Was it difficult/easy/nerve-wracking to retell such a classic story? How did you make sure you to keep it fresh and new but also maintain elements of the original?
That's a great question! I knew that any mystery I was telling had to come from the characters, and since Jamie and Charlotte aren't quite Watson and Holmes, I was able to write a plot that hopefully highlights their hopes and struggles and shows us more about them as we go. The allusions to the original stories are there to highlight the connection between the old and the new, but I never wanted the story to feel like it was just being referential to be referential.
3. I love that your main character is the many-times over granddaughter of Sherlock, and that she has inherited so much of who he is. So I'm curious: is Jamie also pretty similar to his great-great-grandfather, John Watson? And how do the two of them deal with their family legacies throughout the book as they become the prime suspects of a murder because of them?
I think Jamie and Charlotte are both pretty similar to their ancestors, but also their own people. Charlotte is definitely more guarded than the Holmes in the original stories, but also, she's more vulnerable. I think she is actually inclined to be more emotional than the original Sherlock, but for a number of reasons, she's suppressing it. With Jamie, he's definitely the loyal, starry-eyed romantic that Dr. Watson is (and a rugby player, too!), but he's also a lot snarkier and a bit more temperamental. In A Study in Charlotte, we get to see how these characteristics make for a slightly different H&W.
4. Of all the Sherlock Holmes versions in pop culture, which one is your favorite (movie, TV show, etc)? Who do you think portrays Sherlock himself the best? (I for one have a fondness for Robert Downey Jr. :D)
I love RDJ too! Though my favorite on-screen Holmes is and will always be the astoundingly smart, mannered, brilliant Jeremy Brett in the Granada Holmes television series. I think you can find the full episodes on YouTube – he's a revelation.
5. I read that you're also a poet. That is so cool! I've always loved reading poems. Would you write us a little mini poem about A Study in Charlotte? (

you don't have to do this if you don't want to :p

)
Thank you! Actually, it's a bit hard for me to write a poem quickly, but I can share with you guys some earlier Sherlock Holmes poems I wrote—they aren't based on A Study in Charlotte, but on the original stories: http://www.theadroitjournal.org/issue-ten-brittany-cavallaro/
6. Ooh, thank you for sharing those poems! I can't wait to read them. And lastly, what you currently working on?
Book 3 in the Charlotte Holmes series! Expect more mayhem.
Thanks so much for taking the time to celebrate your release with me, Brittany! I'm super excited for A Study in Charlotte. :)
Next up tomorrow is the first book in a fantasy series involving Keepers and a Lady. :D
***Daily reminder not to forget about the giveaway!***