Hey guys! I'm super excited to be featuring one of my highly anticipated reads
(that came out this past Tuesday!!!)
for March Madness,
A Tyranny of Petticoats
. Badass ladies being badass throughout history? SIGN ME UP! And I can't wait to share this Top Ten list from Jessica Spotswood of even more badass ladies of history, whose stories would make amazing books! But first, I wanted to share more about the book itself. :)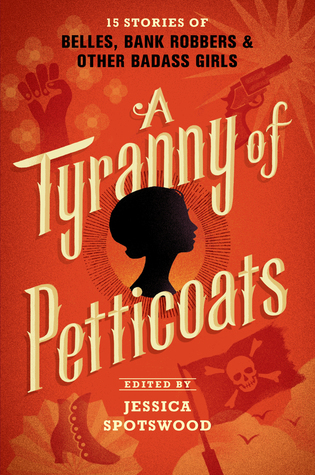 Title: A Tyranny of Petticoats
Author: Jessica Spotswood + 14 others
Publisher: Candlewick Press
Release Date:

March 8th, 2016

!
From an impressive sisterhood of YA writers comes an edge-of-your-seat anthology of historical fiction and fantasy featuring a diverse array of daring heroines.
Criss-cross America — on dogsleds and ships, stagecoaches and trains — from pirate ships off the coast of the Carolinas to the peace, love, and protests of 1960s Chicago. Join fifteen of today's most talented writers of young adult literature on a thrill ride through history with American girls charting their own course. They are monsters and mediums, bodyguards and barkeeps, screenwriters and schoolteachers, heiresses and hobos. They're making their own way in often-hostile lands, using every weapon in their arsenals, facing down murderers and marriage proposals. And they all have a story to tell.
With stories by:
J. Anderson Coats
Andrea Cremer
Y. S. Lee
Katherine Longshore
Marie Lu
Kekla Magoon
Marissa Meyer
Saundra Mitchell
Beth Revis
Caroline Richmond
Lindsay Smith
Jessica Spotswood
Robin Talley
Leslye Walton
Elizabeth Wein
Hi! In honor of my feminist historical anthology, A TYRANNY OF PETTICOATS, I created a:
Top Ten List of Story Ideas Inspired by Badass Women of History
I would love to read stories - or whole books - about characters like these amazing real-life women!
1.

Sybil Ludington

, the "female Paul Revere," who rode forty miles through the pouring rain to alert her father's troops and warn the countryside that the British soldiers were attacking Danbury, CT
2. intrepid investigative journalist

Nellie Bly

, who exposed sexism and classism, worked as a foreign correspondent in Mexico, feigned mental illness to expose poor conditions at Blackwell's Island Insane Asylum, and circled the globe in 72 days, handily beating Jules Vernes' Around the World in 80 Days
3. intrepid journalist from

Ethel L. Payne

, the "first lady of the Black press," who traveled the world covering presidents and the Vietnam War and then brought attention to important civil rights issues at home, covering the Montgomery Bus Boycott, the desegregation of Little Rock Central High School, and the March on Washington in 1963
4. early 19th century actress

Louisa Lane

, who traveled around the country with her mother and worked with John Wilkes Booth
5. a girl involved in the

Triangle Shirtwaist Factory Fire

of 1911, where 145 young women - mostly immigrants - were tragically killed, who becomes an activist to improve working conditions
6.

Sarah Redmond

, who was a passionate abolitionist and orator who made her first speech against slavery at just sixteen. Later in life, she tried to sit in the white section at an opera in Boston and when an angry policeman shoved her down the stairs, she sued the city - and won.
7. socialite spy

Rose O'Neal Greenhow

, who continued to spy even while under house arrest in Washington DC during the Civil War (Caroline Tung Richmond's story "The Red Raven Ball" in A TYRANNY OF PETTICOATS involves a Civil War spy.)
8. a girl whose parents are accused of being communists during the

Joseph McCarthy witchhunts

of the early 1950s, whose careers are at risk because of it, and whose neighbors turn on the family
10. the first woman doctor in the U.S.,

Elizabeth Blackwell

, who had to fight to be allowed into med school and also had to argue to be allowed to study reproductive anatomy because her professor feared the subject was too "unrefined" for her delicate lady sensibilities.
Thanks so much for sharing this with us, Jessica! And also thanks to Jessica, I have a separate, US ONLY giveaway for y'all!
ONE winner will receive a swag pack with bookmarks for all of her books + PLUS this gorgeous print! It's an illustrated timeline for Tyranny, and you NEED it!
Next up on Monday, March 14th, is an interview with a debut author of a book inspired by Russia!
***And don't forget to enter the event-wide giveaway as well as the one above!!!***