I am so excited about today's post, guys!! Katie McGarry is one of my FAVE authors, so when she said yes (and when I realized WTE was, in fact, publishing in March), I was ecstatic! I'm super happy I was able to ask her some questions, and I can't wait to share the interview with you. But first, here's a bit more about her newest release! :)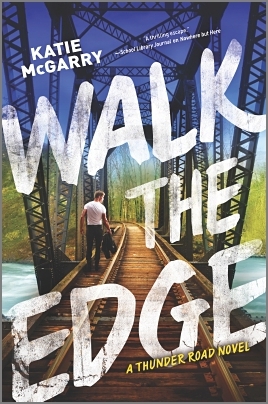 Title: Walk the Edge (Thunder Road, #2)
Author: Katie McGarry
Publisher: Harlequin Teen
Release Date:

March 29th, 2016

!!
One moment of recklessness will change their worlds.
Smart. Responsible. That's seventeen-year-old Breanna's role in her large family, and heaven forbid she put a toe out of line. Until one night of shockingly un-Breanna-like behavior puts her into a vicious cyber-bully's line of fire—and brings fellow senior Thomas "Razor" Turner into her life.
Razor lives for the Reign of Terror motorcycle club, and good girls like Breanna just don't belong. But when he learns she's being blackmailed over a compromising picture of the two of them—a picture that turns one unexpected and beautiful moment into ugliness—he knows it's time to step outside the rules.
And so they make a pact: he'll help her track down her blackmailer, and in return she'll help him seek answers to the mystery that's haunted him—one that not even his club brothers have been willing to discuss. But the more time they spend together, the more their feelings grow. And suddenly they're both walking the edge of discovering who they really are, what they want, and where they're going from here.
1. Hi Katie, glad to have you on The Fox's Hideaway today! I love that your books cover an array of themes, and that your characters all have varied lives and are portrayed realistically. I find it so refreshing when reading their stories because they feel so real. It's one of the reasons contemporary is my second favorite genre. What do you love about writing realistic fiction? Is it important for you to make sure that teens' lives are accurately represented?
Thank you so much for the awesome welcome! Realistic fiction is something that is very close to my heart. Writers like S.E. Hinton (The Outsiders) changed the course of my life.


As a teen, I faced a lot of tough circumstances and there were times that felt hopeless. Seeing a reflection of myself in characters from books helped me see that there was hope.




It's important to me to show others that no matter how tough the circumstances, there is hope. I do write fiction, but it is important to me to try to accurately represent problems that teens face today.


For instance, in Walk the Edge, Breanna is facing someone who is bullying her via social media. I have two teenagers of my own and I know how bullying via social media can have a negative impact on their lives. This is a very important subject to me and I want to shed light on this.
2. I know most authors refuse to play favorites with their books, saying it's like choosing between their own children, but I wondered if you had a story that you loved just a little more than the others? And do you have a favorite couple? If you must, you can totally cheat here. :D
Yes, it is so hard to choose between books and characters and it is definitely like being asked to choose between children. :)


With that being said, Abby from Chasing Impossible is one of my favorite heroines I've written and I have a huge crush on Isaiah from Crash Into You.
To be honest, Walk the Edge, is not only one of my favorite books I've written, but Razor from Walk the Edge, is the favorite hero I've written as well.


Besides being unbelievably hot, there is something so enduring about how Razor loves and protects Breanna while he has a wild amount of respect for her intellect. Someone find me a fan because Razor is blazing!




I'm so excited for people to read this story!
3. Do you have any author inspirations? If given the chance, would you totally collaborate with one of them on a story?
It would be a dream come true to meet S.E. Hinton and I think I would come close to dying if I ever got to collaborate with her on a story.
4. And lastly, what does YA mean to you?
YA means Young Adult to most people. To me, it means stories that involve people who are under the age of eighteen, but are stories to be enjoyed by everyone.
Thanks so much for stopping by, Katie, and congrats on your newest release! :)
Next up on Monday, the 21st, is a sequel in a fantasy series that revolves around Jinni. :)
***DAILY GIVEAWAY REMINDER! :D***