Today, I'm super happy to share this guest post by Amber Smith, author of The Way I Used to Be, which is releasing on the 22nd! Yay book birthdays! :D I love aftermath books, even when they're hard for me to read, especially when I can put myself in the main character's shoes without even having to try. I think they're incredibly important, and so I wanted to ask Amber her thoughts on these types of stories. But before you read this very beautiful post, here's a bit more information about the book. :)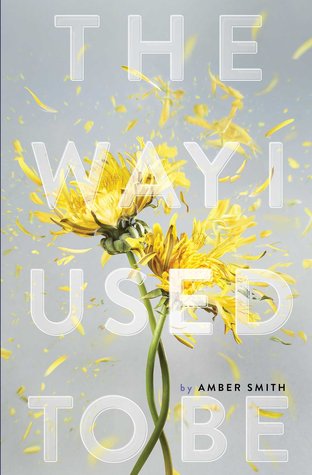 Title: The Way I Used to Be
Author: Amber Smith
Publisher: Margaret K. McElderry Books
Release Date:
March 22nd, 2016!
In the tradition of Speak, this extraordinary debut novel shares the unforgettable story of a young woman as she struggles to find strength in the aftermath of an assault.
Eden was always good at being good. Starting high school didn't change who she was. But the night her brother's best friend rapes her, Eden's world capsizes.
What was once simple, is now complex. What Eden once loved—who she once loved—she now hates. What she thought she knew to be true, is now lies. Nothing makes sense anymore, and she knows she's supposed to tell someone what happened but she can't. So she buries it instead. And she buries the way she used to be.
Told in four parts—freshman, sophomore, junior, and senior year—this provocative debut reveals the deep cuts of trauma. But it also demonstrates one young woman's strength as she navigates the disappointment and unbearable pains of adolescence, of first love and first heartbreak, of friendships broken and rebuilt, and while learning to embrace a power of survival she never knew she had hidden within her heart.
Why We Write (and Read) Books about Difficult Topics
I find that whenever I'm asked why I think it's important to write about difficult topics, there's always a fascinating conversation that follows. I believe this is an important question, and one that's made me do a lot of thinking—not only about my own writing, but also about the kinds of books I choose as a reader.
Why write these stories? In The Way I Used to Be, I chose to tell the story of Eden, a girl who struggles to find her voice (and herself) in the aftermath of a rape. I had wanted to write about this topic for a long time, as sexual violence is an issue that has a lot of personal meaning for me. But when I began working on this book it was not necessarily with the goal of publishing in mind. I was writing it for myself, first and foremost, as a place to sort through my own thoughts and feelings surrounding this issue. It wasn't until after I finished, and began sharing my manuscript with others, that I realized the story had evolved into something that could have a place in the larger dialogue about sexual assault and abuse. So often in matters of abuse or trauma—situations that affect a person on such an intimate and private level—the experience can be so isolating that these stories become extremely difficult to share. I find myself drawn to telling stories that might otherwise be silenced. Ultimately, I think we write stories like these because they are stories that need, not only to be told but to be heard, as well.
Why read these stories? I'll start by saying that I do read and enjoy books of all different genres. But I think the books that truly stay with me—the ones that take up residence in my heart—are those that deal with more serious or difficult subjects. These are the books that have given me a voice at times when I perhaps felt as though I didn't have a voice of my own. I think people are often searching for their own experiences to be mirrored back at them, and that's an important reason to both write and read books that might be emotionally heavy or deal with painful issues. One of my favorite things that happens when reading a book, are those magical moments when I find aspects of my own life, my own thoughts and feelings and frustrations, reflected back at me. Particularly when it happens in a book that deals with topics and situations that are different from what I've known personally—when I find myself connected to a character or a time or place, and end up understanding it on a whole new level because it resonates with something real inside of me.
Often, I think we turn to books and stories for validation, both to understand and to be understood ourselves, to feel less isolated in our own struggles—it is my hope that The Way I Used to Be can be one of those books.
Thank you SO much for sharing this with us, Amber! I love books that deal with difficult subjects for exactly that reason--validation, to feel less alone in what I'm going through/have gone through. To feel like my story MATTERS. And I think they can be powerful tools to help people move on from very challenging situations. :)
The next post won't be up until Monday, March 7th (because I wanted to take weekends off). Hope to see you then as I share an interview with a debut author of a book about aliens and rebels. :)
***And don't forge to enter the giveaway! You would win your very own copy of Amber's book, should you wish :D***