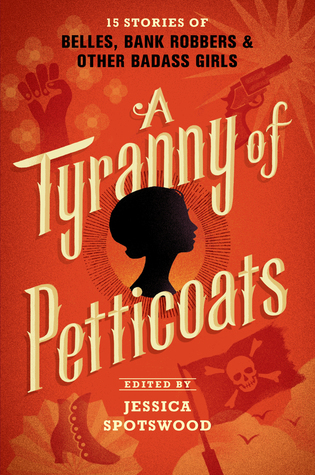 Title: A Tyranny of Petticoats
Author: edited by Jessica Spotswood
Publisher: Candlewick Press
Release Date: March 8th, 2016!
Get It:
Amazon
From

Goodreads

...
From an impressive sisterhood of YA writers comes an edge-of-your-seat anthology of historical fiction and fantasy featuring a diverse array of daring heroines.
Criss-cross America — on dogsleds and ships, stagecoaches and trains — from pirate ships off the coast of the Carolinas to the peace, love, and protests of 1960s Chicago. Join fifteen of today's most talented writers of young adult literature on a thrill ride through history with American girls charting their own course. They are monsters and mediums, bodyguards and barkeeps, screenwriters and schoolteachers, heiresses and hobos. They're making their own way in often-hostile lands, using every weapon in their arsenals, facing down murderers and marriage proposals. And they all have a story to tell.
With stories by:
J. Anderson Coats
Andrea Cremer
Y. S. Lee
Katherine Longshore
Marie Lu
Kekla Magoon
Marissa Meyer
Saundra Mitchell
Beth Revis
Caroline Tung Richmond
Lindsay Smith
Jessica Spotswood
Robin Talley
Leslye Walton
Elizabeth Wein
My Reviews!
I'm going to talk about them individually, and then overall!
*It is really hard to talk about any of these without going into somewhat spoilerish details, so if you want to go in blind for all of the stories, definitely don't read these. :)
Mother Carey's Table
by J. Anderson Coats.
2 stars!
Well. Okay. So. This was TOO short for me. I know it's SUPPOSED to be short, but I should still be able to get a good grasp of the main character and her life, but I didn't. There was not enough there for me to care. Sure, she was badass (I mean, you'll figure out why once you read it), and a girl disguised as a boy to survive (one of my fave tropes), and a pirate/sailor, but that was basically all I found out. And honestly? I'm not sure I understand how it ended, and
why
(even WITH the author's note!). I was very confused. I also had a hard time with the writing, and it was more than just being weighed down by references and historical details I didn't know. This is not off to a promising start, because while it was obviously a quick read, I didn't really enjoy it.
The Journey
by Marie Lu.
4 stars!
Ah. Ah. I knew I would love Marie's story! Her writing is fabulous, and I loved the rich culture and historical time period she chose to feature. It was super detailed, and I adored that the main character, her family, and her village used sled dogs to get around (I'm a sucker for dogs in stories). I could FEEL the love that Yakone had for her mother and her father, her desperation and urgency when white men show up and endanger her home. This was a survival story, with a girl who kept going, even when she wanted to give up. That kind of courage and determination was beautiful to see, especially since Yakone had no reason to push on, was grieving for the life and loved ones she lost. And I loved the glimpses of hope at the end. This short was definitely better than the first, and one I had no doubt I'd love!
Madeleine's Choice
by Jessica Spotswood.
2 stars!
Blah. Perhaps because the first two stories were adventurous and set at a faster pace, it made this one pale in comparison. It was BORING, honestly. It was about a girl who had a choice; follow her heart and choose love or go with her family's wishes and marry someone she doesn't feel any stirrings of passion for. Normally, I wouldn't so much mind a story JUST about a romance. I especially
liked
the inside look into what it was like for colored people and not being given the freedom to marry someone not within their caste. I understand that her options were limited, and that she wanted to break free of society's box without losing her parents. But the choice was taken away from Maddie anyway. There wasn't a point to it after that! And I didn't FEEL like I was transported to New Orleans in 1826. The lack of historical details was actually disappointing, and I didn't find Maddie's dilemma compelling at all.
El Destinos
by Leslye Walton.
4.5 stars!
My monster, it seemed, would not be so easily tamed.
I LOVED THIS ONE! It was magical and engaging and with such pretty writing. It was a play on the mythology of the three Fates. It was about three girls, who are both human and monster, who are the givers of life and death. Three girls reincarnated, torn between duty and love and a new life that makes them feel more human and utterly more alive than they've ever been. I loved how the struggle was shown of the middle one, the main character Valeria, as she deciphers a dying thread that she knows will hurt her sisters. And I could totally get a feel for her character; her anger, her quiet hatred, her desperation to be loved. But through it all, her love for her sisters is bigger than anything else. Bigger even than the duty assigned to them thousands of years ago. It was a gorgeous story, and one that I found myself wishing hadn't ended!
High Stakes
by Andrea Cremer.
3 stars!
I liked this one, but it would have been much better if it were a full book and not a short story. Because while it was enjoyable, and fun because YAY FOR HISTORICAL FANTASY, it was all too quick and short to do much for me. I liked the main character, and that ending was AWESOME! Seriously, I cackled. BUT this didn't feel high stakes to me. There was no sense of urgency and intensity, and though apparently these Games determined what was going to happen with the Civil War, I didn't quite
get
it. I really think this would have done better as a full book, with pages and pages of history mingled with the fantastical. More time to get to know the main character and understand who she is and why she prefers being a lone wolf. And while it was a nice short story, everything didn't come together as well as it could have.
The Red Raven Ball
by Caroline Richmond.
3 stars!
Oh, I liked this one! I'm a sucker for spy stories, so I loved that the main character, Lizzie, was helping her uncle by trying to smoke out a Confederate spy at a ball. Though she was torn between doing what her grandmother wanted of her to standing by her own convictions, she stayed strong and determined. Even when her world gets turned upside down, she stayed true to herself. Though she was a bit naive, and seemed to have a hugely romantic notion of catching this spy and saving the day, I thought it was so great that she had a mind of her own. One that wouldn't let her back down for anything, no matter what it would cost. I'm all about women paving their own path, especially in historical fiction, in a time where girls were expected to marry and be owned by men. But Lizzie didn't want that, and she proved her mother proud at the end. This was definitely an enjoyable short read, and I loved that it was set during the Civil War.
Pearls
by Beth Revis.
3.5 stars!
But I am done with men owning me.
Talk about saying "fuck the patriarchy!" and giving it the highest of middle fingers. Like I said in the last story above, I'm all about women paving their own path in history, when those paths were filled with more danger BECAUSE they were standing by their convictions and going after what they wanted. I was very much a fan of the way this story showed that, first with the main character, Helen, and then through one of her students, Annie. It was a story of strength, of feminism, and of faith in yourself. Helen left an awful situation with very little, and yet, she never looked back. She kept going, even when she was so unsure of herself, even when she was terrified of being the sole teacher (at only 19, no less!) to a bunch of students in a small town. I really liked this one! It was full of spunk and grit, and I honestly would have enjoyed more pages of it. :) (This was also my first Beth Revis story, and it won't be the last!)
Gold in the Roots of the Grass
by Marissa Meyer.
4 stars!
I had no doubt I'd love this one, as I've loved all of the stories I've read by Marissa. She has yet to disappoint me. I think this was the first short that truly had a possibility of romance for the main character. I liked that! I ended up adoring both of the characters, even though we definitely didn't get enough time with either James or Sun Fei-Yen. Both different in their own ways; both wanting to take care of their family and have bright futures. The girl's voice still drives this story as I'm glad it did; nothing (and no man) stole her thunder. She was a spunky, witty character who did the best she could to survive in a world that looked down upon her because of her heritage. And she did what she knew was right, even though it cost her greatly. This was a lovely story, but one with a bittersweet ending. Yet. I loved it still.
The Legendary Garrett Girls
by Y.S. Lee.
4 stars!
Ha, this one was GREAT! I'm a sucker for fabulous familial relationships, so the fact that the bond between the sisters was front and center, made me so happy. These two are all the other has, ever since their mom died and left them on their own. But they didn't let the grief slow them down, and they moved to Skaguay, Alaska and started a saloon. I loved that they were so strong and stood their ground even when the nasty Soapy and his henchmen wanted to run them out of town and steal their saloon. Because what business do two young girls have owning a place like this? But the Garrett sisters were like "fuck this!" and set a trap and skipped out of town. While I could tell it was hard for them to give it up, to run, they knew it was for the best. And they also had faith that this wouldn't ruin them, that they'd find their place again. Besides, they have each other. That's all that matters. <3
The Color of the Sky
by Elizabeth Wein.
3 stars!
I should have guessed Elizabeth's story would be about flying and planes. I still don't understand nearly half of the mechanics of it! Haha. But this story had an even deeper message, intertwined with a real life woman of history. Bessie Coleman was the first black woman receive a pilot's license, who paved the way for both women and women of color in flying planes. She inspired the main character, Tony, so much, who was quite shaken up by Bessie's death, especially since she wondered who else would take up the woman's torch for equality. Bessie's life and death weighed heavily on Tony, who ended up sneaking out of the house and returning a mechanic's notebook to the airfield who sold her the Jenny plane, all to understand the woman who made her feel special and heard. And through that, she not only found a warm place of people who didn't care about the color of your skin, but a determination to do whatever it takes to make her dreams come true.
Bonnie
and
Clyde
by Saundra Mitchell.
4.5 stars!
But Lord, I love running from the law.
Ah, this has been my favorite since the Fates story! I love, love, love Robin Hood-type characters, and I especially love that this was about a cross-dressing young girl robbing banks. The main character (who I don't think was given a name?) was angry at the banks, and she wanted them to pay for what they did to her mom and dad. But she also started leaving money in people's mailboxes and houses, helping them out through The Great Depression. Her wit and sass made me cheer for her, and I adored how much of a spitfire she was. And I thought it was HILARIOUS that the guy who was sweet on her was also the one chasing her. I wasn't sure how the ending would go, but I'm quite happy with it! I'd imagine if this were a full story, the author would have made the MC confront Caleb, her sweetheart. But I really love that by the end, perhaps the only person who will ever know is her mother. :)
Hard Times
by Katherine Longshore.
4 stars!
I was looking forward to this one a lot, because I've wanted to read one of Katherine's books for awhile, and I knew she wrote historical fiction. And I'm happy to say that I REALLY enjoyed this one! So much so that I'm going to check out that documentary she mentioned in her author's note, about the teenagers riding the rails during The Great Depression. And her main character, Rosie, is exactly that. She's a teen, forced to ride the rails and live on the streets and beg for food and work, because of the hard times. I felt so sympathetic toward Rosie and Billy, the kid she takes under her wing. She's stoic, very distrustful, and yet she takes a chance on this guy who wants to tell HER story. Because her story is important, and it's one that I found not only intriguing to read about, but one that very cleverly conveyed how hard it was during the Depression for those who were not so lucky, as well as showing the differences in how people lived. And I loved that, while this was dark and sad, it was also infused with hope and light.
City of Angels
by Lindsay Smith.
3.5 stars!
I was very pleasantly surprised by this one! I really love that it was set during WWII; that is one of my favorite subgenres EVER. And I loved that the main character, Evie, was a riveter. She ended up having to find work after her sweetheart was shipped off to Europe. But she also has dreams of her own; quiet dreams of writing scripts for studios. Dreams that she hasn't even realized yet, until she becomes intimately acquainted with Frankie, another riveter whom Evie is told to work with and teach. At first, she doesn't like her. But then they end up becoming romantically involved. I liked how the struggle was shown here. A LOT! Because while the world has progressed, people who identified as LGBTQ+ then were faced with so much more discrimination and hatred. It all felt realistic here. I also loved how the short story tackled women's roles and places as well, but with a main character who ended up saying "screw it!" and stayed true to herself instead. :)
Pulse of the Panthers
by Kekla Magoon.
3 stars!
I found this one very fascinating, as I don't know much about the Black Panther movement in the late 1960s. This story revolves around that, as well as a young black girl in 1967, who realizes how huge the world is. A world she's never thought about exploring, until she meets the young Panthers who come stay at her family's farm for a weekend. Through them, her narrow world opens up, bringing her new possibilities, dreams, and visions. She's starting to understand that maybe she WANTS to fight, too. Maybe she wants to find out what's at the end of the lane, something she's never thought about before, until she meets this group who show her what life is really like outside of the safety net of her small town. Although I would have liked MORE of everything, to follow Sandy to Oakland (as I'm sure she'll do at some point), I can see why it was ended like that. I did like that it was open!
The Whole World is Watching
by Robin Talley.
3 stars!
I liked this one! There was a lot of intensity surrounding the protests and the fact that the characters keep running from police officers. I don't remember much about anything I learned in history class when it came to the the 1960s, and I especially don't remember important dates very well, so a lot of this was not new, per se, but unfamiliar. And while I did like the story as a whole, I think it was too short for me to really get involved with the characters, even the main one, Jill. I could understand her struggle, not wanting to shout to the whole world about her sexuality, but also wanting to feel like she can be with the person she truly loves without judgment. And she even had double the struggle because she's also black. But I just needed MORE. The story wasn't JUST about her relationship with Diane, but it was the major aspect of it. I did like that Jill decided it wasn't fair to feel like she couldn't be open about it in the end, though.
The Highlights:
Leslye Walton's, Y.S. Lee's, Saundra Mitchell's, and Katherine Longshore's. It's funny, because a few these authors are faves of mine (Marissa, Elizabeth, Marie), and yet, the stories I loved the most were from new-to-me authors.
Overall:
While I at least liked most of these stories, I'm still not a big fan of shorts in general. When you have shorts, you run the risk of not using those pages intentionally. A few of these just didn't work for me. Many of them, I
liked
, but not much beyond just the fact that they were short and sweet. Like, I'm not a fan of them, but right now the short stories were all I could handle with reading. So, they were a good way to make me feel like I'm reading, even if they didn't give me more than that. But I would still rather much have full stories with lots of character development and TIME for me to fall in love with the characters and romances.
OVERALL RATING: